Snooki's Top 'Jersey Shore' Moments, In Honor of TV Personality's Departure From Hit Reality Show
Nicole Polizzi LaValle—better known as "Snooki" to millions across the U.S.—shocked fans with the announcement that she will not be returning for another season of Jersey Shore Family Reunion, a spinoff of 2009 reality tv show, Jersey Shore.
An original cast member of the popular franchise, Polizzi LaValle shared her plans to exit the long-running series on Friday, in the latest installment of It's Happening with Snooki & Joey, a podcast she hosts with celebrity makeup artist Joey Camasta.
In 2014, she married Jionni LaValle, who made regular appearances on Jersey Shore and one of its spinoffs, Snooki & J'Woww, prior to their engagement. The couple have three children together (7-year-old Lorenzo, 5-year-old Giovanna and Angelo, who was born in May), which she cited as the main reason for her departure from the series.
"I am not coming back to Jersey Shore [Family Vacation] for a season four, if there is one," She shared with listeners. "And there's a lot of reasons why, but the main reason is really, I'm just like... I just can't do it anymore."
She continued: "I hate being away from the kids, I don't like partying three days in a row, it's just not my life anymore," the 32-year-old star shared. "And I wanna be home with the kids. I don't mind a here or there going to a dinner or whatever, but it's just really hard on me to leave the kids and film the show."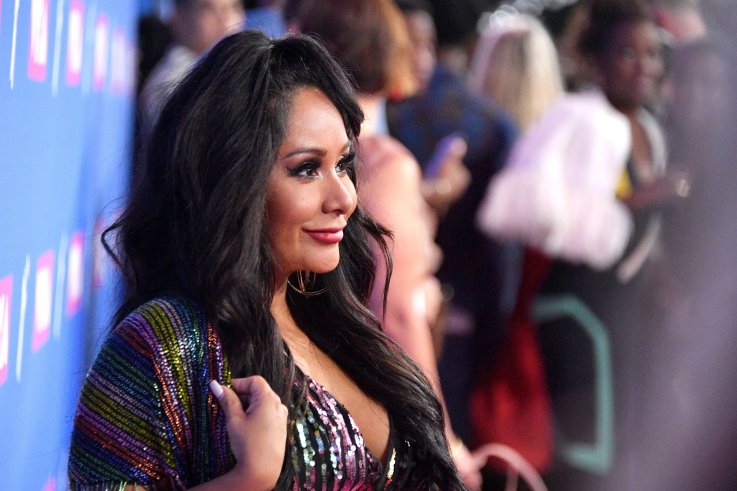 Like the rest of her fellow cast mates, Polizzi LaValle has been known to get swept into drama during her tenure on the reality show. In an October episode of Jersey Shore Family Reunion, Snooki was seen getting into a bit of a verbal scuffle with the series' antagonist, Angelina Pivarnick, who she called "F***ing Fake" in response to the accusation that she was a "mean girl."
The issue quickly resolved itself when Snooki, enraged at Pivarnick's name-calling, left the house. She was later calmed my cast members Deanna and J'Woww (whose previous argument with Pivarnick appeared to be the catalyst for the events that evening).
Since the show's launch in 2009, Snooki has proven to be a fan-favorite, despite her rocky start with the original cast. However, she appeared to turn it around by season one's fourth episode, where she is seen wowing her show cohorts with gymnastics on the dance floor of a local club.
It did not take long for Snooki to establish herself as the party-loving member of the Jersey Shore house behind comedic, alcohol-soaked moments such as the time she couldn't find the beach in season three or the she fell while mounting a bike when she realized her genitals were exposed in the second season.
In an interview with Hoda Kotb, years after the end the original show's run, she shared: "I did every interview drunk... it was literally like a party stage. It was like, 'This is awesome.' So I would drink all the time."
Lately, things seemed to have taken a dark turn for the Jersey Shore star lately, spurring her decision to exit the show. The mom of three mentioned that she and her kids have gotten "death threats," and her experiences overall have involved too much "drama."
"I just don't like the turnout of it and I don't like the person I'm being portrayed as. This is getting a little too much," Snooki went on to explain during Friday's episode of It's Happening. "At 32 years old and with three kids, if I'm doing a reality show I just want it to be fun and light-hearted, and lately it's not like that and the show is getting so dramatic."
"I love MTV, that's my family," she added. "They're going to be my family forever. Hopefully I can work with them more."
Snooki's Top 'Jersey Shore' Moments, In Honor of TV Personality's Departure From Hit Reality Show | Culture