Snoop Dogg Calls Kanye West 'Uncle Tom' Amid 13th Amendment and 'SNL' Scandals
Oh, Kanye. From his Make America Great Again (MAGA) hat to his pro-Trump spiel on Saturday Night Live to his remark about abolishing the 13th Amendment, the rapper isn't currying favor with his fellow celebrities—including Snoop Dogg, who referred to West as an "Uncle Tom" after the rapper shared a picture Monday of himself wearing a MAGA hat on Instagram.
Uncle Tom is a derogatory term used to describe black people. It's best defined as "a black person who is overeager to win the approval of whites," according to Merriam-Webster.
West has been vocal about his support and admiration for President Donald Trump, a man who has been accused of being racist and of saying the N-word on yet-to-be-found videotapes while on The Apprentice. The "Yikes" rapper shared a selfie wearing a MAGA hat via Instagram on Monday, adding how the hat "represents good and America becoming whole again" and how "we abolish the 13th amendment."
West's comments elicited a negative response from Snoop, who has been critical of the performer in the past.
"Make ya music great again n****," Snoop, 46, commented Monday on Instagram, according to a screenshot taken by The Shade Room. "Uncle Tom. Ass n****."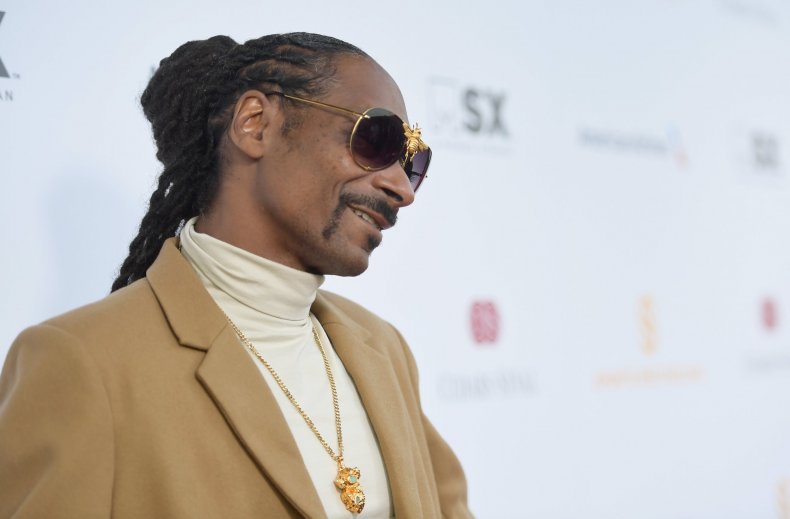 Snoop isn't the first star to express their disappointment with West's behavior. Lana Del Rey made headlines for her equally harsh critique of the "Famous" rapper when she accused him of being a "narcissist." "Trump becoming our president was a loss for the country but your support of him is a loss for the culture," she wrote on West's MAGA hat Instagram post.
"I can only assume you relate to his personality on some level. Delusions of Grandeur, extreme issues with narcissism—none of which would be a talking point if we weren't speaking about the man leading our country," Rey, 33, continued. "If you think it's alright to support someone who believes it's OK to grab a woman by the p***y just because he's famous—then you need an intervention as much as he does."
Avengers star Chris Evans spoke out against West as well, tweeting Sunday: "There's nothing more maddening than debating someone who doesn't know history, doesn't read books and frames their myopia as virtue."
Not all were offended by West's remarks, namely Trump himself. Trump suggested West was "leading the charge" upon putting "on a MAGA hat after the show." Trump's son, Donald Trump Jr., tweeted how West was apparently "bullied backstage for wanting to wear a #maga hat on SNL."
Actor Frankie Muniz, of Malcolm in the Middle and Dancing with the Stars fame, gave West "props" for speaking his mind.
"One thing that I can say about him, that I think is a positive from it is the fact that he's speaking about what he believes," Muniz, 32, told TMZ on Monday. "Whether you agree with it or not, there's a lot of people who are afraid to say anything or say stuff and don't even know what they're saying. He's very adamant about what he's saying and I give him props for that."