Snoop Dogg Dubs Candace Owens and More Black Conservatives 'The C**n Bunch'
Snoop Dogg's social media activity has landed him in hot water again—this time with conservatives.
The 48-year-old taunted several Black right-wing talking heads with a derogatory racial slur in an Instagram post on Sunday, targeting the likes of Candace Owens, Diamond & Silk, the Hodge Twins, David Harris Jr., Terrance K. Williams, Paris Denard, Herman Cain, Angela Stanton and Darrell C. Scott. The image, in which the conservative commentators were featured in a photo grid reminiscent of The Brady Bunch, has the words "The C**n Bunch" plastered across it.
It's unclear if there was any specific motive behind Snoop's disparaging post, but the targeted conservatives have publicly supported President Donald Trump—whom Snoop staunchly opposes—and have denounced racial movements like Black Lives Matter, which Snoop openly supports. Nonetheless, the use of the racial slur was enough to upset many people, including those featured in the post.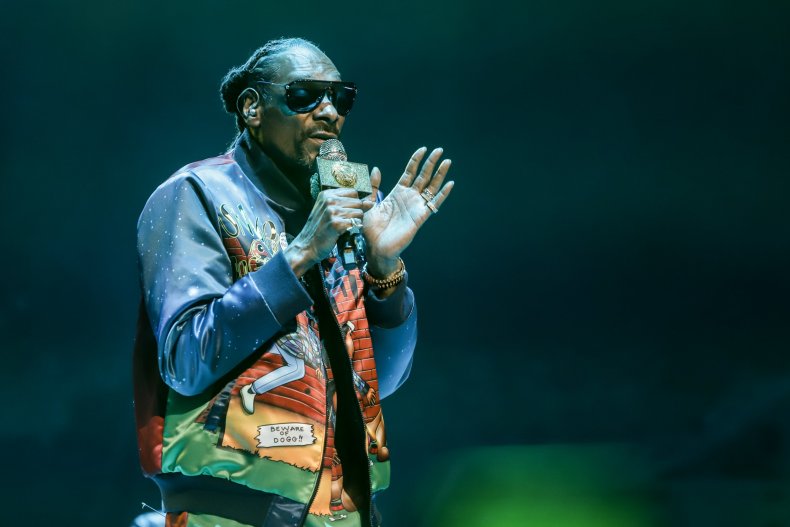 Comical YouTube duo and twin brothers Kevin and Keith Hodge responded to Snoop by reposting the image on their own Instagram.
"@snoopdogg posted this today calling us along with other black conservative Americans 'c**ns' for aligning with Republican Party. Sorry but we think with our minds not our skin color. Our black ancestors heard chants of 'c**n' before the KKK hung them from trees. KKK was started by the democrat party by the way. But here in 2020 blacks are calling other conservative blacks this which is low IQ a** backwards. Snoop was cool with Trump until he ran for President. Also what's up with the Raccoon in the meme as 'massa' shouldn't it be a white man," they wrote.
Stanton also addressed Snoop by sharing a photo of the rapper standing next to Trump years before his presidency. "If I'm a C**n @snoopdogg what's this?!" she tweeted.
Stanton's post led a number of people on social media to criticize the rapper for ridiculing Black conservatives over their support of the Republican party.
"Snoop Dog [sic] has a lot of negative things to say about President Trump and his supporters...," wrote Ryan Fournier, self-described founder of the Students for Trump organization. He added, "That wasn't the case 5 years ago when they used to be friends."
The controversial post comes just months after Snoop made headlines for his expletive-filled rant against Gayle King. In the wake of Kobe Bryant's death, Snoop referred to King as a "b***h," among other derogatory terms, after CBS released a clip of the news host asking retired WNBA champion Lisa Leslie about Bryant's 2003 sexual assault case.
Newsweek reached out to Snoop Dogg's representatives for comment, but did not hear back in time for publication.