Donald Trump Is Like A QB Calling 'Audibles' On Policy, Snoop Dogg Says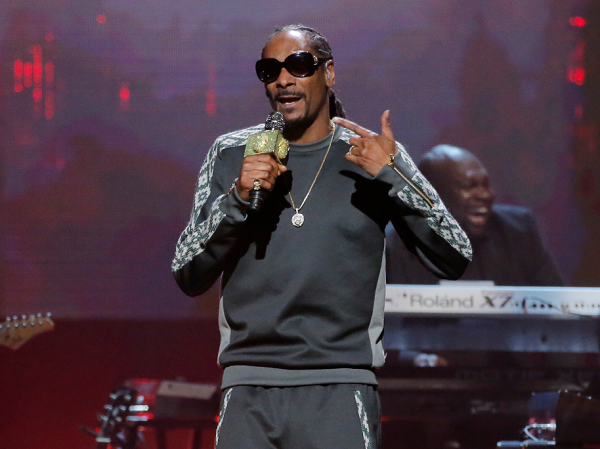 Snoop Dogg hasn't always been the most politically active rapper, but now that President Donald Trump is running the country, fans shouldn't expect the Long Beach artist to remain quiet.
The 45-year-old recently found himself entangled in a media firestorm following the release of BADBADNOTGOOD's "Lavender" video, in which Snoop is seen shooting a toy gun at a man with a clown face who resembles Trump. The video, which was a remix of the Canadian group's song featuring Snoop and Kaytranada, sparked almost immediate outrage from many, including from the president, who tweeted his reaction to the video.
"Can you imagine what the outcry would be if @SnoopDogg, failing career and all, had aimed and fired the gun at President Obama? Jail Time!" Trump tweeted.
Newsweek subscription offers >
In the song, Snoop raps about social justice issues such as unpaid reparations and police shootings. The message in the song—and video—is a bit different from what fans are used to hearing from Tha Doggfather rapper, like his 2016 "Double Tap," for example, which is basically about sparking a sexual relationship through the use of social media direct messaging.
However, Snoop may start addressing political mishaps and policies affecting the community more often following Trump's presidential win.
In an interview with All Hip Hop, released Thursday, Snoop shared his confusion over the way the president is currently handling matters of policy and compared Trump's shifting policies to a quarterback calling an audible during a football game.
"I don't know where we're at as a country. It's like [Trump] is running audibles at the line of scrimmage," Snoop said. "What's in his playbook? I'm sitting back watching [just] like ya'll. I don't want to offend nobody and say the nothing the wrong way, but at the same time I'm confused."
Newsweek subscription offers >
Trump has flip-flopped on various statements he made during his campaign since he became president, including issues regarding Syrian President Basar al-Assad, NATO, tension with Russia and China's currency manipulation, all of which have inspired the rapper to pay more attention to politics and how they line up with the needs of his community.
"I take my stance on who I am and what I'm here for. I am the voice of the people that can't speak," he said. "I move in a way that others' can't move, and some of them ain't equipped to do what I do. But I'm willing to do what needs to be done when the time is right."
Check out Snoop's interview below.
Donald Trump Is Like A QB Calling 'Audibles' On Policy, Snoop Dogg Says | U.S.