Snoop Dogg erupted into a wild celebration as Jake Paul knocked out Ben Askren during Triller Fight Club's main event on Saturday night.
The YouTuber turned boxer, Paul, landed a jab that floored former the MMA fighter, Askren, in the first round of the fight inside the Mercedes-Benz Stadium in Atlanta.
Snoop, commentating alongside Saturday Night Live's Pete Davidson, cheered him on and celebrated the apparent windfall the victory will bring him.
"Get my money, Jake! Get my motherf*****g money, Jake!" he yelled repeatedly, as Paul landed the fight-winning punch.
"Get me my motherf*****g money, Jake! Finish him! Finish him!" he went on.
(Warning: This video contains language some listeners could find offensive)
Then, moments after a victory speech from Paul, Snoop took the opportunity to call out UFC president Dana White.
"Hey Dana White, where my money at?" he said.
His words appear to refer to an apparent bet over the outcome of the fight.
In an appearance on Mike Tyson's podcast last month, White had suggested there was no chance Paul could defeat Askren.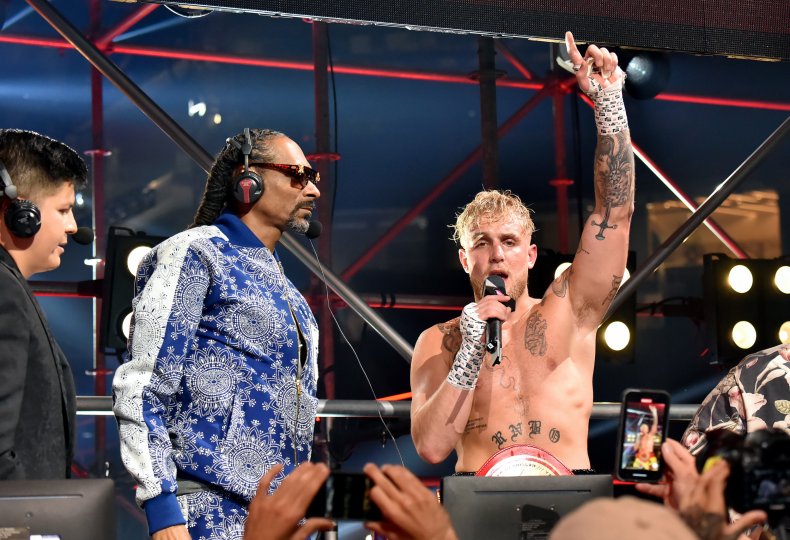 "Let's be honest, Jake Paul isn't a f**king boxer. This guys a f**king YouTube kid," White said. "I'll bet a million f**king dollars that he loses this f**king fight," he said.
Snoop responded to White's comments in a video posted on his Instagram page—and upped the stakes.
"Hey Dana White, I see you got faith in your boy, right? Going up against my guy, Jake," the rapper said.
"You say you got a million You're the CEO of UFC, man. You got more than a million. Put up TWO. Put up $2 million and we'll match it."
He added: "Come on Dana, what you waiting on?"
Meanwhile, viewers took to Twitter with jokes and memes about Saturday night's pay-per-view event, which included performances from Justin Bieber, Doja Cat and new rap supergroup Mt Westmore consisting of Snoop Dog, Ice Cube, E-40 and Too Short.
Many praised Snoop and his commentary as the highlight of the night.
"Snoop DOGG won tonight.. he was the most entertaining person tonight," DJ Akademiks wrote on Twitter.
Dennis Chambers wrote: "We live in a world where a YouTube star just won Snoop Dogg $2 million for knocking out a former UFC fighter in a boxing match lmao."
"Snoop Dogg screaming 'Dana White, where my money at?! Dana White, where my money at?!?' is pretty much the only way we could've ended this broadcast," Shaheen Al-Shatti added.