Snoop Dogg Posts Instagram Photo of Trump Drinking Bleach: 'Aight U Go First'
Rapper Snoop Dogg shared a depiction of President Donald Trump drinking bleach on Instagram, following the president's suggestion that maybe disinfectant may be used to treat the virus, via injection.
During a press briefing on Thursday, Trump suggested that ultraviolet light or disinfectant maybe used to treat COVID-19. "And then I see the disinfectant where it knocks it out in a minute. One minute. And is there a way we can do something like that, by injection inside or almost a cleaning?" he said, according to BBC. "So it'd be interesting to check that."
Snoop was one of many people to show his skepticism for the disinfectant treatment. The image Snoop shared showed Trump pouring a giant bottle of Clorox right into his mouth. He said that he thought if Trump or his supporters tried it first, maybe then he'd give it a shot. "Aight u go first then ya voters and I'll be here waiting to c [sic] how y'all feel before I go under my kitchen sink for some bleach," he wrote in the caption.
Granted, Trump did qualify his statement by saying that he wasn't a doctor. "I'm not a doctor. But I'm, like, a person that has a good you-know-what," he said.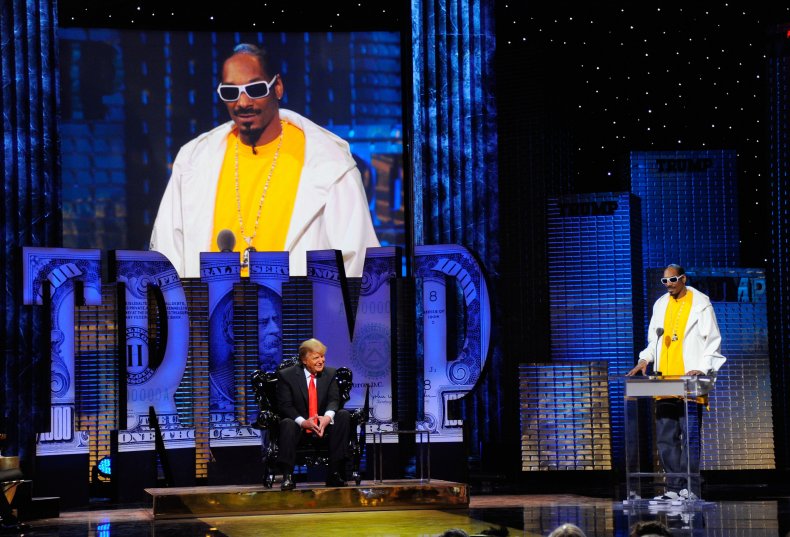 Trump's idea also drew criticism from disinfectant manufacturers RB, who make Lysol and Dettol, issued a statement to say that disinfectant cannot be used to clean you internally and said that you should read the label for further safety information. "As a global leader in health and hygiene products, we must be clear that under no circumstance should our disinfectant products be administered into the human body (through injection, ingestion or any other route)," the company wrote in a statement. "As with all products, our disinfectant and hygiene products should only be used as intended and in line with usage guidelines. Please read the label and safety information."
Other celebrities and brands weighed in, telling people that consuming disinfectant is dangerous, including actor Zach Braff, Burger King, and White House Senior Counselor Kellyanne Conway's husband George Conway, while criticizing the Surgeon General.
The Instagram post was not the first time Snoop has criticized the president about the coronavirus pandemic. The 48-year-old rapper also posted a video on Twitter on April 16 cutting clips of Trump being interviewed about the pandemic with clips from his 2019 music video for "I C Your Bulls**t," calling him a "coronavirus liar," in a hashtag.