Snoop Dogg's Recent Achievements May Be Overshadowed by Sex Assault Lawsuit
It's a big week for rap icon Snoop Dogg, who bought Death Row Records: He is set to release a new album, and is scheduled to headline Super Bowl LVI. These achievements could be eclipsed, however, by a new lawsuit accusing the musician of sexual assault.
In the lawsuit filed in a Los Angeles federal court, a Jane Doe alleges that she was assaulted by Snoop Dogg, whose birth name is Calvin Broadus, and his associate, Bishop Don "Magic" Juan, following a concert in 2013. Doe claims that she accepted a ride home from Juan, who allegedly forced her to have oral sex, according to a copy of the court filing obtained by Rolling Stone.
The next day, the lawsuit alleges, Juan suggested that the woman accompany him to Snoop Dogg's recording studio. Doe said she agreed to go "in hopes of advancing her career," according to court documents.
Once at the recording studio, Snoop Dogg allegedly cornered the woman in a bathroom, and forced her to engage in oral sex, according to the court filing.
Snoop Dogg and Juan are being sued, accused of violating the Trafficking Victims Protection Act, sexual battery and sexual assault.
The court filing says Doe attempted to "resolve this dispute through a private mediation," but that the parties were unable to reach a deal.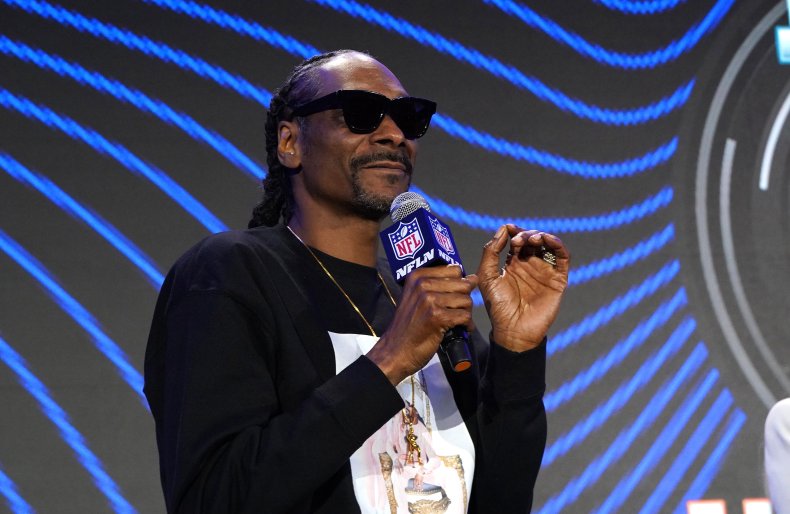 This is not the first time that Broadus has been sued in a sexual assault case. In 2003, makeup artist Kylie Bell accused the rapper, but the case was later dropped.
While Broadus has not released an official statement, an Instagram post from Snoop Dogg's account on Wednesday suggested that he denies the allegations. The post states, "Gold digger season is here be careful Nefews [sic] keep ya guards up. And. Keep ya circle small."
The comment was allegedly created soon after the mediation with Doe broke down.
Newsweek has reached out to Snoop Dogg's agent for comment.
In September 2021, the 50-year-old rapper was revealed to be part of the headlining act for this Sunday's Super Bowl LVI halftime show, along with fellow rappers Dr. Dre, Kendrick Lamar, Eminem and Mary J. Blige.
This week, Snoop Dogg announced that he had purchased Death Row Records, which had shut down in 2006. The label was where Snoop Dogg got his start as a mainstream rapper in the 1990s, joining Dr. Dre and another iconic artist of the era, Tupac Shakur.
Snoop Dogg is also scheduled to release a new album, B.O.D.R. (Bacc on Death Row) on Friday.