Snow in Las Vegas, Joshua Tree and Los Angeles County, in Pictures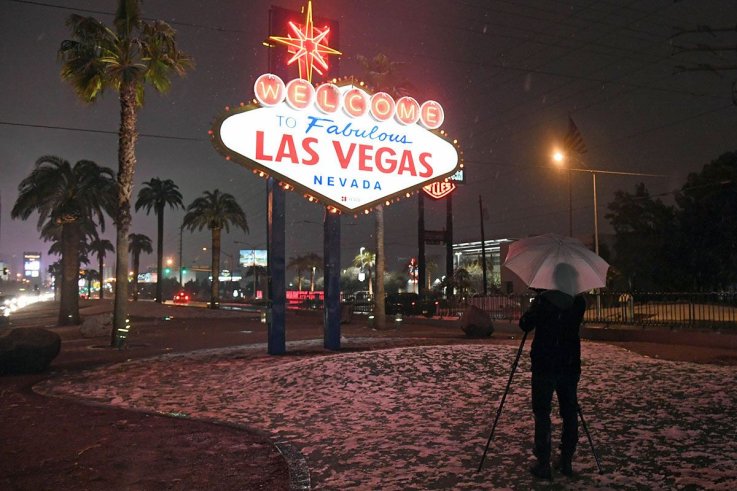 Almost an inch of snow fell at Las Vegas's McCarran International Airport, causing at least 100 flight cancelations. The Associated Press reports that it's the first significant snowfall the airport has seen in a decade. Roads between Los Angeles and Las Vegas were closed due to poor conditions and limited visibility. Flagstaff Pulliam Airport, a small airport in Arizona, was also shut by the storm after visibility hit zero.
Three inches of snow were reported in some areas of Las Vegas. Residents, who rarely see snow, were photographed building snowmen and sledding. Many took to social media, posting pictures and videos of the snow in surprise and delight.
The snow dusted the city's famous strip, drawing crowds out of the casinos to take photos, and a snowman was built underneath the "Welcome to Fabulous Las Vegas" sign. The strip's palm trees received an unfamiliar snowy coating.
The Las Vegas Forecast Office tweeted that this is the coldest February on record since 2004. According to National Weather Service records, the snowiest February was in 1939, when 4.1 inches of snow fell.
In California, snow settled in the foothills in the southern part of the state. Snow is so rare in the region that locals expressed confusion over what was falling from the sky. The National Weather Service of Los Angeles tweeted to clear up the confusion: "Correct, that is snow!"
Malibu, Pasadena, West Hollywood and Calabasas all saw a coating of powder. School districts in the San Bernardino Mountains declared a rare snow day on Thursday. Campers at Joshua Tree National Park awoke on Thursday to find their tents dusted with snow, even though temperatures at the park usually only reach a low of around 40 degress Fahrenheit in February.
The cold, wet weather is a welcome relief to California, which has recently been hit by dangerous dry spells and wildfires. The U.S. Drought Monitor reports that weather this winter has alleviated drought conditions in most of the state.
The National Weather Service of Los Angeles predicts that temperatures in the city are expected to drop between 29 and 32 degrees Friday morning, with some areas experiencing temperatures as low as 27 degrees.
These photos show Nevada and California's unexpected winter wonderland.