Snow in the Sahara Video Shows Sand Dunes Blanketed White by Freak Blizzard
A snowstorm in the Sahara desert has turned the normally sandy landscape into what looks like arctic tundra after up to 16 inches fell on areas of Algeria Sunday.
The freak occurrence—it is only the third time in almost 40 years—surprised locals as their homes and surrounding iconic red sand dunes were covered in snow.
Related: Deep freeze follows bomb cyclone as East Coast battles flooding and heavy snow
While the snow barely lasted into the afternoon before it melted away in 42 degree heat, Forbes reported, this still left children time to build snowmen and go sledding.
The astounding weather was the result of a high pressure weather system over Europe that pulled cold air into North Africa over the Sahara. The precipitation occurred when the cold air reached a height of 3,280 feet in the Atlas Mountains, where Ain Sefra is situated. The result was the ensuing snowstorm.
Ain Sefra is more accustomed to some of the highest temperatures in the world rather than blizzards. In July 2017, the town, which is known as "The Gateway to the Desert," experienced average highs of 99.7 degrees. The relatively large amounts of snow for the area have caused travel chaos with cars and buses stranded on icy roads and unaccustomed to managing the extreme weather.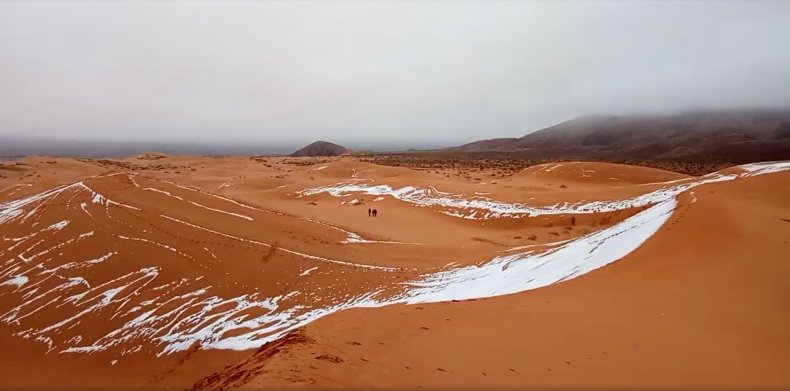 The inclement conditions in North Africa have been mirrored across the world. The East Coast of the United States recently had been hit by a bomb cyclone, with harbors flooded and bitterly cold temperatures recorded across the eastern seaboard.
In the southern hemisphere, which is currently in the middle of summer, Sydney and Grayson, Australia, are experiencing some of the hottest temperatures they have seen in 80 years, with the mercury hitting 116.6 degrees.
Trevor Nace, a geologist at Forbes, explained that the Sahara may be experiencing a sudden shift from arid to humid. Some 5,500 years ago, what is now desert in North Africa was a fertile plain with lakes and vegetation. Experts are still unsure why the Sahara became a desert, but they say a sudden change in climates in the region is possible.