Enormous Ice and Snow Sculptures Go on Public Display: Amazing Photos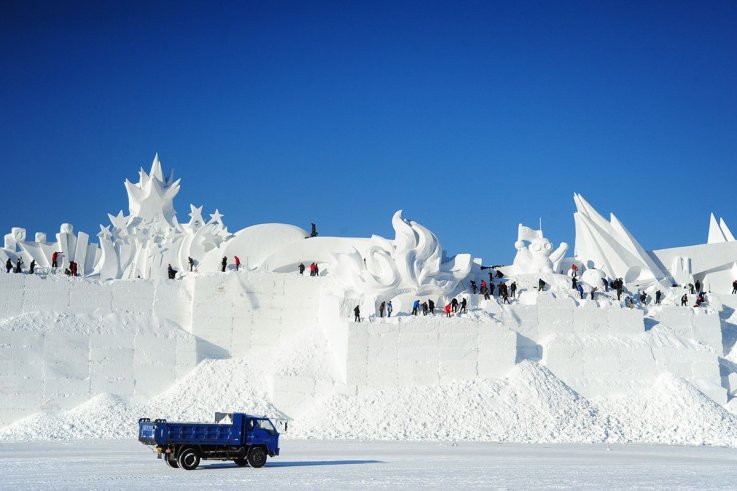 The world's biggest and most spectacular ice and snow sculptures are about to go on public display in northern China. The annual Harbin International Ice and Snow Sculpture Festival features enormous snow sculptures which can be up to 800 feet long, and a colorfully illuminated city of ice with buildings towering up to 150 feet high.
The festival, which has its origins in a traditional ice lantern show that began in 1963, has become more and more international, attracting artists and visitors from around the world. Organizers say 18 million people attended the 2017 festival, which generated 28.7 billion yuan ($4.4 billion) in revenue.
In 2007, an elaborate sculpture in memoriam of Canadian doctor Norman Bethune was awarded the Guinness Record for the world's largest snow sculpture. Called "Romantic Feelings," it was 250 meters (820 feet) long, 8.5m (28 feet) tall and used over 13,000 cubic meters (more than 450,000 cubic feet) of snow.
The festival grounds comprise three main areas, each with its own identity. The Sun Island Scenic Area features huge snow sculptures that can be only visited during daytime, while the Ice and Snow World features illuminated temples and palaces made of ice blocks, and is best seen at night. Finally, around 1,000 smaller ice and snow sculptures aimed at children are dotted throughout the city's Zhaolin Park.
The blocks of ice used for the glittering city are cut from the nearby Songhua river and shaped by around 10,000 workers working day and night ahead of the festival's opening day. The buildings are lit up by thousands of computer-controlled LEDs.
The Sun Island Scenic Area opens to the public on December 21, while the Ice and Snow World opens on January 5, 2019. The festival usually runs through February, depending on weather conditions.
The extreme cold temperatures of China's far north Heilongjiang province makes Harbin the ideal place for a winter festival. The average daytime temperature is just 1.8ºF (-16.8ºC) and lows of -31ºF are not uncommon at night.
Newsweek presents photos of this year's snow sculptures in the Sun Island Scenic Area, plus a few images from previous years. We hope to have photos of the illuminated city of ice as the new year approaches.