When Will the Snow Start in Seattle? Expected Snowfall Totals From 'Snowmageddon' Weekend Storm
Seattle and the surrounding areas are bracing for snow and high winds Friday that are expected to continue into Saturday.
The National Weather Service issued winter storm warnings and winter weather advisories for much of western Washington ahead of the storm. Depending on the area the storm is expected to begin at various times throughout Friday.
In the areas where there was a winter storm warning, four to six inches of snow is expected with isolated areas receiving eight inches of accumulation. The heaviest snowfall was expected to happen between 3 p.m. PST Friday until 10 p.m. Friday.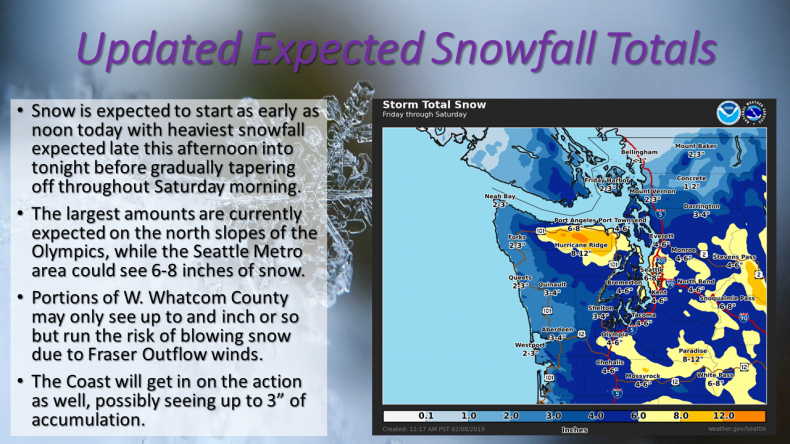 In the mountains, there could be six to 10 inches of snow. The San Juans and the Northern Interior could see one to four inches of snow with wind gusts up to 50 miles per hour. Along the coast and the southwest interior, there could likely be two to four inches of snow, though it would hit the southwest interior a bit later than the other areas.
The snow is likely to impact the evening commute for most people. Those in the Seattle metro area would see the snow after 3 p.m. and continue into the night. The NWS advises drivers to take caution if they have to be out on the roads.
Some early snow and flurries were being reported during the morning commute already. There is a winter storm warning in effect beginning at noon PST for portions of northwest and west central Washington, including Seattle, Everett, Tacoma, Bremerton, Bellevue, North Bend, Redmond, Kent, Port Angeles, Sequim, Oak Harbor, and Mount Vernon, according to the NWS. That warning is in effect until Saturday at 4 p.m. PST.
The snow is expected to fall at a rate of about two inches per hour at the worst parts of the storm. The Washington Department of Transportation suggested that anyone who could work from home or leave work early do.
A storm that hit earlier in the week knocked out power in the area for thousands of residents and made travel incredibly difficult. Even more snow was expected to fall Friday into Saturday so residents should be sure to keep tabs on the storm and heed any warnings from authorities in the area.
Seattle City Light said it was preparing for the snow and tweeted, "Today's snowfall will cause tree branches to sag and fall, potentially bringing power lines down with them. If you see a downed power line, keep your distance and report it at 206-684-3000 or 911. If a power line falls on you while you are in a car, stay in the car and call 911."