What Is a Snow Squall? Severe Weather Warnings Issued in Areas of New Jersey, New York
Parts of New Jersey and New York were hit with severe weather warnings on Thursday, citing a "snow squall."
Multiple counties in the northern and central parts of New Jersey, as well as parts of New York including New York City, were issued snow squall warnings amid heavy snow showers. Weather officials warned the snow squalls could result in dangerous conditions for drivers due to snow-filled, windy whiteouts.
The National Weather Service (NWS) describes a snow squall on its website as an "intense short-lived burst of heavy snowfall." The weather event is usually accompanied by gusty winds, resulting in reduced visibility and whiteout conditions. Wind gusts could reach as high as 30 miles per hour, and the slick conditions caused by the sudden heavy snow can lead to slick and slippery roads that may heighten the chance of an accident.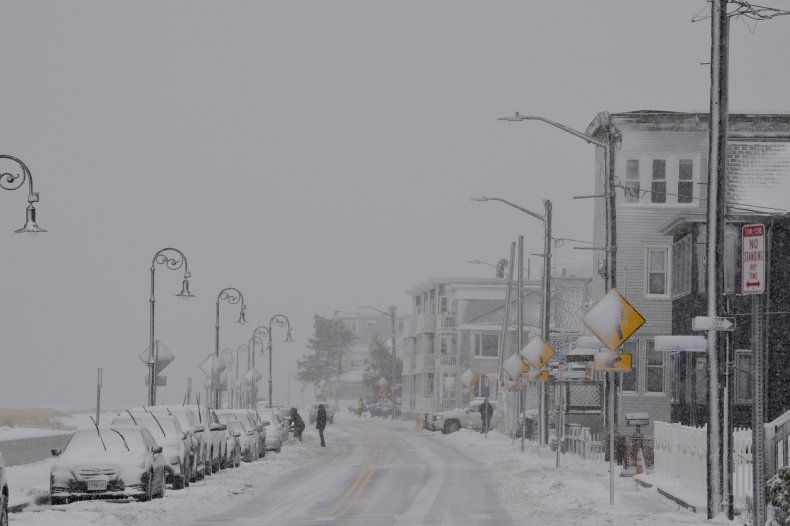 Newsweek subscription offers >
Snow squalls don't typically last longer than 10 to 15 minutes, although some have lasted for up to an hour, according to the NWS. Although not limited to the daytime, the snow event usually happens during the day.
Warnings were issued in the early afternoon across New Jersey in the following areas: Hunterdon County, Morris County, Warren County, north-central Mercer County, Somerset County, northern Middlesex County. North-central Bucks county in southeastern Pennsylvania was also issued a warning.
Snow accumulation during the snow squalls isn't expected to reach more than an inch, and warnings were only in effect until 4:45 p.m. ET, according to the NWS.
However, there was concern the low visibility and high winds could affect drivers, especially since the snow squall was expected to hit areas across the Garden State Parkway, Interstate 287, Interstate 78, Interstate 80 and the New Jersey Turnpike where they pass the locations including New Brunswick, Perth Amboy, Morristown, Somerville, Somerset, Edison, East Brunswick, Bridgewater, Sayreville, North Brunswick, Carteret, Dover, Madison, Hopatcong, Middlesex, Florham Park, East Hanover, Bound Brook, Manville and Hackettstown.
Drivers that may be on the road in those areas were urged to reduce speed and slow down. The NWS also advised drivers to use their headlights during moments of a snow squall.
Snow squalls aren't the only thing in the forecast for New Jersey. Cold air is expected to sweep across areas of the state, resulting in below-freezing temperatures on Wednesday night. Temperatures are slated to drop down to the teens overnight, with the chance of reaching the low 20s by Thursday morning. However, cold conditions aren't expected to get much better with the high for New Jersey expected to remain near 32 degrees throughout Thursday and into Friday.
What Is a Snow Squall? Severe Weather Warnings Issued in Areas of New Jersey, New York | Culture