What Is a Snow Squall? Warning Issued by National Weather Service for New York State
The National Weather Service issued a snow squall warning for parts of upstate New York over the weekend. For many, the first response was to wonder what exactly a snow squall was. Terms like blizzard or winter weather warning are easy enough to interpret but snow squall is a more specific and potentially more severe weather warning.
The snow squall warning was issued out of the Binghamton, New York, NWS office Sunday morning at 8:08 a.m. EST. The areas under the warning included Cayuga County, Seneca County, Steuben County and Yates County in New York and the warning was set to last until 9:15 a.m. EST Sunday morning. Another Squall warning was issued out of the Buffalo office at 8:05 a.m. for Allegany County, Cayuga County, Livingston County, Monroe County, Ontario County, Oswego County and Wayne County. That warning was in effect until 9 a.m. Sunday morning.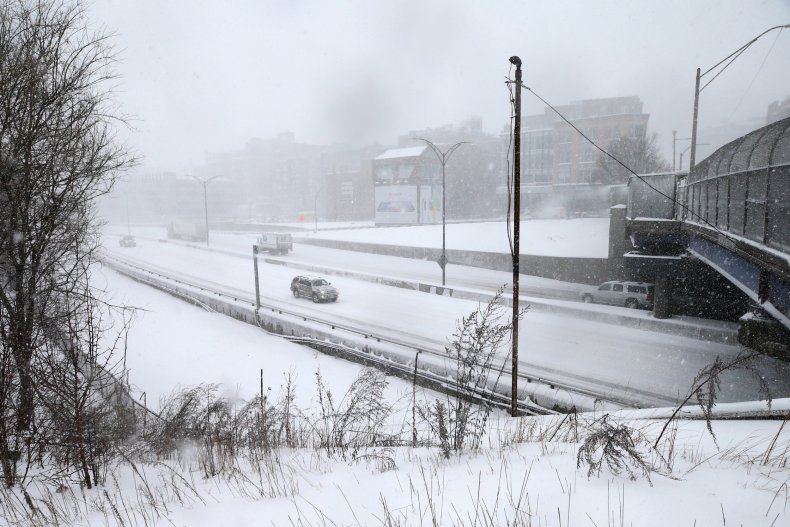 The reason that the warning was issued for such a limited time period is that snow squalls are typically characterized by their short duration. They move incredibly quickly and usually come on just as fast due to a strong cold front, according to the NWS.
Squalls tend to cause particularly dangerous travel which is why the warnings should be taken so seriously. "The sudden white-out conditions combined with falling temperatures produces icy roads in just a few minutes. Squalls can occur where there is no large-scale winter storm in progress and might only produce minor accumulations," according to the NWS.
The Sunday-morning squall was moving at 30 miles per hour and was expected to make its way through several areas in New York. The weather service used radar to map out the speed and the location of the squall.
Predictions from the NWS indicated when the squall would reach certain areas:
"Cohocton around 8:15 a.m. EST, Middlesex, Italy and Prattsburgh around 8:35 a.m. EST, Potter, Pulteney and Montezuma around 8:45 a.m. EST, Branchport, Bluff Point and Yatesville around 8:50 a.m. EST, Keuka Park around 8:55 a.m. EST, Penn Yan, Porter Corner and Throopsville around 9:00 a.m. EST, Sennett, Milo Center and Mays Mills around 9:05 a.m. EST, Troupsburg and Dresden around 9:10 a.m. EST."
The warning out of the Buffalo NWS office did not include approximate arrival times for the squall but did warn that gusts could reach up to 40 mph and urged people in the area to delay their travel until after the warning was lifted.