How Much Snow Are We Getting Today? New York, Connecticut, New Jersey Getting Wintry Mix Thursday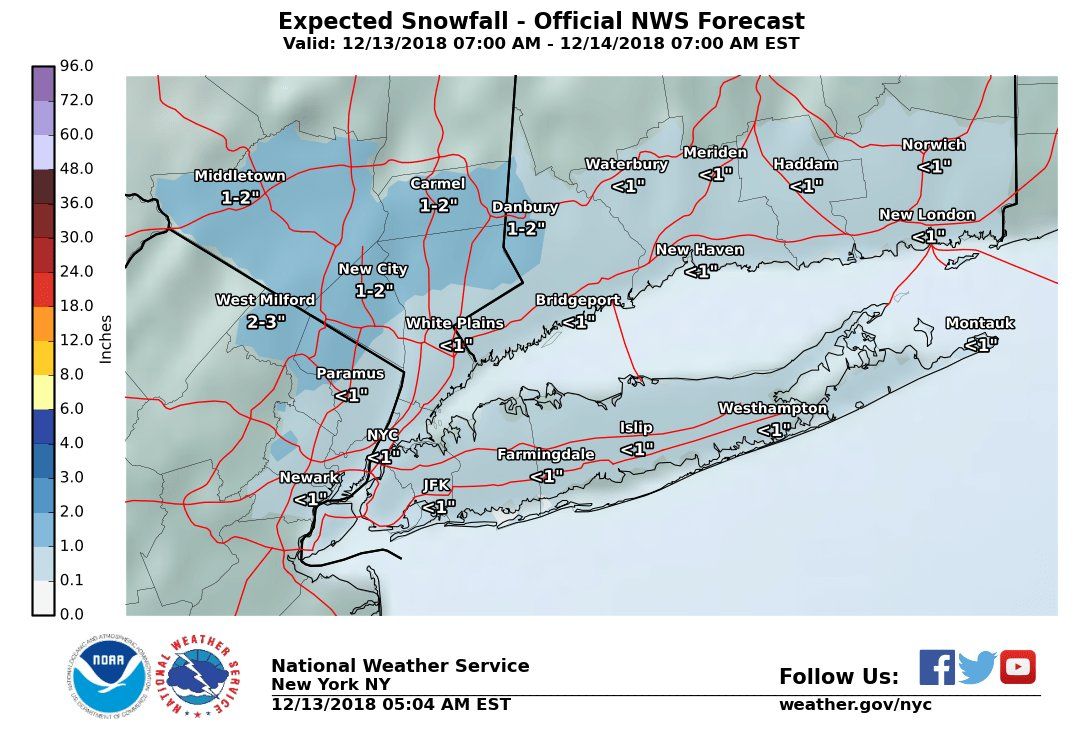 Thursday morning some people along the East Coast found their commute was a bit gloomy as wintry weather rolled in. The areas of southern Connecticut, northeast New Jersey and southeast New York were all under a hazardous weather outlook Thursday morning that was set to last through the day and into the night, including the evening commute.
During the morning commute, some people were experiencing some light snow and flurries across the region while the temperature was still cool enough for snow. The weather was in the mid to upper 30s Thursday morning and was expected to increase to the 40s in some areas.
That change in temperature was expected to cause any snow falling to change to rain, though about an inch or two of snow was expected locally in some areas, according to the National Weather Service.
A map of the area expected to see the inclement weather was made available Thursday morning to those wondering what to expect of the snowfall in their area. The weather was due to a low-pressure system moving quickly into the area.
The highest chance of snow was expected in southwestern Connecticut and there the weather was expected to make driving conditions difficult and hazardous. After Thursday's hazardous weather though there was no other hazardous weather expected in the area for the following five days.
New York City's Emergency Management Department issued a travel advisory for Thursday's evening commute and said, "New Yorkers should prepare for slippery road conditions, and exercise caution when driving, walking, or biking."
There was also a Gridlock Alert issued by the Department of Transportation ahead of the weather. Gridlock alerts are issued when the traffic is expected to be so bad that the grid of Manhattan is essentially "locked." On these days, the city urges people to take public transportation, walk or bike when possible. The Department of Sanitation was also out and spreading salt on the roads to keep them drivable Thursday morning.
The New Jersey DoT was also out working to keep the roads clear in north and central New Jersey during the snow, according to a tweet. Residents were tweeting that they hoped the roads would be drivable with the little snow that was expected.
Those in the area should check their local forecasts and be sure to pay attention to notices from authorities throughout the day Thursday.​