California Weather Forecast: Rain, Then Snow, Heading To Areas Ravaged By Wildfires
Severe weather is sitting off the West Coast and making its way to California where it will likely bring significant precipitation in the form of rain or snow, depending on the area and high winds.
Rain was expected Wednesday in northern and central California, according to the National Weather Service. That rain was expected to turn to heavy rainfall and snowfall Thursday as well. In the Sierra Nevada a foot of snow was expected in general but in some isolated areas could see up to three feet of snow.
"By Friday, precipitation will shift mostly to the Great Basin with some lingering showers and higher elevation snow occurring in California and parts of the Pacific Northwest," said the forecast from the NWS.
A small craft advisory was issued along the entire West Coast from Southern California up to Northern Washington. More inland in California there was a Winter Storm Warning in effect from 10 p.m. PST Wednesday through 4 a.m. PST Friday.
Roads were expected to be covered with snow causing travel delays and possible road closures. There were about four to eight inches of snow expected to accumulate across the passes and then another 12 to 18 inches overnight and into Friday.
The weather office in Sacramento, California, shared a weather timeline for those in the area to use to keep track of when the worst of the storm will hit and what type of precipitation will arrive when.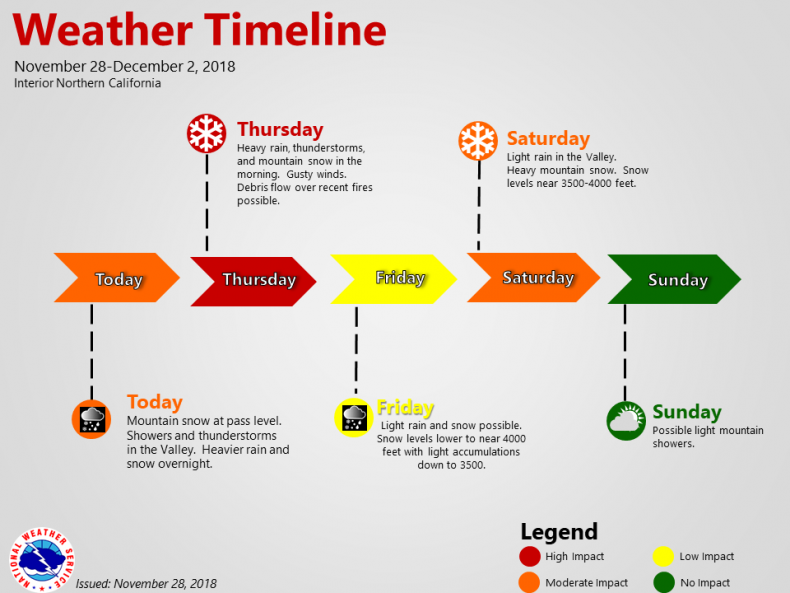 Some areas that were impacted by the wildfires in California like where the Camp Fire, the Mendocino Complex fire, Carr Fire and other will be at higher risk for debris flows especially in the areas where there are flash flood watches. Other areas were under wind advisories and watches and the coastlines had high surf advisories as well.
Those along the coast and inland should check their local forecasts for the coming days and where snow is expected, prepare to follow any directions from authorities and to possibly stay off the roads if necessary.
Meanwhile, in the Northeast, snow was still falling after several days of precipitation and inches of snow fell from a storm that was moving east. That weather was expected to continue through Wednesday and off of Lake Erie and Ontario there was 10 to 12 inches of snow expected as well.
​