Snowden, Greenwald, Miranda to Introduce U.N. Treaty to End Mass Surveillance and Protect Whistleblowers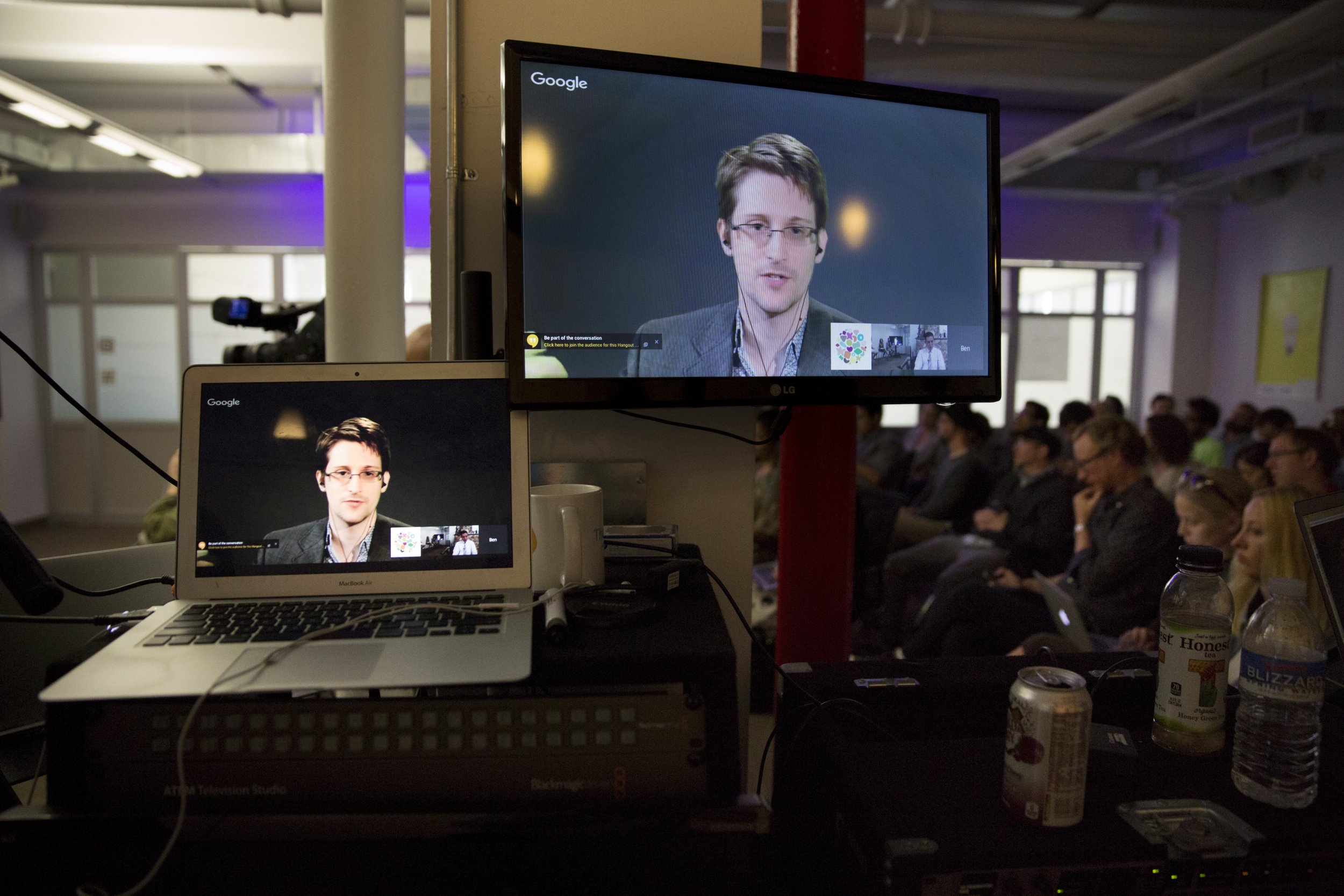 Fifty-some people gathered in a small room in Midtown Manhattan on Thursday afternoon to watch former NSA contractor Edward Snowden, journalist Glenn Greenwald and privacy activist David Miranda formally launch a global campaign around what they hope to be the first United Nations treaty to establish privacy rights in the digital age.
"Now that we've established at least the bare facts of what is going on in the arena of our basic liberties," Snowden said, opening the event via video conference in Moscow, where he currently lives in asylum, "we need to think about what the actual proposals that we're going to put forward are going to be."
More than two years ago, Snowden leaked a trove of classified documents to journalists, including Greenwald, which revealed the scope and scale of government surveillance. The activists say the nature of the surveillance programs, Snowden's probable punishment for exposing it had he not fled and the treatment of those in his orbit (including Miranda, who is Greenwald's partner), all prompted Miranda, with the help of activist organization Avaaz, to create the International Treaty on the Right to Privacy, Protection Against Improper Surveillance and Protection of Whistleblowers.
"Obviously the treaty has its genesis in the work that we've done with the Snowden documents and activists have done around the surveillance revelations," Greenwald said by way of video conference from Brazil. "But it goes way, way beyond the case of Edward Snowden."
The "Snowden Treaty," as it is colloquially called, was developed by experts in international law and legal specialists in Internet freedom and surveillance. It "reaffirms and protects fundamental human rights," the treaty's summary reads, calls on signatories "to enact concrete changes to outlaw mass surveillance" and subject themselves to U.N. oversight.
The treaty also calls on signatories to develop international protections for whistleblowers. "Whistleblowers will not be subject to sanctions for publicly releasing information with the reasonable intent of exposing wrongdoing," the summary says, and, by signing, "treaty states guarantee the right of residence in their countries and embassies for people claiming to be persecuted as whistleblowers until the appropriate proceedings for permanent asylum have been carried out in full."
The treaty's full text is not available, Miranda told the audience, because drafts have been sent to unnamed countries, consultants and NGOs and await proposed changes. "This campaign," Greenwald said, "offers the opportunity to put pressure on governments to adopt a treaty that pushes back against mass surveillance, and also makes clear that individuals who expose corruption should not be subject to the retribution of political leaders."
Since the Snowden revelations, both the U.N. General Assembly and the U.N. Human Rights Council have passed resolutions voicing their concerns over the impact of mass surveillance. They've also called for the creation of a new Geneva Convention on Internet privacy and appointed the first Special Rapporteur to focus on the issue, indicating there is momentum.
It remains unclear if any countries will sign the treaty, or how the activists plan to introduce it. But even if they receive a sponsor and significant support, enforcement may be difficult. "Unlike bans on landmines, or nuclear tests, surveillance remains largely out of the public eye," writes Vice News's Samuel Oakford. "And many countries, including the United States, Russia, and China, are not signatories to several major global treaties and are not members of the International Criminal Court."
The activists, however, aren't giving up. As Snowden put it: "This is the beginning of work that will continue for many years."