Snowfall Totals in New England: Parts of Connecticut, Massachusetts Get More Than a Foot of Snow
The Northeast's first snowstorm of the season did not disappoint, bringing more than a foot to parts of New England.
Snow from Winter Storm Ezekiel, as it's been dubbed by the Weather Channel, started falling on Sunday and was continuing for parts of Massachusetts and Connecticut on Tuesday morning. It's expected to let up later in the day, but not before it delivers a few more inches to parts of the New England area.
The worst snowfall in Connecticut occurred in Hartford County. North Granby, about halfway between New York City and Boston, had 18 inches of snow by Tuesday morning as light snow continued to fall, according to the National Weather Service (NWS). Snowfall totals for other Connecticut towns were listed as:
0-5 inches: Ashford, Pomfret, Rockville, Andover, Vernon, Farmington, South Windsor, Weatogue, West Hartford, Burlington, Manchester
6-10 inches: East Killingly, Woodstock, Columbia, Coventry, Tolland, East Hartford, Southington, Granby
11-14 inches: Staffordville, Somers, Avon, East Farmington Heights, Bradley International Airport, Simsbury
Farther north, in Massachusetts, the worst of the storm affected Worcester and Hampshire counties, which are about 60 miles from each other. Winchendon and Royalston, two towns in Worcester County, had 25 inches of snow on Tuesday morning. Towns in Hampshire County saw less snow, but the NWS said Plainfield and Middlefield still received a hefty amount of 22.5 and 22 inches, respectively.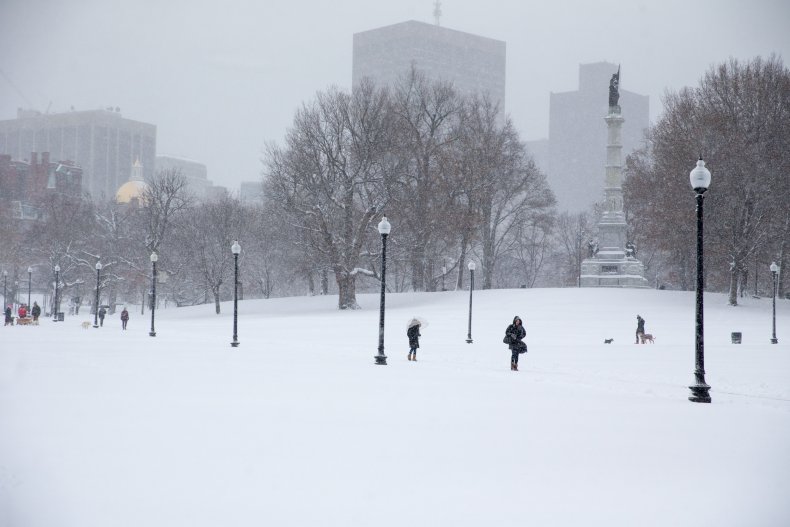 On Tuesday morning, Connecticut Governor Ned Lamont delayed the opening of state offices because of the storm. All Level 2 state employees, those previously referred to as nonessential, didn't have to report to work until 10 a.m. EST.
Twenty-four Massachusetts towns received at least 15 inches of snow, and total accumulation was about 20 inches in Sterling, Huntington and Rowe. Towns in Suffolk County, such as East Boston and Chelsea, located along the coast, were spared the brunt of the storm and had less than 2 inches.
In northern Massachusetts, snowfall rates on Tuesday could reach 2 inches per hour, and the precipitation made for a "slow and treacherous" commute, according to the NWS in Boston.
Along with slowing down residents' commutes to work, the snow forced more than 100 Massachusetts school districts to cancel classes or operate on a delayed opening schedule.
Even after the snow stops falling, it may be a few days before it's gone from Connecticut and Massachusetts streets and yards. Cold temperatures could enable the white stuff to linger on the ground until the next round of snow, forecast to hit parts of New England on Friday.
Snowfall Totals in New England: Parts of Connecticut, Massachusetts Get More Than a Foot of Snow | U.S.