'Snowflake Generals': Fox Business Host Mocks Military Leaders for Being Concerned about Trump July 4th Event
Fox Business host Lou Dobbs marked Independence Day by mocking the leaders of the U.S. military on Thursday, dubbing those who criticized President Donald Trump as "snowflake generals."
Dobbs made the comments as he Tweeted a link to a Daily Mail article that detailed how some top members of the U.S. military were reportedly concerned about participating in Trump's 4th of July Salute to America event. That article cited a CNN source that claimed some leaders had been hesitant about accepting the president's invite, as they were reportedly concerned Trump would politicize the celebration. U.S. military leaders are not allowed to participate in political events, as the Pentagon is expected to be nonpartisan.
"No wonder these Snowflake Generals haven't won a war since 1991," Dobbs wrote in a critical tweet, sharing the news article. "Military chiefs concerned about @realDonaldTrump's July Fourth celebration [sic]," the post continued.
About an hour later, the Fox Business host shared another tweet, writing: "God Bless America and our Great President!"
Explaining why some generals may be concerned, Jordan Libowitz, communications director for Citizens for Responsibility and Ethics in Washington (CREW), told CNN that "military members may not participate in political campaigns."
"This is likely the reason why they're hesitant to participate, because the guidelines are pretty clear about what they can and cannot do. If they come to stand next to him for a political speech while in uniform, representing the military, it could become a problem," Libowitz pointed out.
Army Chief of Staff General Mark Milley and the chiefs of staff of the Navy, Air Force and Marines are not expected to attend the Thursday event. Army Secretary Ryan McCarthy will also not be in attendance. But Pentagon officials, such as Joint Chiefs Chairman General Joseph Dunford, acting Defense Secretary Mark Esper, Navy Secretary Richard Spencer, acting Air Force Secretary Matthew Donovan and acting Army Undersecretary James McPherson are expected to participate.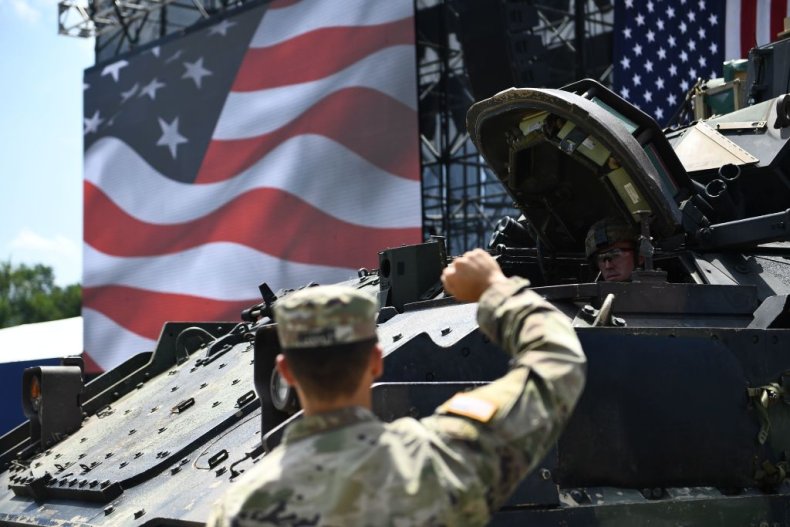 Trump has faced significant criticism for his decision to transform the annual Washington, D.C. 4th of July festivities into a military style event, featuring himself as the main speaker. Sitting presidents do not traditionally get involved directly in the Independence Day event, as it is intended to be an entirely nonpartisan celebration.
Former Defense Secretary Willam Cohen strongly criticized Trump for attempting to politicize the festivities and the military in Wednesday comments to CNN.
"To me, the most troubling thing is the potential politicization of the military. It is one of the last institutions in this country in which the American people see as being non-political," Cohen, who also previously served as Republican Senator, said. He accused trump of "driving a wedge in this country" warning that it could "undermine our security."
'Snowflake Generals': Fox Business Host Mocks Military Leaders for Being Concerned about Trump July 4th Event | U.S.