Snowmobile Driven by State Lawmaker Lands on, Seriously Injures Another
Police won't file any charges over a snowmobile crash that left a Minnesota state legislator with three broken ribs, a broken pelvis and a fractured L5 vertebrae.
The accident occurred Friday when John Jasinski and Mark Johnson, both Republican state senators, were traveling on snowmobiles as part of the Minnesota United Snowmobilers Association Winter Rendezvous in the Brainerd area.
Jasinski "might have been traveling a little bit too fast" as he was headed into a left turn in the trail and clipped the back of the snowmobile in front of him, according to a Morrison County Sheriff's report obtained by Minnesota Public Radio. The snowmobile in front was being ridden by Minnesota Department of Natural Resources enforcement Chief Rod Smith, according to the report.
The department said in a statement provided to Newsweek that it requested the Morrison County Sheriff's Office conduct the investigation to prevent any possible conflicts of interest. Smith's report describing the event, provided by the department to Newsweek, states the left turn was not marked and he was hit from behind as he slowed.
"There was a lot of snow that was stirred up into the air and some commotion," Smith wrote in the report. "I could see other snowmobiles from the back of our group coming to a stop."
Smith found Jasinski on the ground in pain and made an initial medical assessment.
According to Department of Natural Resources documents, the crash occurred during a VIP snowmobile ride that included about 75 riders.
The impact caused Jasinski's snowmobile to roll and for him to "fly off the machine" and sustain injuries, according to the Morrison County Sheriff's Office report. Jasinski's snowmobile then hit another being ridden by Johnson. Both the snowmobiles were brand new demo models owned by Polaris, according to the report.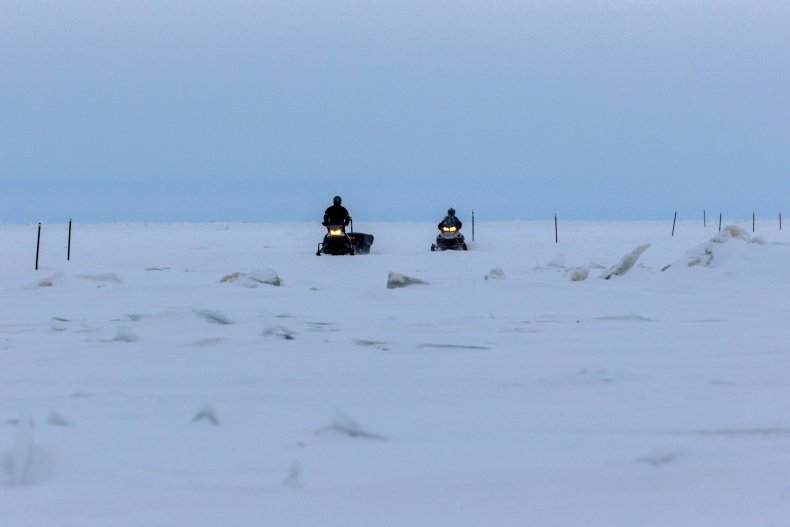 The sheriff's deputy responding to the incident did not speak with Jasinski who was being tended to medics in an ambulance that soon left, according to the report. But a conservation officer who spoke with Jasinski in the ambulance did not detect any alcohol, the report states.
The report differs from the account in a statement issued Monday by the Morrison County Sheriff's Office that said Johnson rear-ended Jasinski as the trail approached a 90-degree turn. Johnson was not injured, according to the statement.
Smith wrote in his report that Johnson said he was behind Jasinski when he fell off his snowmobile. Jonhson tried to avoid a collision but his snowmobile struck Jasinski, according to Smith's report.
A separate report into the incident from the state Department of Natural Resources, also obtained by Minnesota Public Radio, stated that the snowmobiles were going an estimated 10 mph at the time of the crash.
Newsweek has reached out to the Morrison County Sheriff's Office for comment.
A spokeswoman for the Minnesota Senate Republicans provided Newsweek statements from both senators.
Jasinski, who represents Faribault, said in a statement Monday that he was flown to North Memorial Hospital in Robbinsdale. He said he is expected to make a full recovery.
"While the physical recovery may be long, I'm ready to participate with remote access for hearings and floor sessions and fully engage in this session," Jasinski, who also serves as assistant majority leader, said in the statement. "I also will be in regular communication with Senate staff and my Legislative Assistant to continue to provide the best constituent services to my district."
Johnson said in a statement he wishes his friend a quick recovery.