'Snowpiercer' Season 3: Has the Show Been Renewed?
Snowpiercer ended its current season in a dramatic finale that saw some of the train break off into a 10-carriage pirate train in order to get Melanie (played by Jennifer Connelly) from the research station. Melanie seemed to be dead when the group was finally able to reach her, but the show will live on with Season 3.
Snowpiercer was renewed for Season 3 in January 2021 by TNT, a week before the current season began.
Per Bess Till actor Mickey Sumner, filming began on Episodes 1 and 2 in early March, though what will happen on the season is even being kept secret from the cast. She told Collider: "I know what I'm doing in Episodes 1 and 2, but that's it. I don't know where she's going. They keep it pretty heavily under wraps, which is exciting."
In February 2021, however, a new cast member was announced for the upcoming season. Emmy-winning actor and The Good Wife star Archie Panjabi is set to join the cast as a mysterious character called Asha. Who she is has not been revealed, however.
Asked by TV Line where she will come from, executive producer Becky Clements said: "That will make Season 3 super-exciting—definitely a reason to tune in. It's kind of a collision of all the things...coming together." She also confirmed that "a couple of smaller characters, which will bring new information into our world" will be joining Panjabi on the show.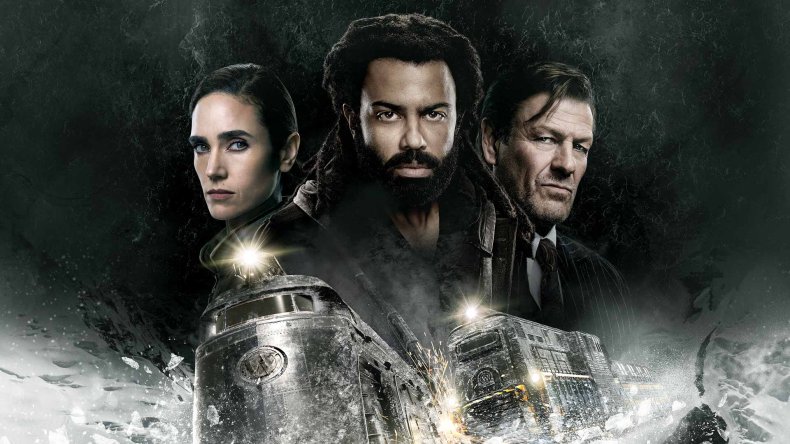 After the two-part season finale aired on TNT and Netflix, Clements gave some other hints about what some fans can expect from Snowpiercer Season 3. She added to TV Line: "We definitely have lots of narratives happening. There's survival, there's [what happened to] Melanie, there's research on the train, there's the ultimate goal..."
As for what happened to Melanie, Jennifer Connelly has been confirmed to be appearing in Snowpiercer Season 3. How exactly she will return, however, has not been revealed.
Pike actor Steven Ogg has shared details of what it is like to film Snowpiercer Season 3 amid the coronavirus pandemic. He told Cinema Blend: "We just started back up and you get tested all the time on a regular basis. It's different, you know?
"You're in a mask all the time...it's interesting because it actually allows for these pure moments between actors because it's like the old world. You have to take off your mask and connect with someone."
So far, a release date for Snowpiercer Season 3 has not been announced yet. Season 1 came in May 2020, while Season 2 came eight months later in January 2021.
Though this could mean that Season 3 comes in August 2021, there is likely to be a longer gap between Season 2 and 3. This is because Season 1 and were filmed back-to-back, while Season 3 was filmed eight months after Season 2 wrapped in July 2020.
This means that there is more likely to be the standard year gap between seasons, meaning that the show returns in January 2022. Filming is set to continue until July 2021, but it remains to be seen if the coronavirus causes any delays that push the release date later into 2022.
Snowpiercer Season 3 is coming soon to TNT in the U.S. and Netflix around the world. Seasons 1 and 2 are available to stream on TNT and Netflix in their respective territories. Season 1 is also streaming on HBO Max.