A group of supporters of the German soccer team FC Energie Cottbus wore Ku Klux Klan (KKK)-style hoods to celebrate the team's promotion to a higher league on Sunday in Cottbus, a city of 100,000 people near the border with Poland.
A picture showing at least two men dressed like members of the white supremacist group, holding a banner reading "the rise of evil ones" written in German, in Gothic characters, was shared on the social media pages of the monitoring group Jüdisches Forum für Demokratie und gegen Antisemitismus (the Jewish forum for democracy and anti-Semitism, or JFDA), and prompted a police investigation.
The JFDA also shared a video of the team's supporters in the stadium sporting Nazi-inspired tattoos and of the coach Claud-Dieter Wollitz and the players singing anti-Roma chants to celebrate their result.
Wollitz apologized on Monday for what he called "a faux pas," according to German news agency Deutsche Welle (DW).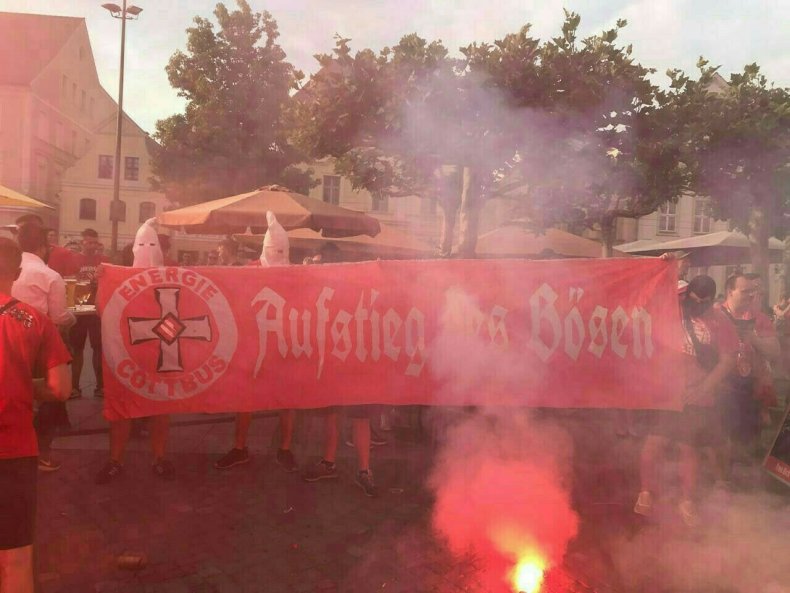 "The problem with right-wing extremist fans and their groups must no longer be downplayed," JFDA spokesperson Levi Salomon said in a statement on Facebook.
It is not the first time German soccer has been seen displays of white supremacist ideology. During a game between the German national team and Czech Republic in September, a group of supporters could be heard singing Nazi-era chants, an incident that German coach Joachim Low said brought "shame" to their country.
The display of white supremacist support is particularly troubling in Cottbus, which emerged from the past German elections as a stronghold of the far-right party Alternative for Germany (AfD) amid a surge of clashes between residents and Syrian migrants and refugees, as Deutsche Welle reported at the time.
Police are investigating the incident, but have not disclosed any further details, Reuters reported. FC Energie Cottbus, who was promoted to the third tier of the German Bundesliga, strongly condemned the fans' behavior in a statement published on its website on Monday, branding it "inhumane, repugnant and in no way tolerable."
The club said it supported the authorities' investigation and, should the police succeed in identifying the culprits, it would impose life-long bans on the supporters from all stadiums. "We are deeply saddened by the fact that a few people, through their actions, spoiled the joy of victory and damaged the image of tens of thousands of Energie fans and the club," the statement read.
A JDFA spokesperson told Newsweek: "If the trainer and the club [are] willing to support the great majority of the fans, which is sick of Nazi slogans in stadium, they have to stop the trivialisation of far right structures within the fan scene."
FC Energie Cottbus has long had fringes of far-right support among its fans, the spokesperson added.