Soccer Legend Diego Maradona Loses It as Argentina Score Late Winner
Diego Maradona insists he is "fine" despite having to be taken from his seat and helped by paramedics shortly after Argentina's dramatic late winner against Nigeria on Tuesday.
Marcos Rojo scored in the 86th minute to give the Albiceleste a 2-1 win which took them to the round of 16, sparking jubilant scenes among Argentina fans in the stadium in Saint Petersburg. Maradona, as ever, was at the center of it all and celebrated wildly, flipping the bird to fans beneath him after Rojo's goal.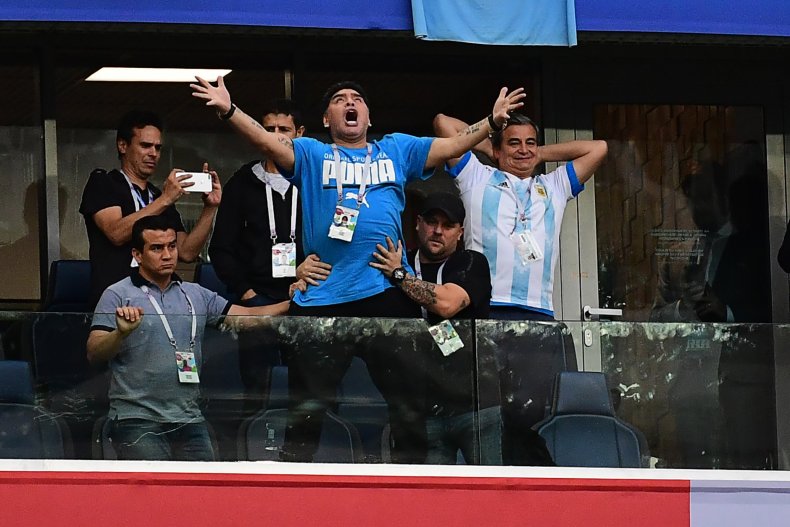 The 1986 World Cup winner had to be escorted from his seat shortly afterward and pictures posted on social media showed he was treated by paramedics at the stadium's medical center.
The soccer legend said he was fine, and revealed that he had also been attended to at half-time after feeling dizzy.
"I want to tell everyone that I am fine," his Instagram post read.
"At half-time of the game against Nigeria, my neck hurt a lot… I was checked by a doctor and he recommended me to go home before the second half, but I wanted to stay because we were risking it all. How could I leave? I send a kiss to everyone, thanks for the support! "
Argentine newspaper La Nacion confirmed the 57-year-old had been checked for low blood pressure but was able to leave the medical area after doctors ascertained he could walk by himself. South American TV network TeleSUR subsequently posted a picture of Maradona boarding a flight to Moscow.
The mercurial Argentine's mood swung wildly throughout the game, as he went from waving a banner displaying his own picture before the game to appearing to fall asleep, before erupting in wild celebrations for both of Argentina's goals.
The cameras which panned over him at regular intervals quickly cut away after it became apparent he was giving a one-finger salute following Rojo's winner. Maradona's antics did not go down well with BBC presenter Gary Lineker, who was part of the England team eliminated by Maradona at the 1986 World Cup.
"There's Diego Maradona celebrating," he said. "I think he might make the papers for a different kind of celebration, there's a danger he's becoming a laughing stock I'm afraid. [He's] let himself down with that celebration. You understand how he's euphoric, but this kind of reaction [...] Really, Diego?"