Soccer Player With Stutter Praised After 'Inspirational' Postgame Interview
A Swedish soccer player has been praised for his postgame interview last week after he stepped up to speak despite having difficulty saying certain words.
Ken Sema, who plays in England with the Watford club, has a stutter. He has been hailed as a "role model" by others who stutter and is cited as a reason for those with the impediment to speak out more often.
It was a special night for the midfielder. He scored two goals to help his team secure a 3-2 triumph over West Bromwich Albion before stepping up to the mic to share his thoughts with the media.
The video was soon widely shared on social media and went viral, with over 11.4 million views as well as a number of positive comments. People pointed out that Sema also spoke in English, which isn't his first language, making the feat all the more impressive.
One person wrote on Twitter: "People don't realize how draining it is having a stammer. Your mind has to work at incredible speed to choose words you won't stumble over. Doing that in a second or third language is just amazing."
Another user said: "I stutter as well. This is awesome. Know who I'm rooting for in the Championship the rest of the way."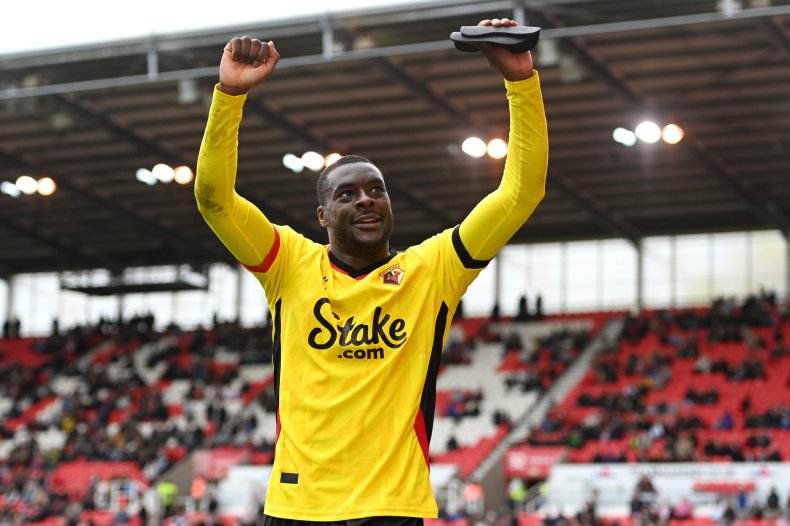 A third person said the interview would really help her son, who also stutters.
The user tweeted: "Great post match interview. Ken is an absolute hero and role model for children like my Son who love football and who stammer. Interviews like this give him so much confidence that he can speak beautifully and put his point of view across just like Ken. Thank you!"
Another tweeted: "Brave, Inspirational, heartwarming, awesome, confident, proper role model and he's definitely got that DAWG in him!!!"
What Is a Stutter?
A stutter is when certain words or sounds get stuck or repeated when the person is talking. People who stutter can often find it hard to vocalize what they want to say.
The Mayo Foundation for Medical Education and Research says stuttering is common "among young children as a normal part of learning to speak."
"Young children may stutter when their speech and language abilities aren't developed enough to keep up with what they want to say. Most children outgrow this developmental stuttering," the foundation says. "Sometimes, however, stuttering is a chronic condition that persists into adulthood. This type of stuttering can have an impact on self-esteem and interactions with other people."
Do you have a tip on a sports story that Newsweek should be covering? Do you have a question about soccer? Let us know via entertainment@newsweek.com.