Soccer Science: How the World Cup Affects Fans' Brains and Bodies
On Wednesday, England and Croatia brawled for a spot in the 2018 World Cup final match, and the results were likely to incite fans no matter the outcome (particularly in England). But aside from potential destruction and bragging rights, intense sports fandom sparks physiological responses, positive and negative, particularly during an event of global renown like the World Cup.
Fandom is good for your health, scientists have said: Humans crave community, and the sense of belonging that stems from joining a team enhances mental well-being and gives meaning to one's life, while watching sports can release hormones that facilitate social bonding.
And in the World Cup, especially impactful due to its sheer scope, a country's team acts as a stand-in for the country itself, which bolsters viewers' national identity, said Susan Whitbourne, a psychological and brain sciences professor at University of Massachusetts, Amherst, who contributed to a study sponsored by LG and British retailer Currys on soccer fandom.
"The emotional boost really can't be overemphasized," she told Newsweek. "I feel that [national identification] can really enhance a person's overall well-being."
But "superfans" run the risk of overinvestment when their fandom interferes with everyday life. Sometimes, the team identity supersedes an individual's judgment in a phenomenon called deindividuation, resulting in more impulsive behaviors like barking obscenities at a television screen.
"It's enjoyable, fun, exciting, stimulating, but when it starts to bleed into your relationships or makes you unable to work or concentrate then yes, I think it's time to take a break," she said. "It can enhance your identity, but when it starts to crowd out other aspects of identity, that's when it starts to turn the corner a bit."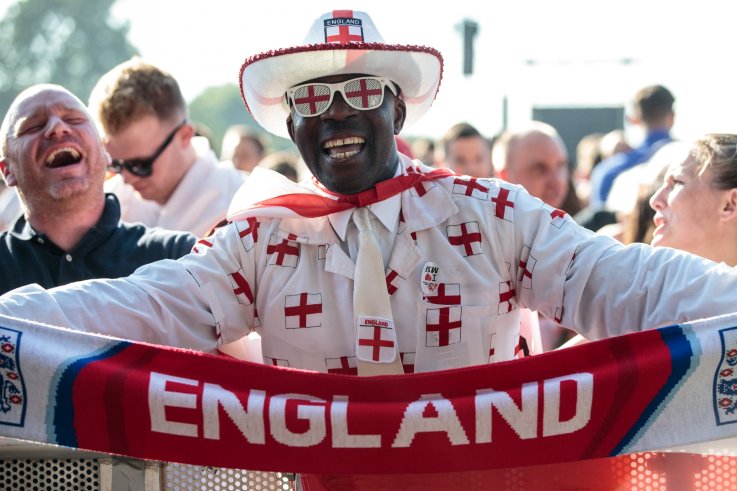 Soccer matches have been shown to elevate viewers' blood pressure and heart rate to potentially unsafe levels. During the 2006 World Cup, researchers found that cardiac emergencies in men were three times higher than average rates, and almost half of cardiac arrests occurred the same day patients' favorite teams played.
But it's not all bad news: Dopamine is always a welcome response to a positive outcome, and Whitbourne said the occasional dose of adrenaline can "add some spice" to sports fans' lives.
Male sports fans might even walk a bit taller after watching a game. Viewers' testosterone rises regardless of the outcome, according to journalist and sports fan Eric Simons. When he tested his own testosterone before and after important hockey matches, he found levels of the hormone increased whether his favored team won or lost—an evolutionary phenomenon, he said, since animals and ancient man performed testosterone-fueled feats to regulate social status.
"Your testosterone is kind of an indicator of where you are [in the social hierarchy]," he told Smithsonian magazine. "Your social rank has increased as a result of this competition."
And while higher testosterone may enhance men's confidence, increased levels of the hormone are also tied to higher instances of verbal and physical aggression toward one's partner. A study of the 2002, 2006 and 2010 World Cup tournaments in Britain found domestic abuse increased 26 percent when the English team won and 38 percent when it lost. The amount of reported domestic violence incidents increased every four years, too, from 64 in 2002 and 99 to 2010.
Britain's National Centre for Domestic Violence launched a graphic domestic violence awareness campaign during the 2018 World Cup featuring bruised women and men, battered by partners as a reaction to the tournament.
Researchers said the matches intensified "concepts of masculinity, rivalry and aggression" concentrated into a "short and volatile period." And since the World Cup occurs in the summer, warmer temperatures mean increased alcohol consumption, another agent in domestic violence.
"Nobody wants to be a killjoy about it, but it's important for people to remember how intimidating it can be when they get drunk and rowdy and start jumping around," domestic violence charity executive Sandra Horley told BBC News. "[Victims] experience violence and abuse at the hands of their partners every day, not just when football is on TV."
Soccer Science: How the World Cup Affects Fans' Brains and Bodies | Health