Soccer Star David Beckham Highlights Children's Rights at the U.N.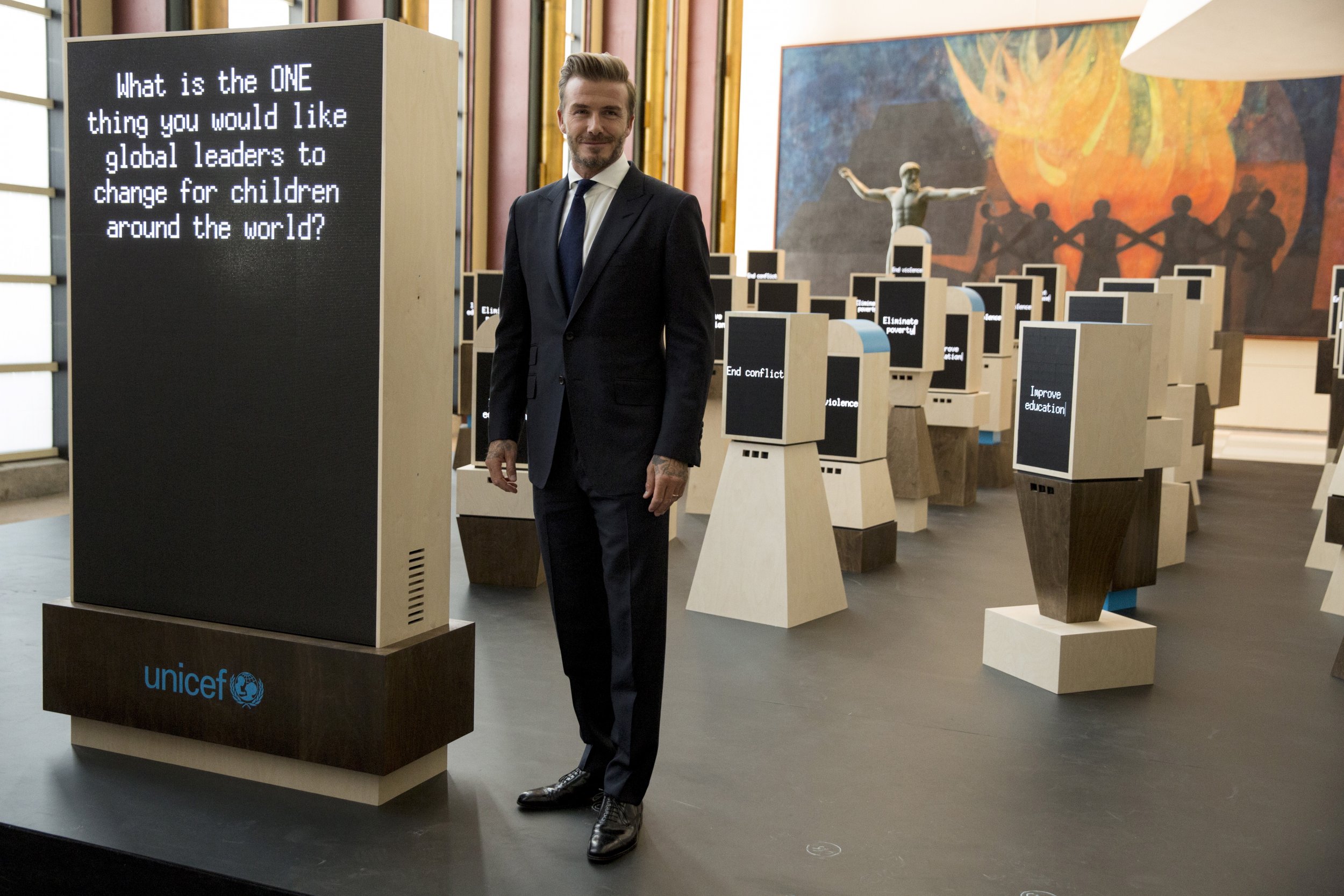 David Beckham, a global soccer icon, model and UNICEF goodwill ambassador, addressed the United Nations on Thursday to highlight the need to protect children around the world and let their voices be heard.
Beckham spoke alongside U.N. Secretary-General Ban Ki-moon and Anthony Lake, UNICEF executive director, in the lobby of the U.N.'s General Assembly building in front of the newly launched Assembly of Youth, an installation created by Google that delivers and displays messages from children from around the world. Beckham, Ban and Lake were joined by Noor Sammee, 16, and Rodrigo Bustamente, 17, two people from UNICEF's Voices of Youth initiative. They were speaking the day before the U.N. adopts the new Global Goals, 17 benchmarks on issues such as gender equality and sustaining marine life, for nations to achieve by 2030 as a continuation of the Millennium Development Goals of the past 15 years.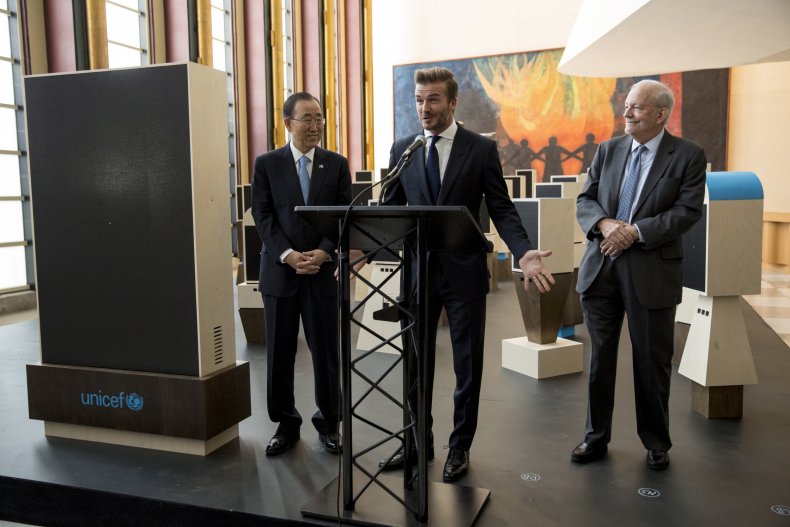 "As a UNICEF ambassador and as a father, it breaks my heart to see children continue to suffer," Beckham said during the press conference on Thursday.
"I want a world where children can grow up safe from violence, free from poverty and protected from preventable diseases," he said. He encouraged those present to ask "the world leaders to put children, especially the most disadvantaged, at the heart of the new global goals."
According to UNICEF, more than 6 million children under the age of 5 die every year from mostly preventable causes and more than 120 million children and adolescents are out of school. Conflict in the Middle East and Africa has driven 13 million children out of school this year. In war-torn Yemen, an average of eight children are maimed or killed every day by violence.
Beckham, described by Lake as "a hero to children all over the world," spoke about his work as a UNICEF Goodwill Ambassador, including a recent visit to Cambodia, where he met children affected by severe violence, and a trip to South Africa.
He choked back tears when discussing his trip to the Philippines in the wake of Typhoon Haiyan and the experience of speaking with a family who lost one of their daughters to the storm.
"This was one of the most devastating stories that I had heard," said Beckham, who became a UNICEF goodwill ambassador in 2005. "That story will never leave me."
Beckham told Newsweek that he came to the U.N. to "shine a light on certain situations" involving children and said that it was "one of the most important speeches I've made."
The former soccer star also spoke about the distressing photos of Aylan Kurdi, a 3-year-old Kurdish-Syrian refugee whose body was found washed up on a Turkish beach, which have highlighted the plight of children in Europe's refugee crisis in recent months.
"The images [of refugee children] have been so powerful over the last few weeks and unfortunately they're images that no one wants to see. No one wants to see children suffering the way they're suffering," Beckham told Newsweek. "I'm not a politician, politics is definitely not my strong point, but what I am is a father. To see images like this is definitely something we never want to see."
Asked about the biggest problem facing children today, Beckham said it's difficult to pick just one global crisis, but he is considering visiting Nepal, Papua New Guinea and South Sudan in his role as a UNICEF ambassador, though no trip has been confirmed.
To celebrate a decade as an ambassador, Beckham launched 7: The David Beckham UNICEF Fund in February 2015 to help millions of vulnerable children in danger around the world and pledged to continue his role for another 10 years.
Beckham talked about his own four children, saying that when he goes on trips for UNICEF he likes to take photographs of the people he meets and the places he visits, so he can explain them to his children when he returns home. "It does hit home," he said. "They understand."
His children, he added, are "very proud of their daddy."