Soccer's Headscarf Scandal in Iran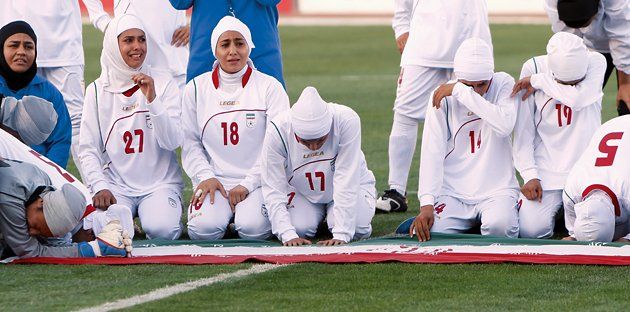 After eight months of hard training, the Iranian women's football team marched on to the pitch for a key match in Amman, Jordan. They had their sights set on the 2012 Olympics, and the June 3 game was crucial for advancement. The players wore a conservative uniform in line with Muslim tradition: long-sleeved shirts, long pants, and headscarves.
The national anthems played. Then, an unexpected announcement from the referee: the Iranian uniforms didn't meet FIFA regulations, and so the team couldn't compete in the match. Several Iranian players fell to their knees in disbelief and began weeping. The disqualification had squashed their Olympic dreams. "We were shocked and upset," team captain Niloofar Ardalan said to NEWSWEEK. "We couldn't mask our disappointment."
There's been no shortage of controversy surrounding FIFA in recent months. Sordid tales of bribery in the vote for the organization's president and in the selection of Qatar for the 2022 World Cup have become regular tabloid fodder. But the dispute over the Islamic uniform has reverberated far beyond the world of football. Critics have blasted FIFA officials for being racist and sexist. The ban has not only hurt the Iranian team, it could potentially disqualify dozens of other Muslim players with headscarves inside and outside the Middle East. For their part, FIFA officials have defended the decision by claiming the headscarf could pose a choking hazard.
The Iranian women's team has already faced plenty of obstacles on its road to the Olympics. By law, Iranian women are required to cover their hair, neck, arms, and legs in public—and that includes the football pitch. Religious conservatives in Iran have long argued against women playing sports in public or even attending football matches with male players. This restriction was the subject of Offside, a critically acclaimed 2006 film by director Jafar Panahi. After years of lobbying by female athletes, a national women's football team was finally formed in 2005, though male spectators are banned from attending their matches. Conservative critics still lash out regularly at female athletes. Last year Grand Ayatollah Ali Safi Golpayegani said that female athletes winning sports medals is a form of "humiliation."
Despite these obstacles, female football players have persevered. Ardalan—at 25, widely seen as the best female player in Iran—grew up surrounded by football. Her father was a goalkeeper on the men's national team and now coaches. Ardalan started out playing futsal, or indoor football, at the age of 14. "Football runs in our family," she says. "I can't imagine doing anything else."
It wasn't long before regional football scouts began to take notice of Ardalan's natural talent. In 2009 a team in Abu Dhabi offered Ardalan a fat contract allegedly worth up to $150,000 a year—a huge sum for female players in the region and a big jump from her pay as a club player in Iran. Surprisingly, Ardalan turned down the offer. The main point of contention, like the current FIFA dispute, was thehijab. The Abu Dhabi team asked that she play without a headscarf, which would have potentially disqualified her from playing on the Iranian national team.
Fereshteh Karimi, 22, another standout player for Iran, grew up with a completely different background. "My family is more into culture and the arts than sports," she says. "I was the one person who stuck out." Karimi also started out playing futsal as a teenager before moving on to the women's national team as a midfielder. She has also made her mark on the field: in a tournament in Pakistan in 2009, she scored a hat trick—three goals in one game—in four of the matches.
Ardalan and Karimi have both been outspoken critics of the recent FIFA ban and have generated a lot of buzz about the issue inside Iran. But the match in Jordan last month wasn't the first time that FIFA and Iranian football authorities have squabbled. During the 2010 Youth Olympic Games in Singapore, the Iranian women's team was initially barred from playing before making modifications to its uniform. "We've compromised, now [FIFA] should compromise," Karimi says. "We're from a religious country, and it's very difficult for them to accept for us to play in a modified uniform." FIFA had allowed the Iranian team to play in their modified uniform in the first round of the current tournament earlier this year. That's why the disqualification last month came as a shock. "FIFA claims football is for everyone," Ardalan says. "But this action makes us question whether football is really open to Muslim women."
Iranian football officials saw other forces at play, too. Ali Kafashian, the head of the Iranian Football Federation, claimed that the match commissioner, a Bahraini, tried to undermine the Iranian team for political reasons, namely Iran's support of Bahrain's protest movement. Newspapers and blogs in Iran railed against the Bahraini conspiracy, but team members say the Bahraini commissioner was genuinely sympathetic and supportive.
Many observers say the controversy over women's uniforms comes from the top and point to Sepp Blatter, FIFA's scandal-prone president. He's made salacious comments in the past about uniforms, suggesting women wear "more feminine clothes" and "tighter shorts." These comments only seemed to confirm the accusations of sexism that have long dogged the organization.
FIFA officials have downplayed the row, but it's clear that it has ruffled FIFA's feathers. "This is a very sensitive topic," said one FIFA spokesperson, who asked not to be identified discussing the subject. The irony is that the controversy broke out just before the Women's World Cup, the highest-profile event in the sport, kicked off last month. Karimi, the midfielder, has been glued to the television every time a match comes on. She favors the German and Brazilian teams—both now knocked out of the tournament—but wishes she could be there playing herself. "I wish I could go in the Islamic clothes and show that there's no problem playing in this uniform."
For the moment, there's no clear resolution to the dispute. The Iranian Football Federation won't back down on the hijab requirements, and it doesn't look like FIFA is going to compromise, either. Ardalan is as deeply disappointed as her teammates that she didn't get a chance to compete for the Olympics. But she tries to put a positive spin on the disqualification by noting that the controversy has raised the team's profile inside Iran. "At least now Iranian men realize women can play football, too."