Man Creates Social Distancing Machine Because Social Distance Isn't Hard Enough
In an effort to show how hard it can be to social distance and show that major streets need to be shutdown to cars, writer and artist Daniel Rotsztain created a social distancing machine that shows what a nuisance maintaining two meters of distance can be.
The circular harness made from plastic and rubber tubing keeps all objects at a two meter (about six and a half feet) distance, but in the hilarious video shared to YouTube and Twitter, Rotsztain shows just how many obstacles the average pedestrian has just by walking down the sidewalk. He crashes into poles, cyclists, narrow walk ways, and other pedestrians.
"Made a Social Distance machine to show why @cityoftoronto needs to close major streets like Yonge during COVID-19. Our sidewalks are too narrow to keep a safe distance," Rotsztain wrote in a tweet.
Rotsztain found that just about everywhere he went, the only place he could walk and maintain social distance was in the middle of the street. At the end of the video, he wrote that Toronto should limit most street access to cars. "Toronto needs more space for pedestrians to stay safe," he wrote. "The City needs to close streets like Yonge to cars so we can keep our 2m distance." He then implored people to contact Toronto Mayor John Tory and tell him to shut down the streets.
Even though Rotsztain's video was comical, it's clear many people agree with the point he was trying to make. "It's obvious that many agree that we need to change the way we manage public space to make it safer for pedestrians to do their essential activities," Rotsztain told Newsweek in an email. "It's also interesting to see it go viral beyond Toronto: all over the world, people are grappling with the same issues, and it's an especially good time to be sharing ideas between cities."
Rotsztain said the issue already existed before the coronavirus pandemic hit, but COVID has made the issues glaringly obvious. "I think that even in the pre-COVID times, in the best of times, the inequality of space between cars and pedestrians in Toronto is very obvious," Rotsztain told CTV. "Once quarantine kind of hit and we are all in this new paradigm...now it is really obvious how little space pedestrians have. It is almost impossible to safely navigate the city."
Rotsztain's video even gained attention of former Toronto politicians like former Toronto urban planner Jennifer Keesmaat, who tweeted the video and suggested designating lanes from cars to people to maintain social distance.
While Rotsztain is urging his local politicians to take action to assist in social distancing, the video wrote that other Canadian cities like Edmondton, Vancouver, Montreal, and Brampton have already taken such actions.
Thankfully, the video seems to be making an impact. "The tone seemed to change the day the video was released," Rotsztain said. "Tory said he would consider all options, nothing was off the table, where as previously he outright rejected the idea of closing lanes of traffic to widen pedestrian space. The Toronto Public Space Committee is encouraging residents to email their councillors with #streets4peopleTO to keep the pressure up!"
Rotzstain's video did strike up conversations about ways that people can social distance effectively. Two noteworthy examples included bike-riders using a similar apparatus that Rotzstain had and another suggested an extremely vintage take on fashion.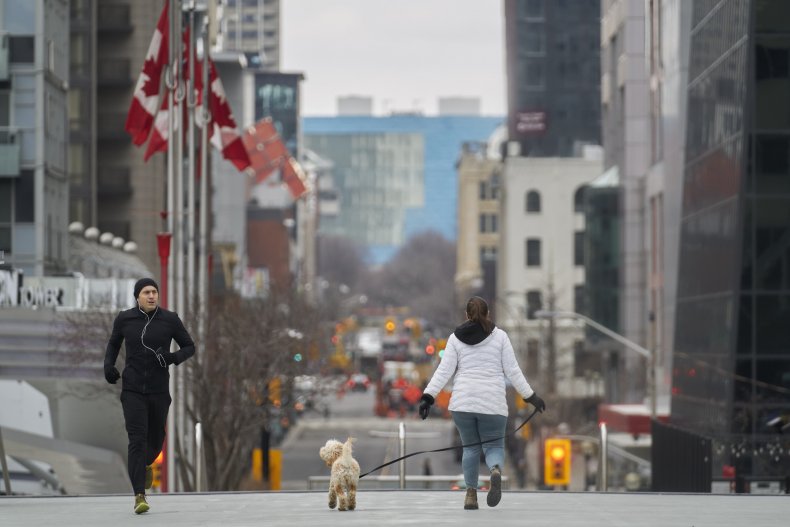 Updated 4/15 10:00 a.m. EST: This story has been updated to include comment from Rotsztain, which was obtained after the story was published.