Social Distancing Cut Coronavirus Cases in Oregon By Up to 70 Percent, Health Official Says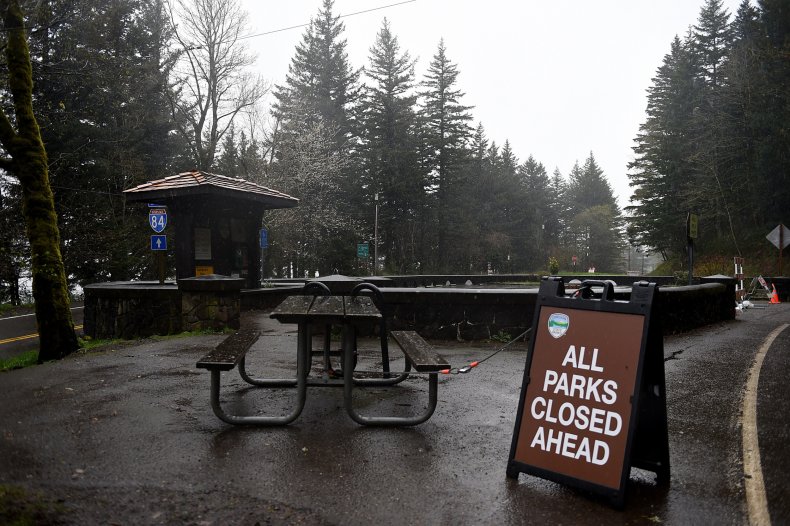 Social distancing guidelines in Oregon have cut the amount the novel coronavirus cases in the state by up to 70 percent, according to a state health official.
Dean Sidelinger, the state's health officer, told reporters Thursday that modeling compiled by the Institute for Disease Modeling in Bellevue, Washington "shows social distancing and stay-at-home orders in Oregon have cut transmission of infections by 50 to 70 percent," according to the Associated Press.
"The cases will rise slowly and rise slow enough that our hospital systems should be able to care for the people who get who sick (and) should be able to provide the critical care for those who are most sick," Sidelinger said according to the AP. A slow rise in cases and hospitalizations would be ideal for Oregon considering they currently have only 140 ventilators in their inventory.
Oregon has 826 confirmed cases of the novel coronavirus in the states and 21 deaths, the Oregon Health Authority website states. They have thus far tested 16,805 people, meaning 95 percent of those tested have been negative for the virus. Sidelinger said that the trend depends on everyone following Oregon Governor Kate Brown's stay at home orders.
Oregon did see 90 new cases added Thursday, but Sidelinger said he thinks the case numbers "will stay up for a little while before we actually see them come down."
Brown implemented the stay at home executive order on March 23. The order closed down non-essential businesses and canceled all gatherings with over 25 people until April 14. Oregon is currently one of 23 states that still do not have 1,000 confirmed cases, according to the Worldometer's coronavirus tracker.
The United States has extended national guidelines for social distancing and asking Americans to remain home aside from essential trips, such as for groceries or medicine, through April 30 in order to slow the spread of the novel coronavirus. Health officials have consistently said that the only way to mitigate the spread of COVID-19 during this pandemic is to adhere to social distancing guidelines. CNN reports that 40 states have implemented stay at home orders thus far.
Dr. Anthony Fauci, the director of the National Institute of Allergy and Infectious Diseases, said in an appearance on CNN Thursday that he does not understand why the remaining states have yet to issue such orders.
"I don't understand why that's not happening...The tension between federally mandated versus state's rights to do what they want is something I don't want to get into, but if you look at what's going on in this country I just don't understand why we're not doing that we really should be," Fauci said.