As the COVID-19 pandemic continues, with the highly contagious Delta variant and low vaccination rates being attributed as the main cause in a rising number of COVID-19 cases, the Centers for Disease Control and Prevention issued a new guidance on Tuesday telling people vaccinated for COVID to get tested for the virus if they've been in contact with someone who has it.
The guidance is the latest in a series of measures implemented by the CDC in an attempt to combat the spread of the coronavirus. According to information compiled by Our World in Data, the U.S. alone has recorded 34.9 million cases since the pandemic first spiked in March, 2020.
Since then, Americans have seen mask mandates, social distancing and self quarantine guidelines implemented and adjusted by the CDC as the pandemic continued.
Here is a brief timeline into the guidances issued by the CDC over the course of the pandemic, as well as their changes.
February 2020
Though the CDC had not yet declared COVID-19 to be a pandemic, the American Journal of Managed Care [AJMC] reported health officials had already suggested the idea of social distancing should the virus begin spreading the U.S.
Dr. Nancy Messonnier, director of the CDC's National Center for Immunization and Respiratory Diseases, encouraged the use of telehealth services to prevent unnecessary contact. Additionally, those traveling to the U.S. from China's Hubei province were required to quarantine for 14 days.
The CDC also urged the public to receive the flu vaccine if they had not already, as similarities between the illnesses could warrant a possible unnecessary evaluation for the virus, the AJMC reported.
In a Tweet that has been since deleted, U.S. Surgeon General Dr. Jerome Adams urged the public against buying masks, claiming they were ineffective at preventing the spread of the coronavirus.
"Seriously people — STOP BUYING MASKS! They are NOT effective in preventing general public from catching #Coronavirus, but if healthcare providers can't get them to care for sick patients, it puts them and our communities at risk!" Adams wrote.
The CDC's guidelines stated that healthy people not working in the healthcare sector and were not taking care of an infected person at home did not need to wear masks.
March 2020
The World Health Organization officially declared COVID-19 a pandemic on March 11, 2020.
The CDC issued advisories to practice social distancing when in public, asking citizens to only go out for necessities and to self-quarantine for 14 days if they come in contact with someone who tested positive for the virus.
California became the first state to issue a "stay at home" order on March 19, with other states following suit.
Dr. Anthony Fauci, director of the National Institute of Allergy and Infectious Diseases, spoke on a Journal of the American Medical Association [JAMA] webcast about the virus, as well as different methods to prevent transmission such as self-isolating.
April 2020
The CDC retracted its previous warnings against buying or wearing masks, instead encouraging the general public to wear masks, the Los Angeles Times reported.
The change in guidances was made after discovering the virus was spreading through people who had the virus, but were not displaying symptoms.
"The transmission from individuals without symptoms is playing a more significant role in the spread of the virus than previously understood," then-Presidennt Donald Trump said at a White House briefing. "So you don't seem to have symptoms and it still gets transferred."
Mask guidelines recommended masks for people ages 2 and older who were in public, traveling or around people from their household who had tested positive for the virus.
July 2020
As states began lifting stay at home orders in an attempt to reopen the economy, the CDC reiterated its guidelines for wearing masks to help curb the spread of the virus.
In a study published by the CDC, it was found that two hair stylists in Springfield, Missouri, had tested positive for COVID-19. Both the stylists and their clients wore masks, and there was found to be no spread of the virus between them.
Dr. Robert Redfield, the director of the CDC, endorsed universal masking in a press release.
"We are not defenseless against COVID-19," Redfield said. "Cloth face coverings are one of the most powerful weapons we have to slow and stop the spread of the virus—particularly when used universally within a community setting. All Americans have a responsibility to protect themselves, their families, and their communities."
August-September 2020
As schools began reopening, the CDC issued guidelines to help prevent the spread of the virus between students and teachers through limiting attendance and having all adults wear face masks.
Color-coded guidelines were officially released on September 15 to give schools an idea of when it would be safe to reopen. The guidelines also offer advice such as keeping desks apart, eating meals in the classrooms and staggering scheduling to limit contact.
January 2021
The newest guidance from the CDC required all citizens to wear proper face coverings while on public transportation, including buses and subways.
The mask order included guidelines for transport operators to only allow passengers on if they wear a proper face mask, and classified refusing to wear a mask on public transport a violation of federal law.
March 2021
Approximately one year after the coronavirus was declared a pandemic, new CDC guidelines stated fully vaccinated people were no longer required to wear masks while indoors at small gatherings.
"We know that people want to get vaccinated so they can get back to doing the things they enjoy with the people they love," said CDC Director Dr. Rochelle P. Walensky. "There are some activities that fully vaccinated people can begin to resume now in their own homes. Everyone—even those who are vaccinated—should continue with all mitigation strategies when in public settings. As the science evolves and more people get vaccinated, we will continue to provide more guidance to help fully vaccinated people safely resume more activities."
People who are fully vaccinated were told they could refrain from social distancing indoors at small gatherings, and did not need to quarantine after coming in contact with someone who tested positive for the virus.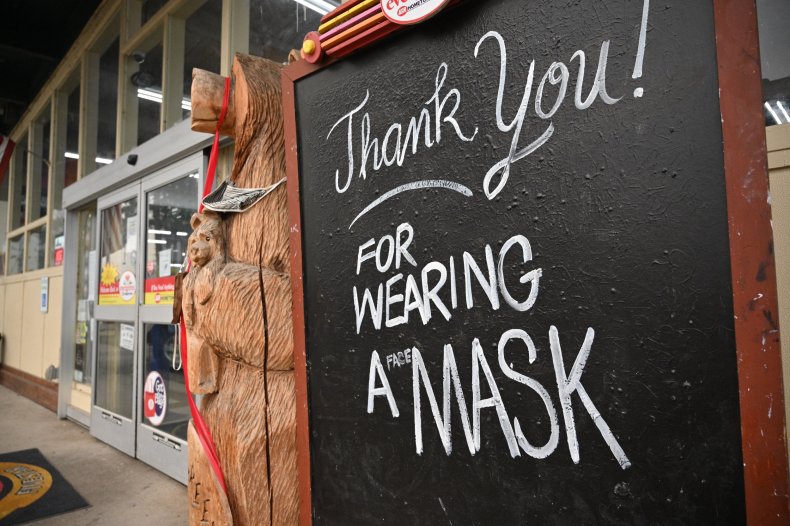 May 2021
The CDC updated guidelines for fully vaccinated people, saying they could freely go anywhere indoors or outdoors without wearing a mask or practicing social distancing, CNBC reported.
"Anyone who is fully vaccinated can participate in indoor and outdoor activities, large or small, without wearing a mask or physical distancing," Walensky said during a press briefing. "If you are fully vaccinated, you can start doing the things that you had stopped doing because of the pandemic. We have all longed for this moment, when we can get back to some sense of normalcy."
In accordance with the new guidelines, many businesses began allowing vaccinated customers to forgo their masks. Masks were still required for fully vaccinated individuals when traveling on public transportation.
July 2021
New guidelines from the CDC have been issued, telling people to get tested for the virus, even if they're vaccinated.
The CDC said people who are fully vaccinated should get tested for the virus three to five days after being in contact with someone who has COVID, even if they aren't displaying symptoms, the Associated Press reported.
Masks were also encouraged, even for fully vaccinated individuals, to help curb the spread of the Delta variant. Many states are also re-implemented mask mandates, regardless of vaccination status.