#TreasonSummit Tweeted Almost Half a Million Times as Trump Gets Slammed on Social Media
President Donald Trump's press conference with Russian President Vladimir Putin Monday sparked perhaps the largest social media response in a 24-hour period since the beginning of the year, according to an analytics company, and only a small percentage of reactions were positive.
In the 24 hours since Trump dismissed the findings of U.S. intelligence agencies and embraced Putin's denial of Russian interference in the 2016 election in Helsinki, the event garnered 8.1 million mentions on social media. Fifty-four percent of the mentions were negative in sentiment, while just 8 percent were positive, according to social media analytics company Talkwalker.
"The traffic is something like I haven't seen in a long time," Todd Grossman, CEO for the Americas at Talkwalker, told Newsweek. "[There's] massive amounts of social conversation."
The hashtag #TreasonSummit had 497,000 mentions in the 24 hours after the meeting, while #ImpeachTrump had 148,000 mentions. Talkwalker found that former Republican National Committee Chairman Michael Steele had the most social media engagement after the event for his tweet that characterized Trump as an "asset" standing next to his "handler."
Tweets from Representative Adam Schiff and Senator Kamala Harris, both of California, also found massive traction, with a combined 160,000 engagements. "The whole world just watched as the President sided with Putin over U.S. Intelligence Agencies," Harris's tweet said. "There is no doubt that Putin has launched attacks on the very heart of our democracy, and by not standing up to him today, the President has invited him to do it again."
According to Grossman, the artificial intelligence that Talkwalker uses to categorize social media posts as positive or negative is nearly 90 percent accurate.
While Trump boasted that his meeting with Putin was "deeply productive," his promotion of the Kremlin's narrative that Russia did not meddle in the 2016 presidential election, which has been countered by seven U.S. intelligence groups, prompted what Grossman called an "accelerated" response on social media.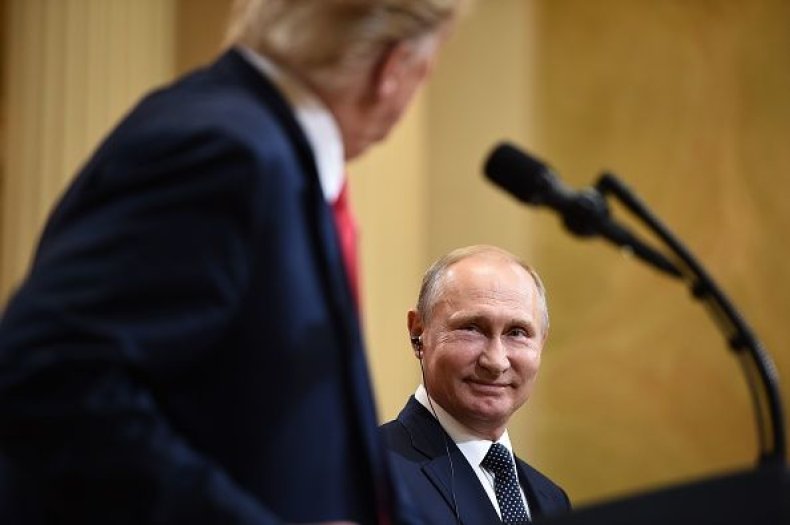 "My people came to me, [Director of National Intelligence] Dan Coats came to me and some others. They said they think it's Russia. I have President Putin. He just said it's not Russia," Trump said at the press conference. "I will say this: I don't see any reason why it would be."
The president also used the press conference to rehash familiar talking points, including the boast that he "beat Hillary Clinton easily" in the 2016 election and that "the electoral college is much more advantageous for Democrats, as you know, than it is to Republicans."