'Crying Nazi' Christopher Cantwell Reportedly Banned From Gab After Post Advocated Shooting Leftists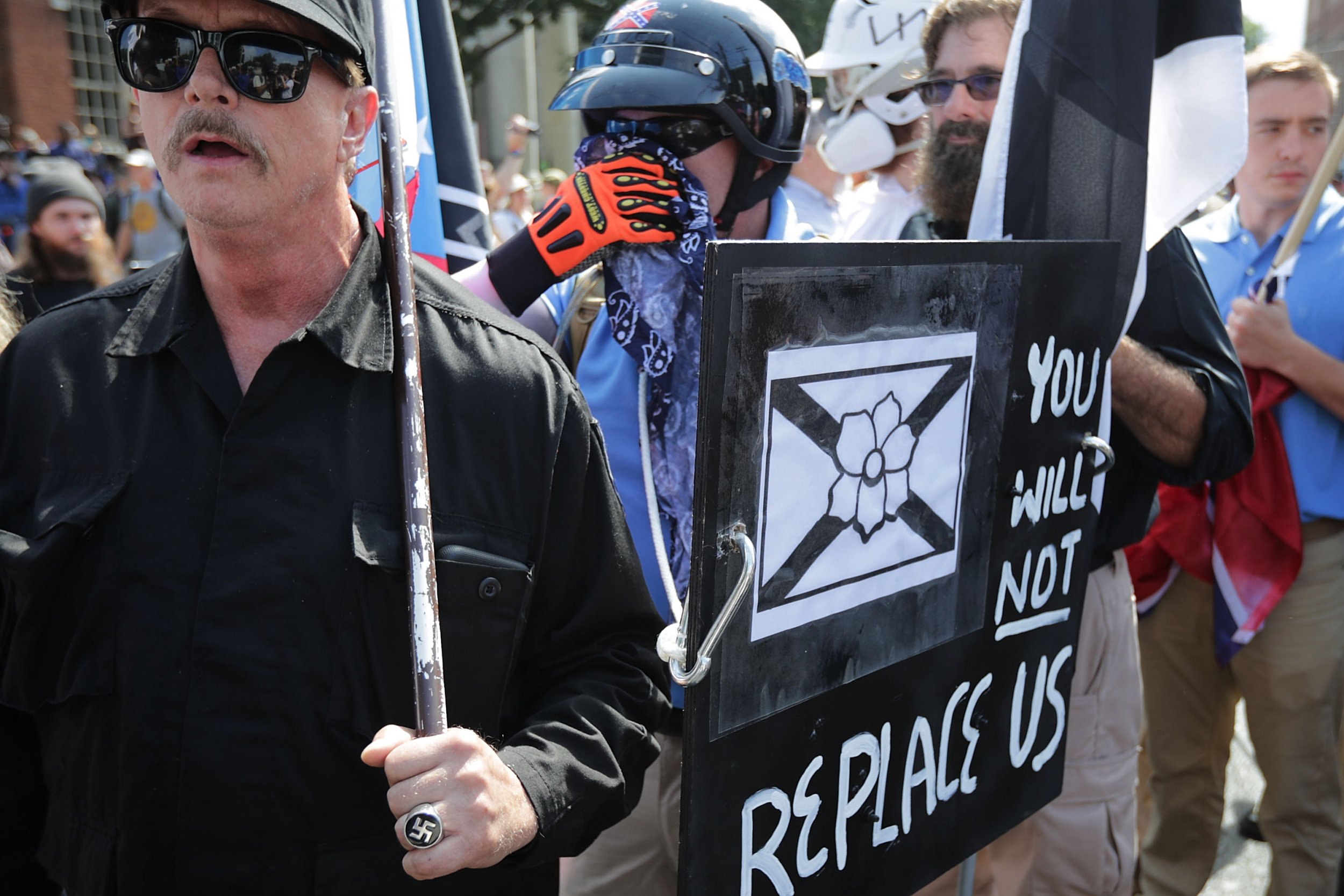 Social media site Gab reportedly banned "Crying Nazi" Christopher Cantwell on Monday, after he made a post about killing leftists.
The apparent ban of Cantwell, a well-known white supremacist, is a rare move for the platform, which has repeatedly expressed its commitment to allowing unregulated speech and allowing users to offer violent, extreme opinions.
"I was posing an 'either or' scenario which in my mind is ridiculous enough do be seen for what it was. 'Should one be a terrorist or a serial killer?' comes off to me as an obvious hypothetical musing," Cantwell wrote in an email to Newsweek. "The idea that I would be egging on terrorism or assassinations is beyond ridiculous to anyone familiar with my thinking as of late, but I often forget (or ignore) the fact that not everybody is familiar with my thinking."
Cantwell wrote on Monday "I think I've been banned from Gab." Gab did not directly refer to Cantwell in a statement issued on Monday but cited legal restrictions on speech that will incite violence.
"After careful consideration, the company has taken the decision to ban a controversial user from the site indefinitely for making two inflammatory political posts that appeared, in our judgment, to not be protected by the First Amendment," the company wrote. "Unlike Twitter or Facebook, if we have called this one wrong from a First Amendment perspective, we will reverse this decision and reinstate the user. Before doing so we would require the user to obtain a declaratory judgment from a court of competent jurisdiction that the speech in question was not unlawful incitement and is protected by the First Amendment."
A recent post by Cantwell mentioned the New Zealand mosque shootings, which left 50 people dead.
"I'm pretty sure it would be against the rules for me to say that would be mass shooters should find left wing activists and gun them down instead of random people in mosques and synagogues. So I won't do that. I just really want these people to shut the f**k up, and that seems like the most obvious and enjoyable way of accomplishing this goal," said Cantwell's post, which Molly Conger, an activist monitoring the alt-right, sent to Newsweek. "If you killed the 50 loudest Leftists in the United States, especially if you didn't get caught, and continued killing, these people would shut their stupid f**king a**hole mouths, and that would save a lot of lives. All of these people should be in prison for the crimes they've committed in full view of the public over the last few years."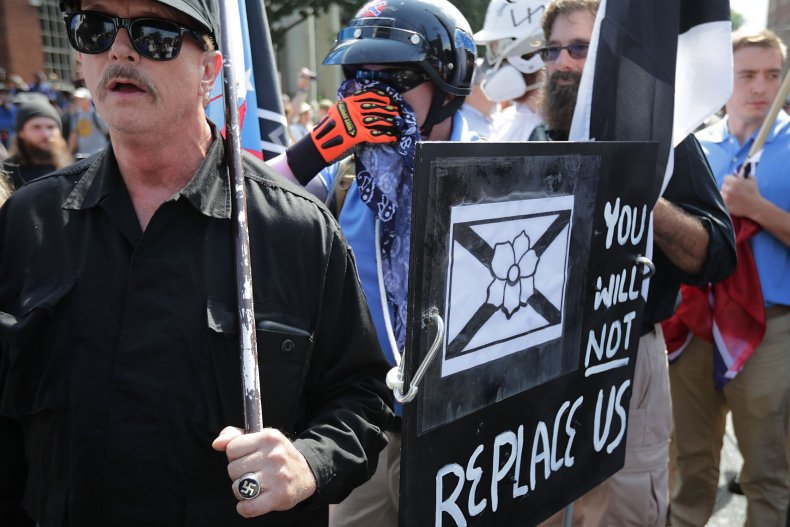 Media companies have faced increased scrutiny and backlash for not regulating content on their platforms after last week's fatal mosque shootings. The manifesto of the alleged shooter indicated an attacker with a wide knowledge of corners of the internet where extremism festers. Activists and reporters regularly criticize large platforms for not doing enough to remove extremist content and have noted that those accused of previous attacks, like Robert Bowers, the alleged Pittsburgh synagogue shooter, disseminate far-right sentiments online.
A number of larger platforms have condemned extremism after such attacks. Gab, a platform favored by members of the far-right because of its lack of regulations, has positioned itself as an uncompromising defender of free speech.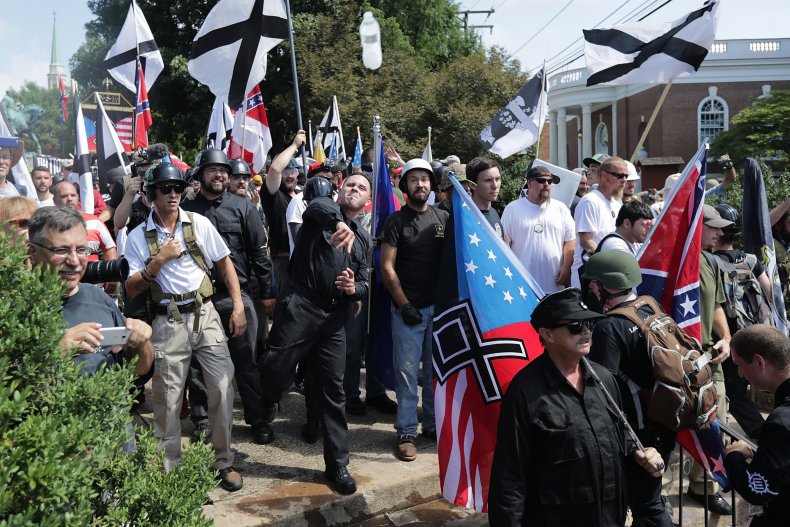 Cantwell, who was dubbed the "crying Nazi" after the Charlottesville "Unite the Right" rally in 2017, regularly posted threats on Gab. (He was arrested at the 2017 rally, served time and pled guilty to two counts of assault and battery after pepper-spraying counterprotesters. He also pled guilty to violating the terms of his bond and was banned from Virginia for five years.)
Conger told Newsweek that Gab's removal of Cantwell was not a sign of increased regulation.
"This is far from the worst thing he's ever posted," she said over Twitter. "Gab was well aware of posts Cantwell has made in the past calling for the murders of leftist activists and journalists. This is just a convenient political moment to boot an increasingly problematic user."
"It's still good they're doing it, but it's not out of the goodness of their hearts or any genuine contrition. It's a desperate attempt at reputation management and liability mitigation."
Cantwell has previously threatened Conger, among others monitoring and reporting on the alt-right. In prior posts on Gab, has mused repeatedly about raping a female writer, Conger noted, sending screenshots of the posts to Newsweek. Cantwell has also posted about leaking information of a former Newsweek reporter.
He took a more conciliatory tone in a post on his website about the content on Gab that led to his removal, writing "these posts were made without much thought, and in a rare act of self-reflection, I went back last night and deleted them from my profile. These posts were careless, and regrettable, and, do a poor job of communicating the point that I wished to make."