Doug Jones Victory Being Credited To #BlackWomen On Social Media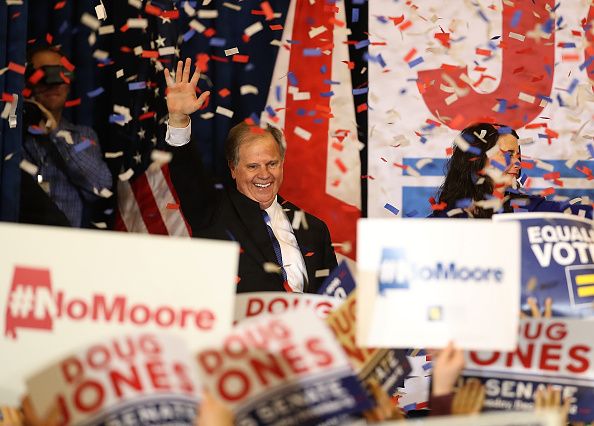 Doug Jones's surprise victory has its own hashtag to credit the reason for it: #Blackwomen.
Social media was quick to formally anoint the driving force behind the Democratic candidate's triumph over former state Supreme Court justice Roy Moore in the Alabama Senate race on Tuesday: the 98 percent of black women who cast their vote for him, according to exit polls.
"Price that the NRA paid to help Roy Moore Win: $55,000. Watching #BlackWomen telling Roy Moore that Racism and Sexism doesn't belong in Alabama: PRICELESS!! #ThankYouAlabama" tweeted Ed Krassenstein.
"Seriously, thank you black voters and especially black women voters for saving this country once again. We don't deserve you. #AlabamaSenateRace #BlackWomen," tweeted Chris Rock.
"It's awesome to see #BlackWomen trending on twitter. I appreciate that people are saying thank you because of we black women (saved) the mess in Alabama…" tweeted Shanita Hubbard.
"Doug Jones would not have won (Tuesday) without the turnout we saw from African-American voters," Symone Sanders, a Democratic strategist, told Newsweek. "Black women have been absolutely clear in their support for Democratic policies and Democratic candidates. It's high time for Democrats ... to invest in that effort."
The exit polls found that 31 percent of voters were white women, and 34 percent of them voted for Jones—a small number to be sure, but far more than voted for Democratic candidates in the past.
The difference between black and white votes are similar to the 2016 election. Fifty-three percent of white women voted for President Donald Trump, but every other demographic and 94 percent of black women voted for the Democratic nominee, Hillary Clinton.
Alabama had not elected a Democrat to the Senate in 25 years before Jones's surprising win against Moore.