Social Media Sites Are Making Voter Registration Easier Than Ever Before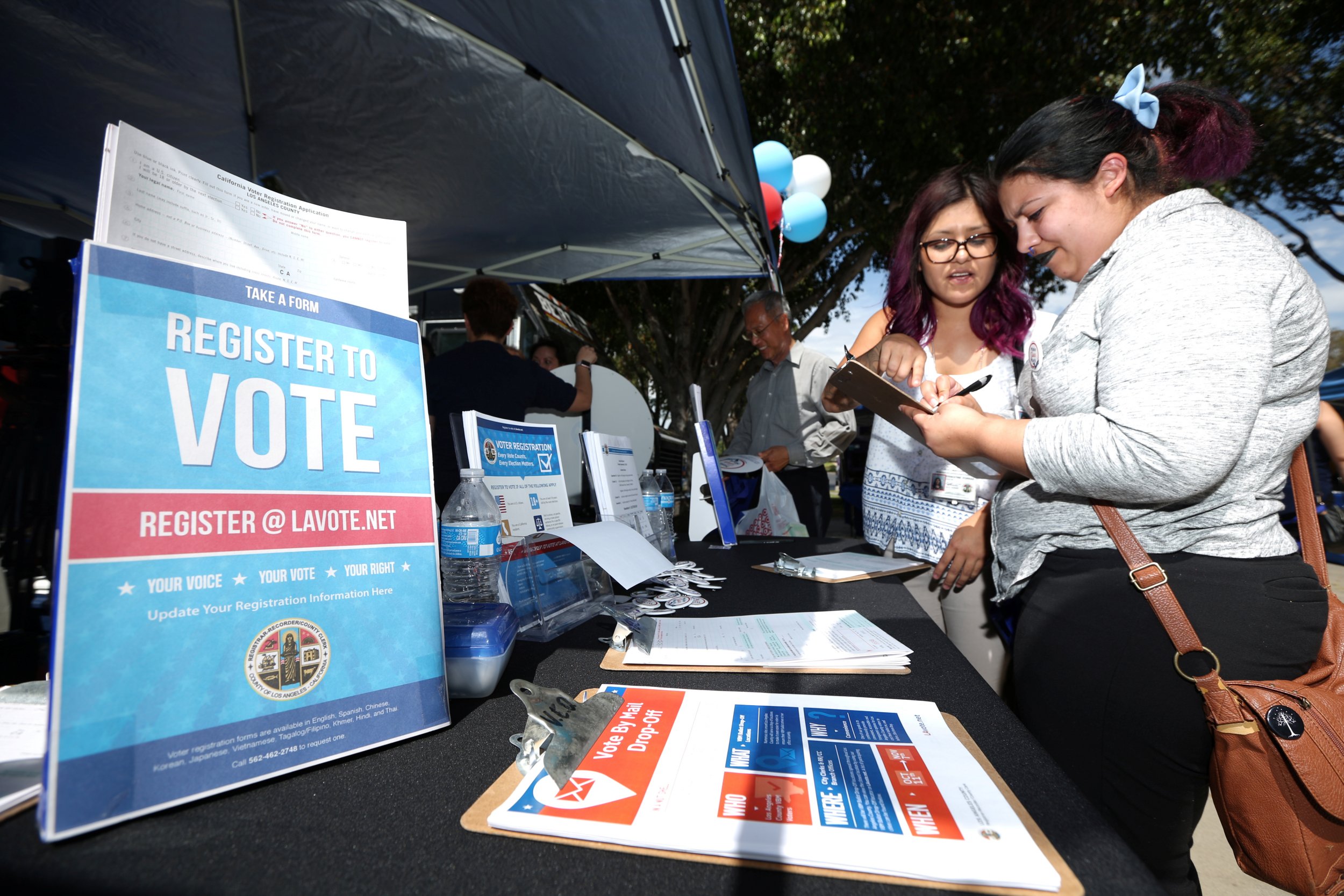 In 2012, 46 percent of eligible Americans did not vote, according to the Pew Research Center. So it's no surprise that social media sites like Facebook and Twitter are making it easier to vote by encouraging young adults to register online.
Along with their partnership with Rock the Vote, Twitter announced that starting September 27, users can direct message their zip code to the @Gov account and receive a personalized link to register. For twenty five years, Rock the Vote, the largest nonprofit organization in the United States, has been partnered with celebrites to encourage youth to vote. Twitter has also partnered with the Pew Voting Information Project and is using @Gov to answer questions about polling locations and ballot information until November 8.
If one click isn't easy enough to inspire young adults to vote, Snapchat is promoting voter registration with one, swift swipe. Snapchat partnered with the Democracy Works non-profit organization TurboVote to promote videos between the Stories and Discover pages, according to The Daily Dot. These videos can be accessed by swiping left on the main Snapchat screen. Celebrities like Jimmy Fallon and Dwayne 'The Rock' Johnson have been featured in promotional videos encouraging users to visit the TurboVote homepage to register.
Snapchat is not the only company that TurboVote has partnered with. As of Monday, September 26, TurboVote announced 35 new corporate partners including Google, Foursquare, Tumblr, Instagram, and Starbucks as part of the TurboVote Challenge. The goal of TurboVote Challenge is to reach 80% voter turnout by 2020. "We think that a total overhaul of how people vote could increase turnout by up to 20 percentage points," said Democracy Works co-founder Seth Flaxman to The Wall Street Journal. Tumblr will be sending out notifications, as well as providing a Registration button on the top right hand corner of the site. Foursquare will launch an online interactive map of polling locations with nearby restaurants, something that Foursquare and Facebook have done in past elections as well.
On September 23, Facebook sent out a reminder to users who are 18 years and older. The notification is located at the top of the newsfeed with a 'Vote Now' Button that will direct people to USA.gov to register. Once they have registered, Facebook will update their voting status on the individual's page, according to The International Business Times.
"This is the first time that we have done a nationwide voter registration effort. We've used it as a unique opportunity to remind people that they have a voice in the election," Facebook's director of government outreach, Katie Harbath said to NBC News.
With Twitter averaging 313 million users, and Facebook 1.7 billion monthly active users, Flaxman anticipates the impact these partnerships can have on voter registration in this election, and the ones to follow. "I think if we just rely on politicians to get out the vote, we're never going to see mass participation," Mr. Flaxman said to The Wall Street Journal. "The only way we'll see that is if we think that's a civic or civil responsibility that everyone is in charge of in our society."