Seniors' cost of living adjustment (COLA) may be higher than previously predicted but is still expected to fall short of meeting many seniors' financial needs.
The Social Security Administration (SSA) is expected to announce the 2024 Social Security COLA in mid-October, anticipated by The Senior Citizens League (TSCL) to be 3.2 percent—up from its 3 percent prediction in August due to a slight increase in consumer price data, raising an average monthly retiree benefit of $1,790 by $57.30. The current 8.7 percent monthly increase in retirees' income was touted by the SSA last October as the highest rate in 40 years.
In July, the Federal Open Market Committee (FOMC) announced a .25 basis point interest rate increase from 5.25 percent to 5.5 percent—the largest level in 22 years and the 11th hike of the past 12 U.S. central bank policy meetings, beginning in March 2022. The FOMC, notably Fed Chair Jerome Powell, have been adamant in bringing inflation down to 2 percent and will meet again September 19-20 to discuss another potential rate hike.
The annual U.S. inflation rate was 3.7 percent for the 12 months ending in August, according to U.S. Labor Department data published on Wednesday. It represents an increase from 3.2 percent in the previous period.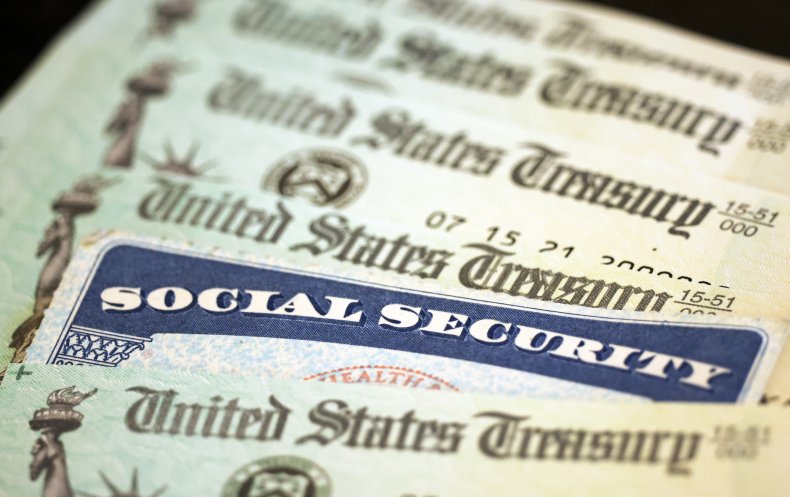 Mary Johnson, Social Security and Medicare policy analyst at TSCL, said that the record COLA this calendar year has been "meager at best" for seniors who continue to report very modest spending. The average monthly retiree benefit is about $1,790.
"From what I have seen, it's like we have two different groups," Johnson told Newsweek via phone on Thursday. "There are the planners who put money aside, maybe worked for companies that had pensions. They may have a 401k or worked in the military and had retiree benefits. And then there's the other side."
The amount of COLA is calculated based on the annual inflation adjustment. It measures the average inflation during July, August and September as measured by the Consumer Price Index for Urban Wage Earners and Clerical Workers (CPI-W), which is all added together, averaged and then compared with the third quarter average from the previous year.
The percentage difference between the two determines the COLA amount, ultimately payable to those who qualify in January 2024.
Martin Eichenbaum, an economics professor at Northwestern University, bluntly told Newsweek via phone that the COLA will not prevent many seniors from still suffering from financial instability.
"I think what people should understand is almost the case is there are winners and losers from inflation," he said. "[Those on the losing end are] inevitably seniors who are on pensions, it's relatively governnment employees....Thank goodness there is a COLA and last year was very good.
"But going forward it's a little bit of a question mark. The question is whether the basket of goods of seniors is the same are we're indexing."
The way indexing is conducted also doesn't speak to the bigger picture, he said, adding that the CPI-W is geared towards an average "and nobody is really at an average." That is quite true for seniors, who in line with economic woes perhaps shared with others are also affected by things like Medicare premiums.
"There is inequality everywhere and also among seniors," Eichenbaum said. "Social Security wasn't set up to be primary source of income for old age. Sadly, for many poorer Americans that's turned out to be the case. That's just really tough when you think about the food element, the fuel element."
Johnson said the run-up in oil and petroleum products weighed more heavily for the CPI-W in her most recent report, her last until the COLA is announced. The TSCL's updated estimate is higher than its 2.7 percent estimate in June.
A TSCL retirement survey of approximately 2,260 students found that 37 percent of retirees spend between $1,001 and $1,999 per month, and 37 percent spend between $2,000 and $3,999. About 8 percent spend less than $1,000 and just 4 percent spend over $6,000.
The survey, citing an actuarial note from the SSA Office of the Chief Actuary, reports that Social Security benefits are "modest" and replace roughly one-third of a middle earner's average wages. That is compounded by many of those surveyed claiming such benefits before reaching full retirement age and receiving permanently reduced benefits.
In that survey, 59 percent of respondents said they claimed benefits before ever retiring. That figure was trailed by 19 percent of respondents who reported claiming benefits at full retirement age and receiving the full unreduced amount.
According to Johnson, between 40-45 percent of seniors rely entirely on benefits to survive. New U.S. Census Bureau data reported on Tuesday showed poverty increasing among Americans age 65 and older, from 8.9 percent in 2020 to 10.3 percent in 2021.
She described it as "a fast road to poverty" for seniors who rely on benefits to pay for bare necessities and not unforeseen circumstances.
"There are so many pitfalls and it's an overcomplicated system," Johnson said. "The moment you let your guard down, something else happens."
Money doesn't go as far as it did just two-three years ago, she added, before inflation. The difference for older consumers is that if they are living on Social Security and don't have savings or family providing aid, for example, then they are in more fragile financial positions.
"It's very difficult to save enough these days," she said. "You have to start earlier to really be able to set aside over a million dollars to even have an average a $40,000 per year income. If people are not working in that kind of job and haven't put that kind of money aside, it's very difficult."
A government shutdown also would not impact the approximate 67 million Americans who receive a monthly Social Security benefit, which adds up to about $1.4 trillion in benefits paid in 2023. That is due to payments being automated.
However, a hypothetical shutdown could negatively impact the issuance of new Social Security cards, in turn affecting thousands of Americans.
Eichenbaum predicts that the Fed will raise interest rates another .25 basis points when they convene next week. He said it depends on whether they want to deal with inflation head-on or opt for a "soft landing" that would likely affect seniors, younger people, minorities and people on general fixed incomes for a longer period of time.
An SSA spokesperson told Newsweek that they do not speculate on COLA amounts and instead normally wait until after the Bureau of Labor Statistics releases the September CPI rate.
Update 9/14/23, 12:08 p.m. ET: This story was updated with comment from economist Martin Eichenbaum.