Social Worker Who Forced Patient to Be Her 'Sex Slave' Charged in Illinois
A former social worker in Illinois has been charged with 14 felony charges after being accused of treating one of her patients like a "sex slave."
Christy Lenhardt, of South Elgin, is accused of taking advantage of her position at the Elgin Mental Health Center and having sexual encounters with her patients. The 53-year-old was arrested Thursday by Illinois State Police and charged with eight counts of sexual misconduct with a person with disabilities and six counts of official misconduct in Kane County.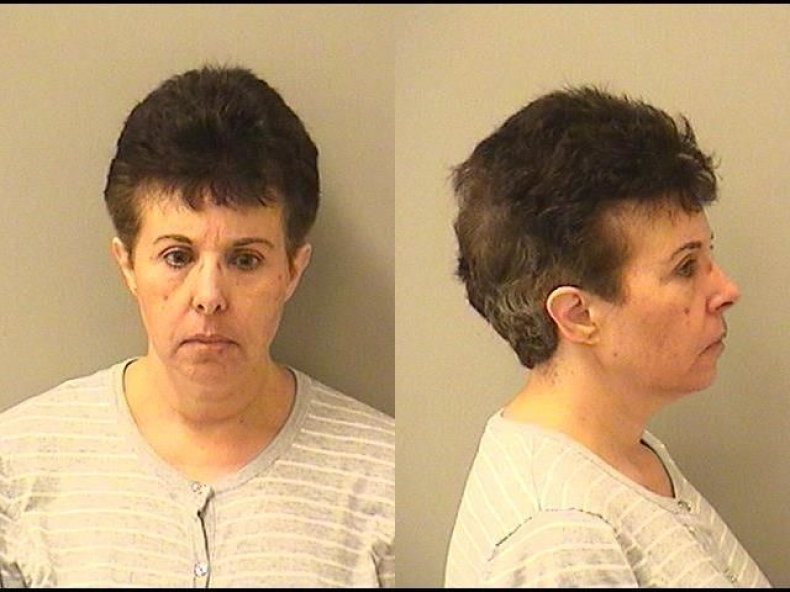 The charges stem from allegations made in a federal lawsuit filed in November 2017 by 24-year-old Benahdam Hurt, who accused Lenhardt of forcing him to be her "sex slave" for nearly three years. Hurt claimed that Lenhardt sent him nude photos and manipulated him into having sex in her office and his bedroom, WBBM-TV reported.
In a press conference last year to announce his lawsuit against Lenhardt, Hurt said she allowed him to gain access to other patients' medical files and gave him electronics and other gifts during their alleged relationship. Hurt's parents also alleged that the social worker made excuses to keep him at the facility when he was due for release.
Another patient, identified as 27-year-old Mark Owens Jr. of University Park, claimed in a civil lawsuit that Lenhardt made sexual advances towards him when he entered the facility in 2012. When Owens asked that his counseling sessions no longer be held in Lenhardt's private office, Lenhardt allegedly retaliated by telling his treatment team he was paranoid and in need of stronger medication, The Chicago Tribune reported.
Hurt claimed in his lawsuit that Lenhardt admitted to having inappropriate sexual contact with two other patients, including Angelo Rotunno, who fled the facility in February 2006 and remains a fugitive.
The two civil lawsuits against Lenhardt seek $10 million in damages and are pending in U.S. District Court, The Chicago Tribune reported.
Lenhardt resigned August 23, 2017 and is no longer a state employee, according to officials at the Illinois Department of Human Services. Associate Judge Todd Tarter ordered Lenhardt be held on $100,000 bond, but she posted $10,000 bail a few hours after her hearing Thursday.
According to court records, Lenhardt is due back in court on April 20 for a status hearing. If convicted, she faces between two and five years in prison, the Kane County State's Attorney's Office said in a statement provided to Newsweek.