The pandemic is front and center at the Republican National Convention. But it's not the one that has killed nearly 180,000 Americans.
It's socialism.
An array of President Donald Trump supporters have avoided the Covid-19 pandemic in their remarks, or referred to it only in passing, as they focused on the alleged dark plot of Democrats to turn America into a socialist nation.
Former Democratic Georgia state lawmaker Vernon Jones said his former party has "become infected with a pandemic of," among other things, "socialism."
"As a first-generation American, I know how dangerous their socialist agenda is," said Kimberly Guilfoyle, a Fox-News-host-turned-Trump-campaign-adviser who is dating Donald Trump, Jr. "The same socialist policies which destroyed places like Cuba and Venezuela must not take root in our cities and our schools. Biden, Harris and their socialist comrades will fundamentally change this nation."
Senator Rand Paul (R-Ky.) called on people to "stand up and fight the socialists poisoning our schools and burning our cities," while RNC Chairwoman Ronna McDaniel said "Democrats have chosen to go down the road to socialism."
Former U.S. Ambassador to the United Nations Nikki Haley said the Democrats' "vision for America is socialism," coupled with the desire to "tell Americans how to live and what to think," while Senator Tim Scott (R-S.C.) said a Biden-Harris administration "will turn our country into a socialist utopia."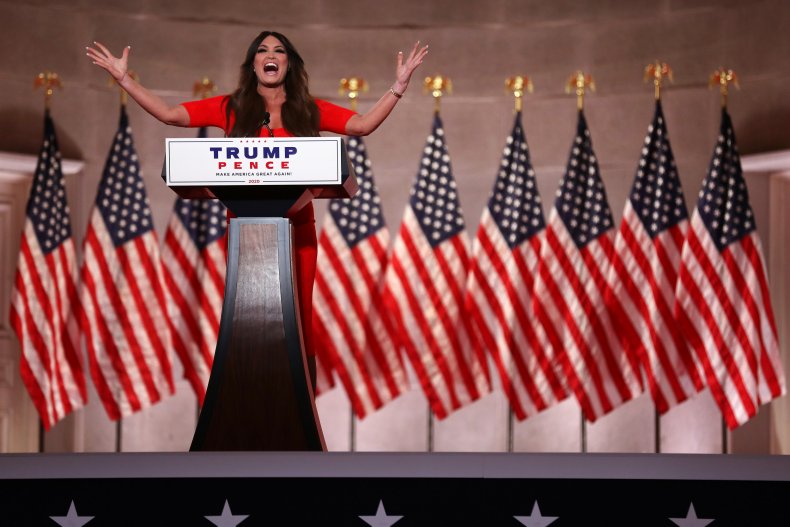 Former Florida Lt. Governor Jeanette Nuñez invoked Ronald Reagan in warning of the Democrats' assault on America.
"Daily, the radical left systematically chisels away at the freedoms we cherish," Nuñez said. "They peddle dangerous ideologies, cower to global progressives and normalize socialism to dismantle our Constitution. President Ronald Reagan warned, 'If we lose freedom here, there's no place to escape to.'"
Roughly a dozen speakers over the course of Monday and Tuesday explicitly mentioned socialism, a term that Republicans regularly use to paint their Democratic counterparts as radicals, one which energizes their base. Most failed to reference the pandemic, while others gave it a brief mention to either tout Trump's response or to hammer Democrats.
The exception was First Lady Melania Trump, who on Tuesday night used the newly landscaped White House Rose Garden as the setting to deliver an empathetic and compassionate message not seen from other speakers. She steered away from "attacking the other side," saying that it "only serves to divide the country further," while acknowledging the toll of the Covid-19 pandemic on Americans.
"My deepest sympathy goes out to everyone who has lost a loved one, and my prayers are with those who are ill or suffering," Melania Trump said. "I know many people are anxious and some feel helpless. I want you to know you are not alone."
She sought to reassure the nation that President Trump was committed to fighting the Covid-19 pandemic.
"My husband's administration will not stop fighting until there is an effective treatment or vaccine available to everyone," Melania Trump said. "Donald will not rest until he has done all he can to take care of everyone impacted by this terrible pandemic."
Unlike other speakers at the RNC, Melania Trump acknowledged the damage the pandemic has done to the country.
"It has been inspiring to see what the people of our great nation will do for one another," she said. "especially when we are at our most fragile."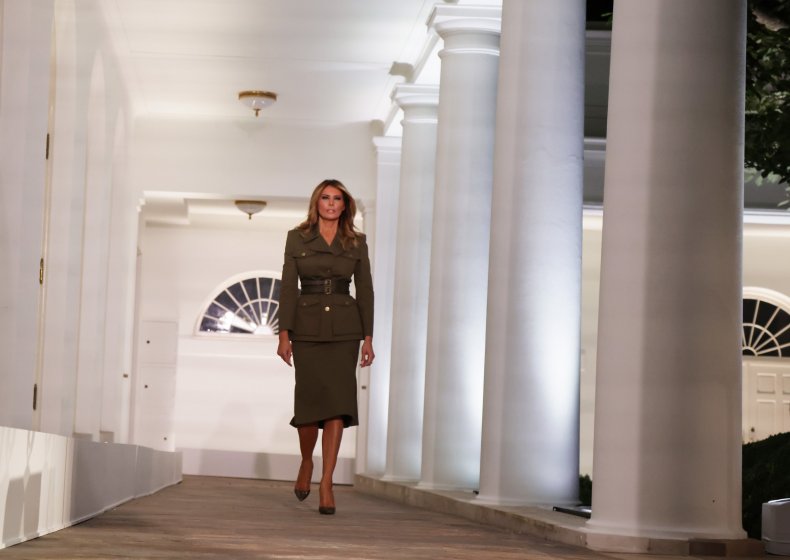 Others used talk of the pandemic to segue into praise for the president or condemnation of Democrats.
White House senior economic adviser Larry Kudlow repeatedly referred to the pandemic in the past tense, suggesting its toll had already waned, even as deaths persist. Covid-19 has so far killed nearly 180,000 people in the U.S., a number that is predicted to increase to 300,000 by December.
Kudlow praised Trump's leadership in the pandemic.
"It was awful," Kudlow said. "Health and economic impacts were tragic. Hardship and heartbreak were everywhere. But presidential leadership came swiftly and effectively with an extraordinary rescue for health and safety to successfully fight the Covid virus."
An oral surgeon took the stage to praise Trump's response to the health crisis.
"President Trump's decisive leadership led to a rapid and efficient response to the coronavirus pandemic," said Dr. G. E. Ghali, an oral and maxillofacial surgeon and chancellor of a medical and research center in Louisiana. "I know this as a health professional, and as a COVID patient."
Natalie Harp, a cancer survivor and board member of Trump's campaign, questioned how "2020 would've looked like, fighting for your life, without Donald Trump fighting for it, too."
Nikki Haley blamed China for the virus.
"Before Communist China gave us the coronavirus, we were breaking economic records left and right," the former United Nations ambassador said. "The pandemic has set us back, but not for long. President Trump brought our economy back before, and he will bring it back again."
The Biden campaign described the first two nights of the RNC as an "alternate reality," citing speakers' rhetoric about the coronavirus and the president's handling of the crisis.
"In this delusion, thousands of Americans didn't die in the last week from COVID-19, nor have millions of Americans been infected or put out of work," said Biden spokesperson Kate Bedingfield. "Our economy hasn't ground to a halt and our kids aren't being kept home from school."
The Biden campaign also looked to place the blame for America's failed response to the virus squarely on Trump.
"Donald Trump's continual refusal to take this virus seriously has given the United States the worst outbreak in the world," Bedingfield said, "and his convention's refusal to come to grips with reality or acknowledge the magnitude of the loss is a stark reminder to Americans of his complete failure to lead."