The Evolution of Sofi Tukker: Music Duo Talk Grammy Nomination, New Project and More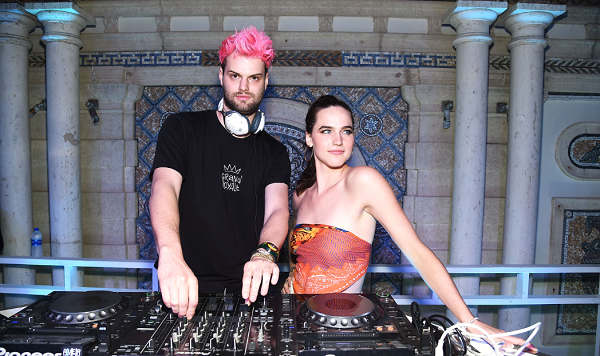 Although Sofi Tukker was already a considerably successful music duo when their first studio album Treehouse debuted in 2018, the band—comprised of singers and producers Sophie Hawley-Weld and Tucker Halpern—was still, admittedly, figuring themselves out as artists. The time they spent diving into their craft and comfortability not only as musicians but also as a team of individuals paid off, and it paid well.
Their highly acclaimed album Treehouse, which featured hit single "Best Friend" (notably the song Apple used to unveil the iPhone X in 2017), led Sofi Tukker to essentially becoming world-wide recognized masters of good vibes and good times. It also resulted in the perhaps the duo's highest achievement yet—their second Grammy nomination, but this time for Best Dance/Electronic Album.
With all of last year's success, Hawley-Weld and Halpern recently told Newsweek they are much more comfortable and sure of their artistry now compared to when they first burst on the dance music scene. It's an aspect they said fans will likely be able to hear in the music when they drop their next project, although they couldn't quite spill the beans on when that's set to release.
For now though, they're enjoying the ride and gathering inspiration from fans' warm reception of them—and, of course, gearing up for whatever may happen come Grammy night on Sunday.
Read Newsweek's full interview with Sofi Tukker below.
What was your reaction when you found up Treehouse was nominated for Best Dance/Electronic Album?
Sophie Hawley-Weld: We were thrilled. It woke us up—both of us were sleeping when it was announced, and it was just a happy, shocking, surreal feeling.
Tucker Halpen: We were in Miami for a couple shows, and we were staying in a little Airbnb. We somehow woke up at the same time and we both ran out of our rooms to go yell at the other person and met in the hallway.
What was the inspiration behind Treehouse?
TH: The inspiration was from all over. We made that one over the course of figuring out who we were and what was important to us as artists. We did a lot of it while we were traveling, while were we exhausted and while we were just in the grind, trying to make a lasting career and connection with people all over the world. What I'm really proud of about the album is that we're just really honest. There are a lot of different things we were feeling in the last year-and-a-half when we made [the album], and I think we just honestly said those things through the music. We felt comfortable being ourselves more than ever, and that's something that came out in a lot of songs. It's just honest.
SHW: Also the title, Treehouse, is a nod to that place in childhood where you can go, gather with your friends and be yourself, create what you wanna create, be messy and make your own rules. We realized that's really what we want to spread when we travel and we want to share that energy and that kind of community all around the world. It's become really clear to us that that's really what our mission is for touring, having those moments of people just getting that release and feeling like their connected.
One thing that's been pretty noticeable from the start is the synergy between you guys. You both have a really fun presence, but you're both very individual and unique in your own way and it all works together. Where does that dynamic come from?
TH: I think it comes from us being so different. A lot of the time, people that start bands together come from similar musical backgrounds and similar scenes, but we're so so different. We sort of realized over the last few years that we do have some things in common, but what we do have in common is mostly about the real important stuff—our excitement about what we do and the love of what we do and the respect we have for each other. That's what fits really nicely and it shows on stage.
SHW: We hype each other up a lot.
How did you guys end up making music together?
SHW: We met at college [at Brown University]. We didn't actually know each other for most of college but then our senior year we were both playing at an event. It was pretty random. I was playing with a jazz trio at an art gallery event. Tucker was the DJ for the same event. He came early and saw me perform, and then ended up remixing one of my songs on the spot. It was really fun, really organic. We started working together the next day and haven't stopped since.
Looking back on where you started and where you are now, what's the most shocking thing that's happened in your career so far?
TH: Going to Moscow and having such an amazingly big show and so many people singing the words back being that it was so foreign—that was pretty wild to me. That was kind of a shocker. Or when we went to Estonia—having a sold out show in Estonia and people singing the words. Those things blow my mind every time. [The music is] just so far in places I never thought I'd ever go, and it's so cool to have that reception.
SHW: I definitely agree with Tucker. We've done a lot of traveling. This time last year I was really struggling. I was having really bad migraines and just struggling with myself. This year, I feel like we not only travel the world but we stay on top of health and we're happy while touring. I wouldn't say it's shocking, but I feel really great about it—doing what we do, staying happy and healthy and loving what we do and wanting to continue doing it more.
You guys recently released a collab with Zhu, "Mi Rumba." How did that come about?
TH: Our manager ran into his manager on a plane or something, and somehow we all got in contact and thought, "Well this could be fun." We respect his production a ton and his style of music, and we thought it would be fun to bring our personalities and fun into a collaboration with him.
SWH: It was really organic. We sat down and made something pretty quickly and vibed really well.
TH: We literally just wanted to go have fun and see what would happen.
Is there anyone you really want to collab with in the future?
SWH: We used to always answer and say Bomba Estéreo, and we actually just finished a song with Bomba Estéreo. So I'm really just excited about that one.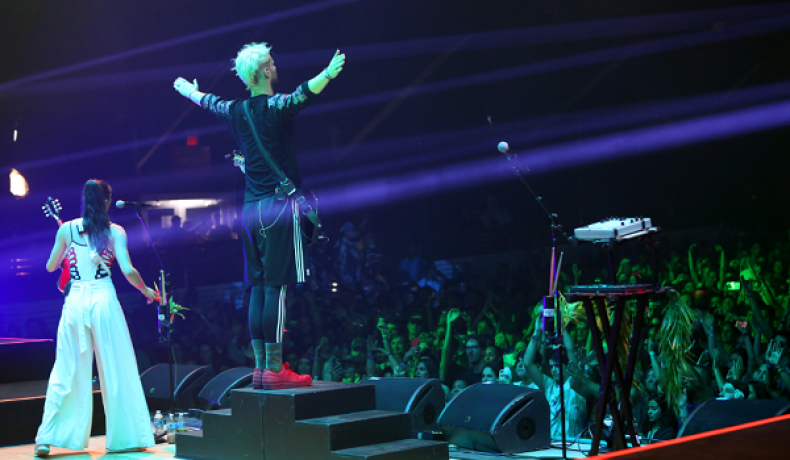 What's the biggest lesson you've learned through your success so far?
TH: Sophie kind of touched on it already, but just realizing how important our health is, and if we wanna do this long term we have to take it seriously and be smart about taking care of our bodies.
SWH: And being mindful of the communities around us.
TH: Making sure that there's positive, supportive, excited energy around us at all times when we're constantly moving, constantly at airports—doing stuff like that is such an important piece of it.
SWH: If we didn't travel with people we love and treat each other really well, then every night when we get on stage and we try to share this it wouldn't come across as authentic. So it's crucial to us that we practice what we preach on and off the stage.
What's up next for you guys?
TH: We're so excited about 2019. I don't think we've ever been so excited about new music. We basically have an entire project finished already, some amazing collaborations, like Bomba Estéreo. And more touring, more connections, going to some places we've never been before and connecting with more and more people.
SHW: We're starting a new chapter, I would say, in 2019. Our next phase of music is definitely still Sofi Tukker, but I think you'll see we've evolved. It's bigger and deeper, and I'm really really excited about it.