Sofia: Disney's Ethnically Ambiguous Princess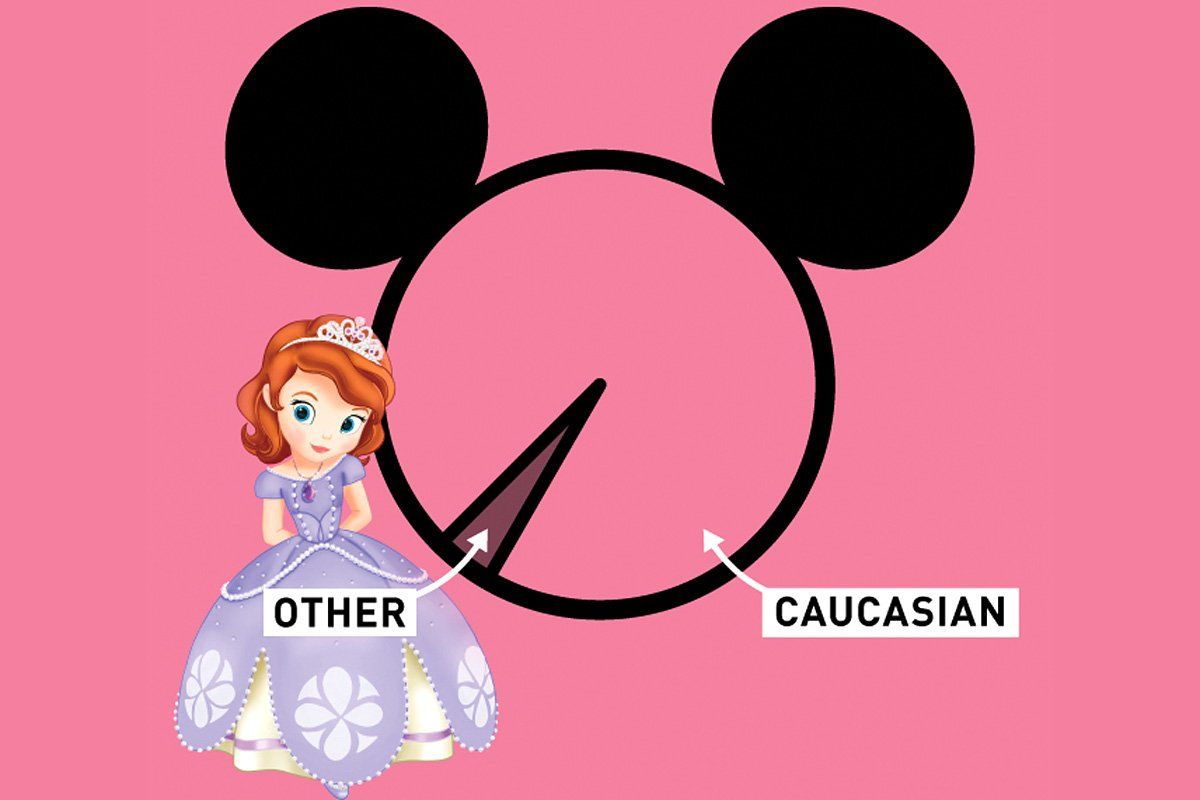 Disney's newest princess, Sofia, is having an unexpectedly rocky debut. It all started when executive producer Jamie Mitchell, when asked about the darker complexion of Sofia's mother, explained that the pale, blue-eyed Sofia was Disney's first Latina princess. "It's about time that we have an animated Latin princess," Doug Brode, author of Multiculturalism and the Mouse, remarked.
But excitement quickly turned to puzzlement. While some congratulated Disney for showcasing the wide range of Latina appearances, many others were angry. "I'm 22 & I still don't have a princess that looks like me. I hope that by the time I have my children, Disney has come to their senses," one online commenter lamented.
Disney quickly changed its tune. Nancy Kanter, senior vice president of original programming for Disney Junior, issued a statement vaguely explaining that Sofia's story will "include elements that will be familiar and relatable to kids from many different backgrounds including Spain and Latin America." A Disney Channel spokesperson offered a more definitive version to Newsweek: "The lead character in Sofia the First is not Latina. She was never created to be Latina. The producer misspoke when he described Princess Sofia and Queen Miranda as Latina."
Disney stressed that Sofia was, obviously, fictional. "All our characters come from fantasy lands that may reflect elements of various cultures and ethnicities but none are meant to specifically represent those real world cultures," Kanter wrote.
But this argument rings hollow—of course Jasmine's turreted city of Agrabah doesn't really exist, but she's still marketed as an Arabian princess. Multiethnic princesses have meant big profits for Disney. In 1992, Aladdin featured the first non-white princess and was one of Disney's first movies to gross more overseas than it did domestically (neither Beauty and the Beast nor The Little Mermaid did so). Twenty years later, only one of four new princesses has been Caucasian. But while Disney was lauded for its inclusivity, each heroine also came under fire: Aladdin was criticized for its Middle Eastern stereotypes and Jasmine's skimpy outfit; Pocahontas was accused of whitewashing the relationship between Native Americans and white settlers.
Despite its awkward execution, Sofia's coming out may set a new precedent. Though Disney no longer claims Sofia is Latina, the company insists she is a "mixed-heritage princess," with a father from a kingdom "inspired by Scandinavia" and a mother from a land "inspired by Spain," who lives in a "melting-pot kingdom." Sounds a lot like our own increasingly blended planet.