'RuPaul's Drag Race' Season 11: What's Next For Soju After Elimination?
RuPaul's Drag Race started with a bang for the Season 11 opener on Thursday night.
The energy was high from the very start, with a plethora of new queens ready to slay and win host, judge and show creator RuPaul Charles's favor. Pop star Miley Cyrus even gave the queens the thrill of their lives when she showed up in the workroom disguised as a crew assistant with a beard and all. She was also a pleasant and encouraging addition to the judges's panel along with series regulars Ross Matthews, Michele Visage and Carson Kressley.
Of course, there wasn't a lack of drama even in the series premiere. Some of the new competing queens "annoying" and "obnoxious" behavior garnered side-eyes from a lot of the castmates (looking at you Silky Nutmeg Ganache) while nerves, unpreparedness and ailments seemed to get the best of others.
Then there was the bottom two, K-Pop queen Soju and Viva Las Vegas queen Kahanna Montrese. Their unimpressive performances and lackluster costumes led to the queens battling it out in the Lip Sync For Your Life challenge. Kahanna's unexpected back flip during her lip sync performance of Cyrus' Hannah Montana theme song, "Best of Both Worlds," ultimately resulted in Soju getting sent home first.
Despite being eliminated first, the Korea-born 27-year-old said her goodbyes with high spirits, telling cameras that she'd continue to push forward in her career and use her platform to expose Korean and K-Pop culture here in the states.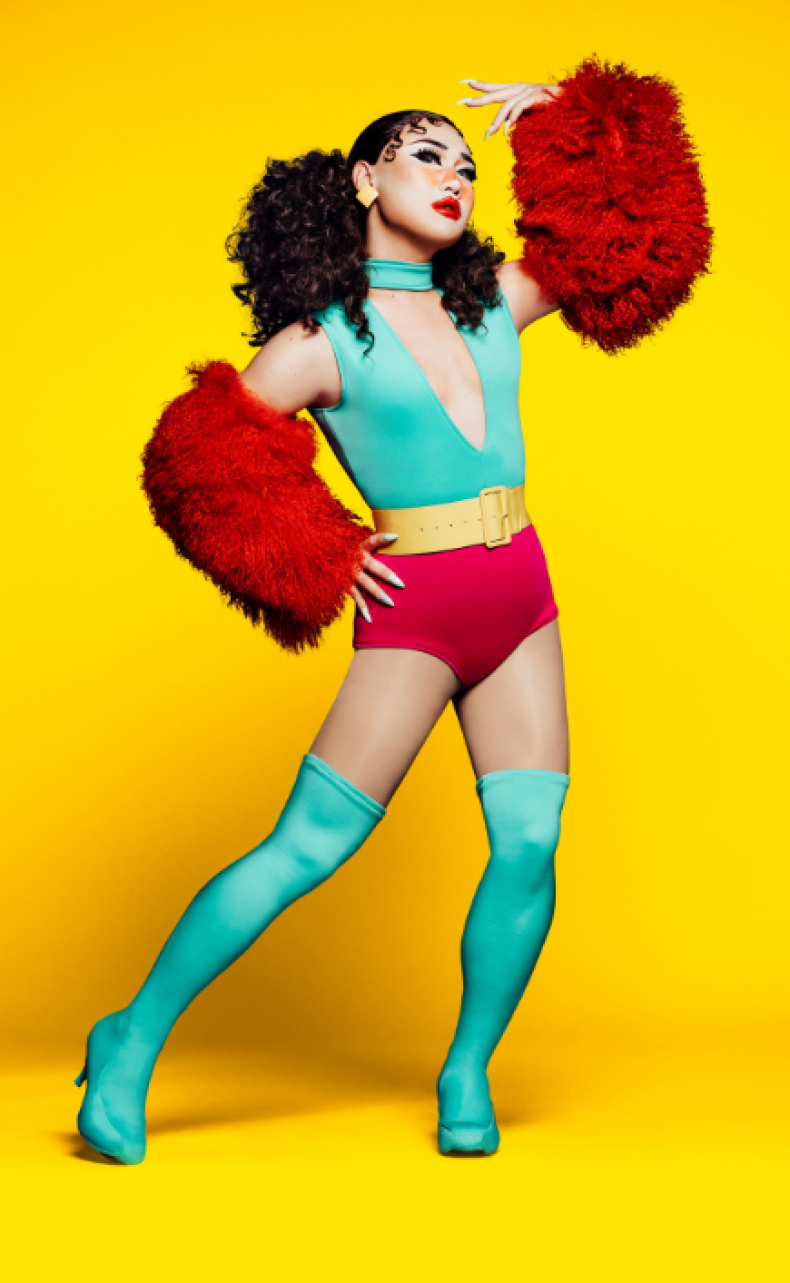 Ahead of the series premiere, Newsweek chatted with the Seoul native about her future after the show, and Soju was confident her exit wouldn't be the last of her fans would see. "You're gonna see lots of new projects from me. I always channel my projects in different directions than what a lot of the drag queens normally do," she said.
In addition to performing in drag, Soju hosts a YouTube series, Shot With Soju, during which she interviews various entertainers but with "Korean style." Former Drag Race stars like Alaska Thunderfuck and Detox have previously appeared on the show, which boasts nearly 50,000 subscribers.
Soju took a hiatus from her show while filming Drag Race, but told Newsweek Shot With Soju would be back soon. "We have a whole new season," she said. "Our premiere episode is gonna be with Margaret Cho."
"I'm known for my YouTube channel and I'm just gonna try to build off my YouTube career," Soju continued. "But also I'm starting to tour my K-Pop party. It's called Seoul Train. It's like a really big thing in L.A. and San Francisco, but I want to move it all over America. I hear these kids asking me to bring these parties because there's not a lot of clubs out there playing K-Pop music all night. So I'm gonna try to move it around."
Soju's next Seoul Train is expected to kick off in Arizona on March 30.
Although she was the first to get the boot on the VH1 reality show, Soju, who arrived to the U.S. when she was 9 years old, was thankful for the opportunity.
"Korea is a very conservative country. Their views are not very liberal. Being gay in Korea is a taboo thing. So just knowing that I had the opportunity to come to America and live my life honestly and can express myself fully in drag—I think this is the highest form of self-expression—I feel really privileged," she said. "I feel really privileged to be able to do this, and I'm honored to be on RuPaul's Drag Race. I feel like this is such a dream. As a little boy who immigrated to America, this is a dream come true."