Is a New Solange Album on the Way? Singer Says She's Recording Again But She's 'Not Interested in Entertainment' Right Now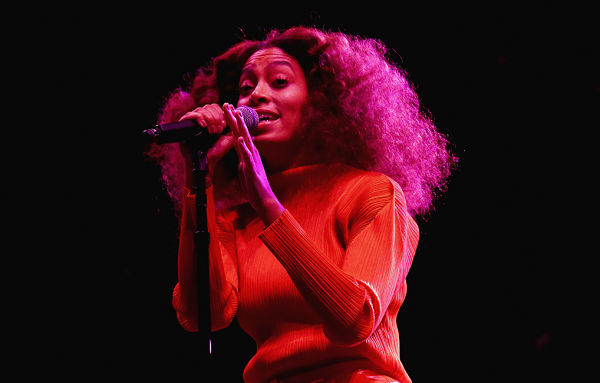 When Solange Knowles released her third album, A Seat at the Table, in September 2016, all of America seemed to stop and listen. Instantly, Solange graduated from Beyoncé's baby sister to a star in her own right. Her third studio album, which landed at the top of Billboard's 200 chart, was her most commercially successful, as well as her most political, with songs exploring what it means to be black in America today. A year later, she won Best R&B Performance Grammy award for Table's hit single "Cranes in the Sky."
Her fans are eagerly awaiting her next project, but they are going to have to be patient. "I'm clear within myself that I'm not interested in entertainment at this moment," Knowles, 31, said during a Billboard interview, released on Thursday. "That might change. There might be a moment where I decide, 'Hey, I love the game.' For right now, I'm not [there]."
In the interview, Knowles says she has been recording, in Los Angeles—in studios in Laurel Canyon and Topanga Canyon—and at a house in Jamaica, where a pop music legend previously spent time. "The house that I was just recording in [in] Jamaica, I stayed there for four days," she said. "And then the last day, the owner was like, 'You know that mural that's downstairs in the spare bedroom that the engineer booth is in? Joni Mitchell painted that.'"
It's unclear if or when Knowles plans to release any of the new material she's been recording. The mother of 13-year-old Daniel Julez Smith Jr. said that she's been on "mommy duty" while husband Alan Ferguson, a music video director, is away. And it's just not in her nature to release new music until the entire album, EP or project is completely finished. Table was released on iTunes four days after she handed the completed project to her label.
"This cycle of you put out an album, now you go and perform it, and then you go back and you work on another one for however long, and then as soon as that's done, you put one out again... it's the cycle that the music industry has set in place for us," said Solange. "Artists are really whimsical. And I have a 13-year-old son, so that is a compass of how I have to set up my life and set up my work."
"It matters to be present with him," she said. "I'm relieved when I hear other mothers say, 'Yeah, we're going through this, too.'"