What is Autonomic Disorder? Solange Cancels New Year's Eve Show Following Diagnosis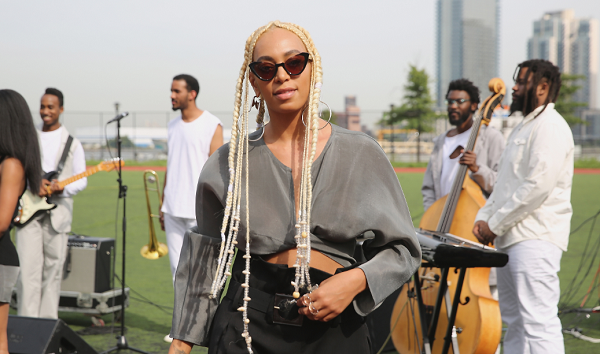 Solange Knowles won't be performing in South Africa on New Year's Eve because of her recent diagnosis of autonomic disorder. The Seat at the Table singer was scheduled to take the stage during AfroPunk Fest in Johannesburg.
Knowles, who won her first Grammy award in 2016, shared her diagnosis with fans via Instagram on Wednesday. The singer said she wasn't ready to expose all the details of the illness, but she felt it was important for "the people in South Africa, a place that has tremendous meaning to me and that has given me SO SO MUCH, to know why I won't be performing at AfroPunk this NYE." Solange, who often speaks fondly of the country, filmed the music video for "Losing You"—the first single off her debut EP True—in Cape Town, South Africa.
"The past five months I have been quietly treating, and working through an Autonomic Disorder. It's been a journey that hasn't been easy on me … Sometimes I feel cool, and other times not so cool at all," she wrote. "It's a complicated diagnosis, and I'm still learning so much myself, but right now, my doctors are not clearing me for such an extended lengthy flight, and doing a rigorous show right after."
Knowles's diagnosis could fall under a number of disorders that affect the autonomic nervous system, or ANS. But according to the Mayo Clinic, each of the disorders can have a severe impact on body functions, including heart rate regulation, blood pressure, bowel and bladder functions, perspiration and body temperature. The disorders can also cause feelings of fatigue, lightheadedness, weakness and cognitive impairment.
More than one million Americans suffer from a form of autonomic disorder.
Beyoncé's younger sister, who is 31, apologized to fans for having to miss the concert but vowed she would return at a future date, when her health was improved. "I can't put into words how saddened and sorry I am that I am unable to perform for you guys this NYE, there is simply no other place I wanted to be than there with my family to bring in 2018 with you," she wrote.
"I give you my ABSOLUTE WORD I will come back with AfroPunk and deliver this performance," she added, "as it is so extremely important to me to connect with the people who have so closely inspired me in so many ways."
Knowles has had a busy year of touring, performing at numerous festivals. Before canceling the South Africa show, she performed at AfroPunk festivals in the U.S., as well as at Coachella in Palm Springs, California, the Broccoli City Festival in Washington D.C., the Roots Picnic in Philadelphia, the Panorama Music Festival in New York City and the Essence Festival in New Orleans.