The Most You'll See Solange This Year Is During Summer Festival Season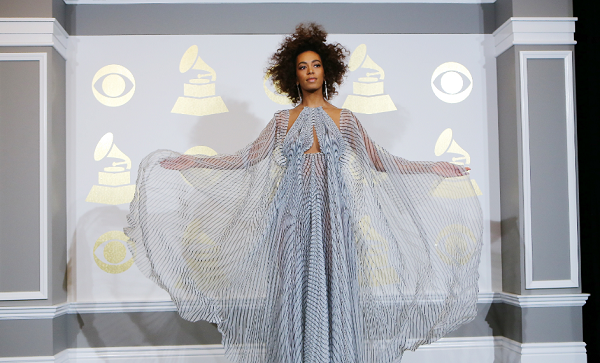 Solange fulfilled hunger pains we didn't even know we were suffering from when she invited listeners to subconsciously dine with her upon the release of her fourth studio album, A Seat at the Table. But almost suddenly, our musical palates have been deprived of Solange's insatiably ethnocentric nourishment after the singer announced she had no plans or set dates to tour the album, leaving droves of fans starving for the cultural enlightenment and truth of her lyrics in the dawn of sanctuary cities and ongoing racial tensions in President Donald Trump's America.
While appearing at Coachella's second festival weekend, the songstress told Complex magazine Sunday that there was no official tour scheduled for A Seat at the Table, which was received with high praise when it dropped back in September 2016 and claimed Billboard 200 Chart's No. 1 spot.
"No, there's no tour in the works—Right now I have two different shows. I have one that is more a performance piece show that is being performed in museums—and more in the art context. And then I have festival shows. As of now, I've not scheduled a proper tour in the more traditional sense," she said.
That means the only way fans can expect to chant the powerful lyrics of "Don't Touch My Hair" while Solange sashays around a stage dripping in chiffon and satin gowns is if they attend one of her museum shows or if they catch her during one of her many summer festival performances—the 30-year-old is expected to take the stage at a slew of outdoor concerts around the United States during spring and summer festival season, including her upcoming show at D.C.'s Broccoli City Festival in May, the Roots Picnic in Philadelphia, New Orleans's Essence festival in June, Panorama in New York City in July and several others.
Despite not having the chance to see Beyoncé's baby sister "provoke healing" (as Solange suggested was the albums intention) in as intimate of a setting as a multi-city tour would allow, those who are able to catch the singer during her festival run will still experience Solange's creatively executed philosophies of black empowerment and resilience when she performs tracks like "F.U.B.U.," Grammy-winning "Cranes in the Sky" and "Scales"—all of which seem to still be timely and relevant for communities of all colors given the president's critical temperament toward immigrants and sanctuary cities.
And the dance moves, headpieces and costumes are still expected be just as captivating during Solange's festival and museum performances, which she said has been a rewarding experience of its own.
"I've had a really, really great time: musically arranging, choreographing, art directing, costume designing—this is where I thrive and get so much joy," Solange told Complex.
It is disheartening to know Solange isn't planning a national tour, which means fans in several cities will miss out on chances to catch some of the singer's unifying ultra-light beams and sonically soothing messages of social and racial justice. But if you're in need for some form of harmony and positive fellowship in America, planning a road trip may be worth it.