Solar Company Employees Allegedly Built 'White Only' Cardboard Fort, Lawsuit Says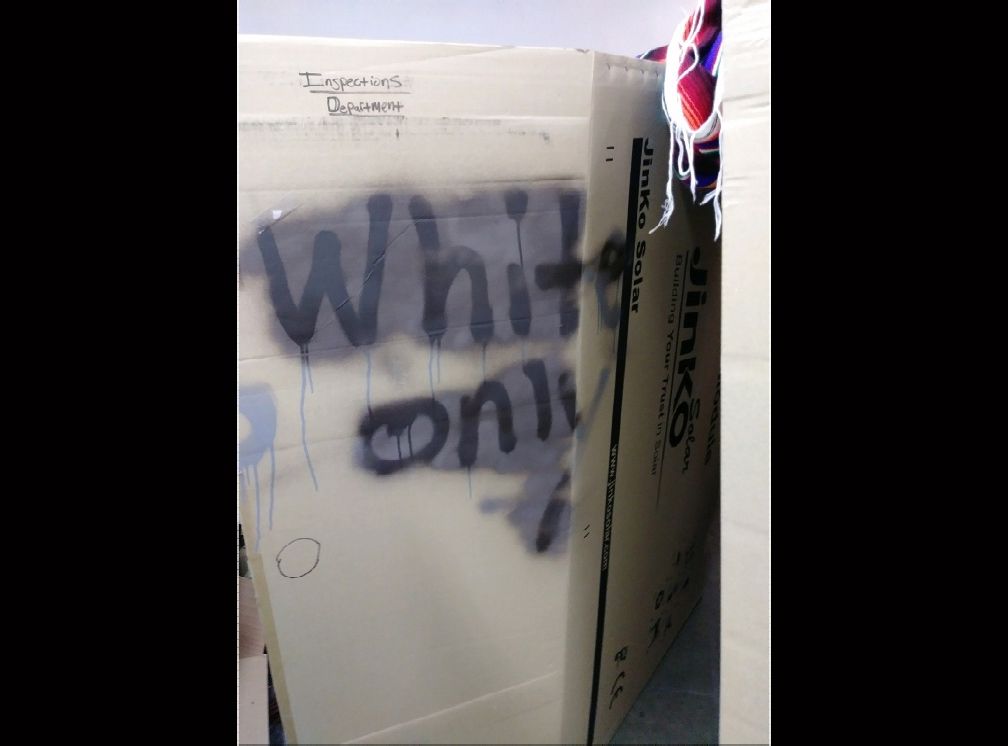 A national solar company is now facing two lawsuits for alleged racial discrimination that included the use of epithets by a manager and a cardboard fort in a warehouse spray-painted with the words "white only."
The first lawsuit was filed against Vivint Solar, Monday in Sacramento, California, Superior Court by a black employee for harassment and discrimination. The second suit, filed Thursday by a white employee, named the company, a manager who was key in the harassment and a regional manager for failing to address the discrimination.
The black employee who filed Monday's lawsuit, Teshawn Solomon, worked at a Vivint warehouse in Natomas, California. He began working at the facility last year and described in the suit being called a variant of the n-word by a manager.
Solomon also said that he "was consistently singled out for discrimination and harassment by his predominately Caucasian co-workers and supervisors," according to The Sacramento Bee.
The suit alleges the "white only" fort was built in March of this year. Solomon also alleged he was told "monkeys like bananas" when being offered one.
Solomon said he quit after he brought his concerns to a manager and nothing was done, and he was told not to go to human resources.
Thursday's lawsuit filed by the white employee, Jason Flick, alleged some of the same behavior—including the fort.
In the suit, Flick called the behavior from management "reckless, malicious and despicable." Flick reportedly quit around the time of the alleged fort because of the "hostile, racist," work environment.
Vivint's CEO released a statement Wednesday in response to the first lawsuit, but before the second lawsuit was filed.
"I am deeply disturbed by these allegations, which our executive team first became aware of on Monday, June 10, 2018, when the lawsuit detailing his experiences was publicly filed," said David Bywater, the Utah-based company's chief executive. "I want to firmly state that Vivint Solar has a zero-tolerance policy for racial discrimination and harassment in the workplace. Our company is built on the strength of diversity. The disturbing experience described by our former employee does not reflect the values or culture of Vivint Solar and stands in direct contradiction to our core values as a company."
The statement from Bywater claimed that one employee involved in the incident was terminated and that several others have been disciplined. The company also said the incident was investigated, that a third-party company would review Vivint's policies and the whole company will receive harassment training.