Photographers across the globe captured stunning images of the solar eclipse on Thursday.
A full eclipse—where the effect of the sun appearing as a "ring of fire" could be witnessed—was visible in Canada, Greenland and northeastern Russia.
A partial version was visible in Europe, North America and northern Asia.
The spectacle occurs when the moon partially covers the sun as it passes in front of it.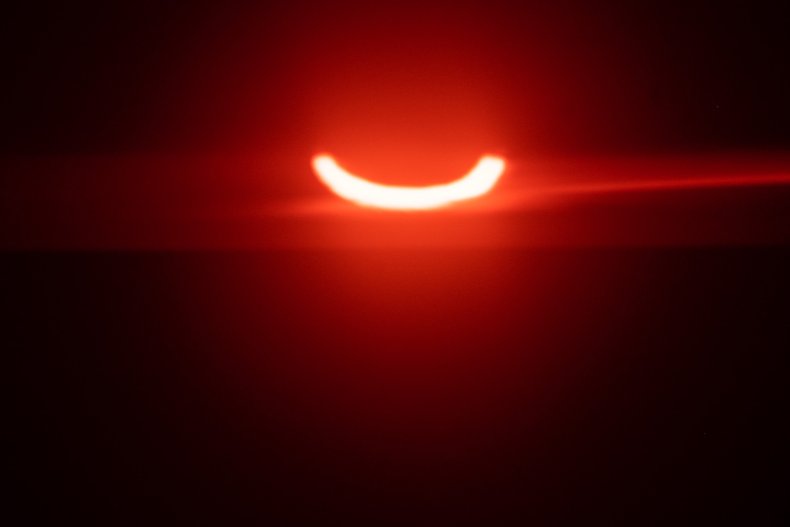 In Focus
A eclipsed sun rises over Tobermory on June 10, 2021 in Ontario, Canada. A rare partially eclipsed sun was visible on the morning of Thursday June 10.
Launch Slideshow

8 PHOTOS
In an annular solar eclipse, the moon causes just a small part of the sun to be visible, creating the unique ring shape. In partial eclipses, the amount of the sun covered varies—partially blocking the light to create a crescent shape.
The solar eclipse began at 8:12 a.m. UTC (4:12 a.m. EST), on Thursday morning, with the visibility of the phenomenon dependent on location.
Although New York City had poor weather during the event, photographers were able to capture images of the eclipse, showing the crescent shaped sun peeking out from the clouds above the Manhattan skyline.
The eclipse was more visible in the neighboring state of New Jersey, as an image taken in the early hours showed a dark red eclipsed sun.
Images were also taken from London, England, on Thursday morning, showing a partial eclipse amid the cloudy skies in the area.
Photos from Ontario, Canada, also showed the bottom portion of the sun—which appeared to be blood red.
Footage and images from social media showed the crescent sun rising above Baltimore, Maryland, and New Hampshire, while NASA shared a photo of a pink eclipse in Delaware captured by members of its team.
However, others were left disappointed as the heavy cloud coverage prevented many from seeing the partial eclipse properly on Thursday morning.
There will be other opportunities to witness the celestial event in North America over the next few years, as one will be visible from eight U.S. states: Oregon, California, Nevada, Utah, Arizona, Colorado, New Mexico and Texas, on October 14, 2023.
Less than a year later on April 8, 2024, a total solar eclipse will be seen from 13 U.S. states: Texas, Oklahoma, Arkansas, Missouri, Illinois, Kentucky, Indiana, Ohio, Pennsylvania, New York, Vermont, New Hampshire, and Maine.
In total, there are set to be 224 solar eclipses visible from Earth over the course of the 21st century.