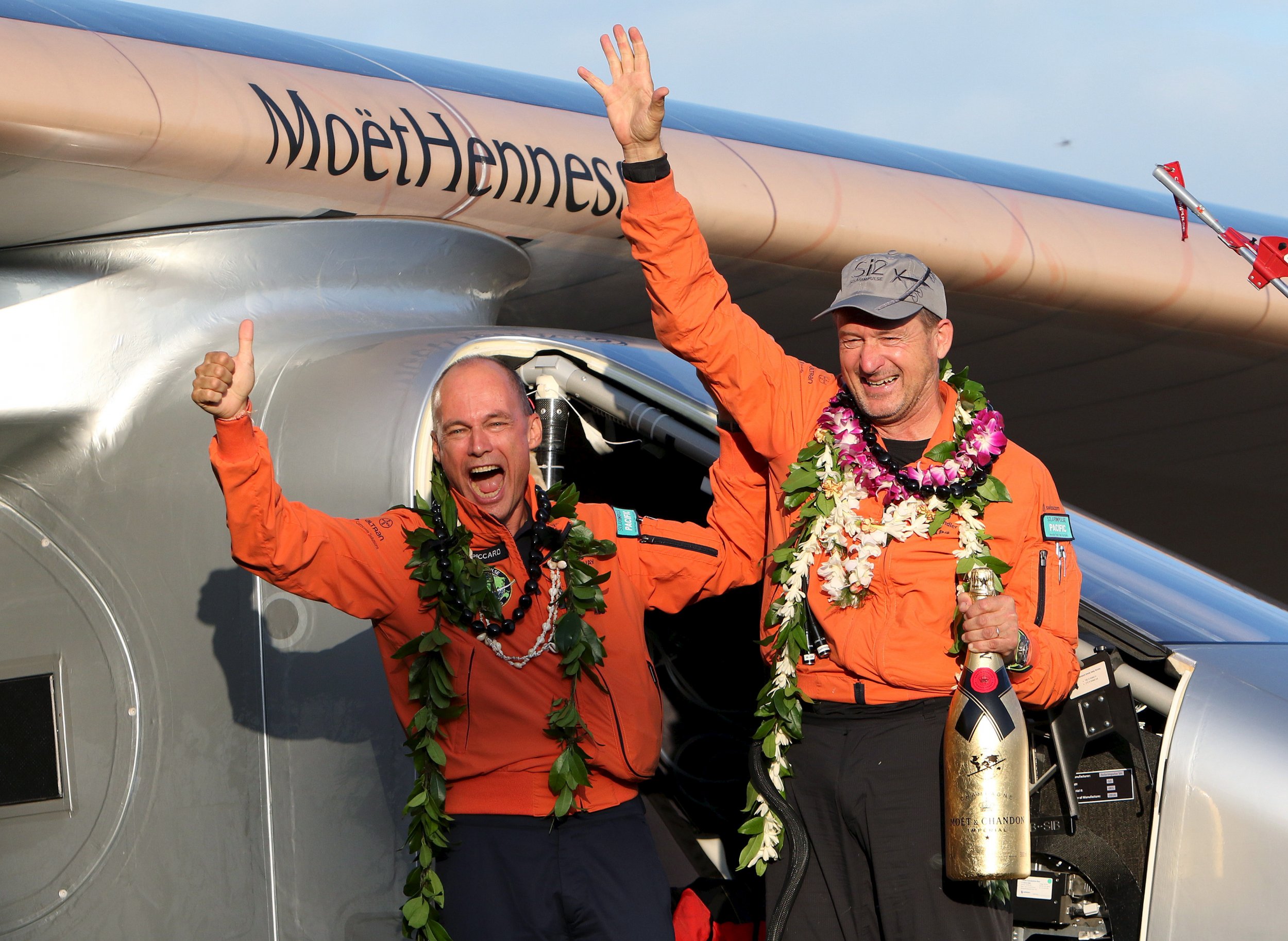 Solar Impulse 2, a plane powered solely by the sun, completed its historic trip from Japan to Hawaii Friday, touching down in Honolulu at 5:55 a.m local time. Swiss pilot Andre Borschberg led the 118 hour flight across the Pacific Ocean, the longest journey made by a solo pilot on an unfueled plane. According to the BBC, Borschberg's time flying solo beats American pilot Steve Fossett, who spent 76 hours alone on a single-seated jet in 2006.
Women dressed in traditional Hawaiian clothing greeted the plane after it landed at Kalaeloa Airport, placing leis on Borschberg and his co-pilot Bertrand Piccard. The pair are alternating turns flying around the globe. Hawaii is the eighth stop on the whirlwind trip, which has included stops in Oman, India, Myanmar and China. Piccard will soon leave for the next leg of the trip from Hawaii to Phoenix, Arizona. Subsequent stops include New York, as well as undisclosed place in the midwestern United States and Europe. Solar Impulse 2 will then return to Abu Dhabi, five months after its original departure on March 9.
The pilots have been actively sharing their journey on social media. This week Borschberg posted photos on Twitter of the view from above as well as selfies manning the cockpit and practicing yoga.
Flying an unfueled aircraft is a complex venture that requires skill, planning and confidence. According to the Solar Impulse 2 website, the batteries of the plane must be completely charged when at peak altitude in order to make it through the night. The pilot cannot attempt an ascent until the morning when the sun is out and and can provide more power. Cruising up to higher altitudes too early in the morning can cause the batteries to run low, damage the plane and make flying risky.
Borschberg and Piccard are taking the Solar Impulse 2 for an epic spin around the world to "show everybody clean technology can achieve the impossible," according to the a video promoting the venture on the website for #Futureisclean, a social media campaign started by the pair that will culminate at the United Nations Climate Control Conference in December.
According to the Air Transport Action Group, the aviation industry is responsible for approximately 12 percent of CO2 emissions from all transportation sources. In 2013, airplanes collectively produced 705 tons of CO2 worldwide.