'Solar Opposites' Season 3 Release Date, Voice Cast, Trailer Plus More
Solar Opposites is back for a third season that will once again thrust its titular group of aliens into a plethora of wild adventures.
The show was co-created by Justin Roiland and Mike McMahan, the creative minds behind Rick & Morty, and it promises much the same humor that fans have come to know and love from the brand.
Here is everything you need to know about the show.
When Will 'Solar Opposites' Season 3 Be Out?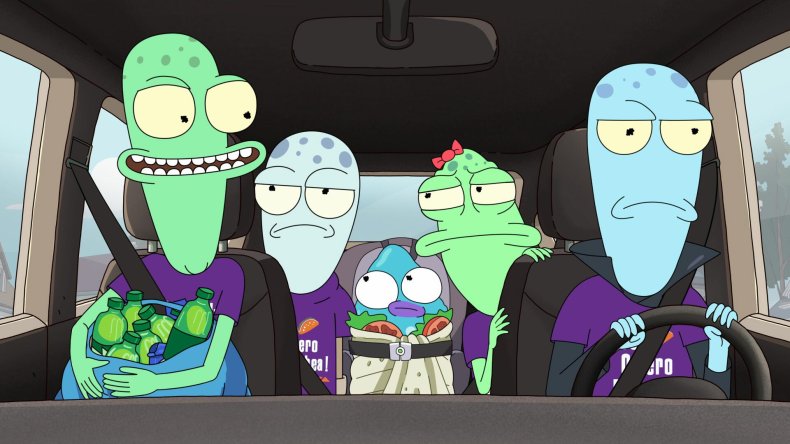 Solar Opposites will be released on Hulu in full on Wednesday, July 13 for fans to binge watch to their heart's content.
The new season will consist of 11 episodes in total and, much like the episodes before it, they will have a runtime of 20 minutes.
What Will 'Solar Opposites' Season 3 Be About?
Season 3 of Solar Opposites will see aliens Korvo (Roiland), Yumyulack (Sean Giambrone), Terry (Thomas Middleditch) and Jesse (Mary Mack) continue to contend with life on Earth after crash landing from their home planet Schlorp.
In the new episodes the quartet will be faced with a number of exciting adventures, each more intriguing than the last, and they will learn how to be more of a family than just a team of strangers.
Still learning how to work and live alongside humans, Korvo and Yumyulack hate being on Earth while Terry and Jesse continue to thrive in the environment.
Another thing the Shlorpians are going to have to contend with are beings known as Silvercops, an intergalactic space force that have little love for the quartet.
Speaking at a recent press event for the show, per Gizmodo, co-creator McMahan teased: "We have a four or five season arc with Silvercops. "We've written season four, the Silvercops return, the Wall returns—we're getting to do these worldbuilding things that you usually don't ever get to do.
"But because it's inside of a show, because we've given ourselves a creative allowance to build in unexpected, heavily dramatic, frankly ludicrous stories with tiny little people, or pseudo-Green Lantern-y, crooked, The Wire-style cops.
"And that's where it all came from, in the very beginning—Justin and I like it in that in The Wire, they would change the B-story, right? So there was the dockworkers season, there was the reporter season, there was the school season.
"That mechanism and that structure of The Wire was so intoxicating that we were like, 'How do we do the comedy version of that? How do we change things, but always make it feel like it's the show?' It feels like we're doing it, because we have a blast doing it.
"And I love seeing the audience like that aspect of the show, but I also love the aliens. It has to all [fit] together or the distribution of it will be counterbalanced and it won't feel exactly right."
Who Will Star in 'Solar Opposites' Season 3?
Solar Opposites will see Justin Roiland, Thomas Middleditch, Mary Mack, and Sean Giambrone return to reprise their roles as Korvo, Yumyulack, Jesse and Terry, respectively.
It has not yet been revealed which actors will make guest appearances on the show, or who will be voicing the show's Silvercops, but this will no doubt be revealed once the show has premiered on Hulu.
Given McMahan's mention of the return of the Wall in Season 3, it is possible that characters that were put in there like Cherie, voiced by Christina Hendricks, and Andy Daly's Lindsey Tim will return.
Is There a Trailer for 'Solar Opposites' Season 3?
Yes, a trailer for Solar Opposites Season 3 has been released and it gives fans a glimpse of what is to come for its group of aliens.
The trailer certainly breaks the fourth wall as the quartet talk about the fact the show is returning for a third season before delving into what's in store for fans.