Solar-Powered Plane Resumes Flight Around the World With Hawaii-to-California Leg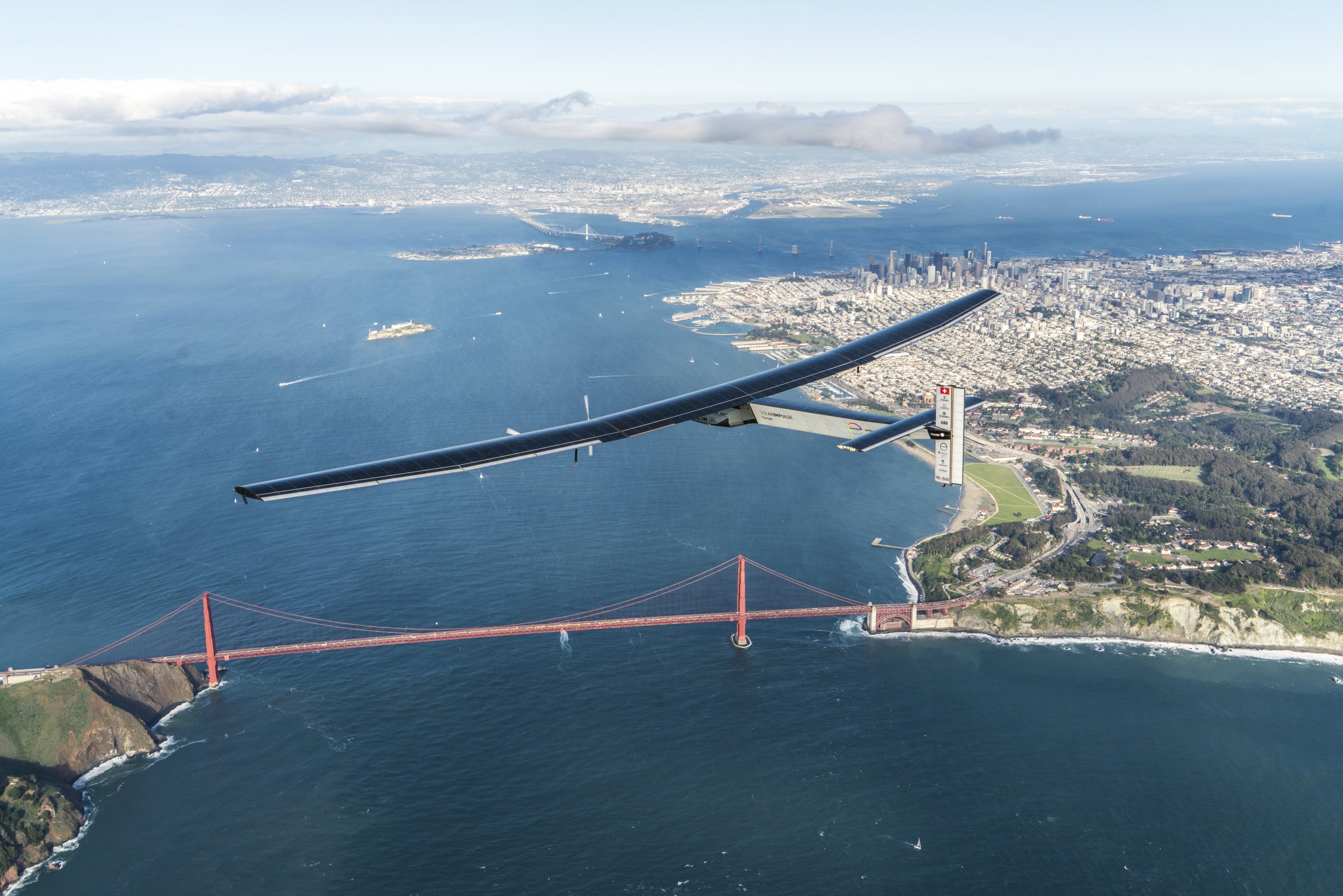 A solar-powered plane resumed its journey around the world when it took off last week from Hawaii and began a 62.5-hour flight across the Pacific. The Solar Impulse 2 (Si2) landed successfully in Mountain View, California, just before midnight local time on Saturday.
"It's a new era. It's not science fiction. It's today," Bertrand Piccard, initiator and chairman of the Solar Impulse project and the pilot on this week's flight, told CNN after landing. "It is more than an airplane," Piccard said of the Si2 in a statement. "It is a concentration of clean technologies, a genuine flying laboratory, and illustrates that solutions exist today to meet the major challenges facing our society."
Along with co-founder and CEO André Borschberg, Piccard has been working toward fuel-free solar-powered flight for more than a decade. The flight around the world began in March of last year when the Si2 took off for the first leg of the journey—from Abu Dhabi, United Arab Emirates, to Masqat, Oman—and then made stops in India, Myanmar, China and Japan. But weather delays in China and a storm that damaged the plane while it was on the tarmac in Japan slowed progress.
The first of two difficult flights over the Pacific Ocean—where emergency landing sites are lacking—left from Nagoya, Japan, and brought the Si2 to Hawaii over nearly five days last summer. That eighth leg of the journey, piloted by Borschberg, clocked in at 117 hours and 52 minutes. It broke the record for the longest nonstop solo flight, shattering the previous 76-hour record set by Steve Fossett in 2006. But overheating caused irreversible damage to the plane's batteries and grounded it for repair until this spring.
Traveling at an average speed of 40.4 miles per hour, the Si2 completed the second half of its trip over the Pacific and flew over the Bay Area for three hours before landing at Moffett Field in Mountain View, home of NASA's Ames Research Center and Google. This most recent flight is also set to break several records, pending approval from the Fédération Aéronautique Internationale (FAI), including ones for distance, speed, duration and altitude in the electric airplane category and altitude in the solar airplane category.
While en route, Piccard spoke to U.N. Secretary-General Ban Ki-moon and hundreds of world leaders who had gathered in New York City to sign the Paris Climate Change Agreement on Friday, which was also Earth Day.
The Solar Impulse team will continue its journey, flying across the continental United States to New York and on to Europe or North Africa before finally returning to the starting point in Abu Dhabi.
"The primary purpose of this adventure," Piccard has said, "is to demonstrate that modern clean technologies can achieve the impossible and encourage everyone to use these same energy efficient solutions on the ground in their daily lives for mobility, construction, lighting, heating, cooling and more."