Texas Teenager Who Live-streamed SWAT Standoff After Killing Decorated Memphis Soldier at El Paso House Party Held on $1M Bond
New details have been revealed about a shooting at a house party in El Paso, Texas, that killed a decorated soldier. Specialist DeAngelo Meriweather, 21, from Memphis, Tennessee, was killed after a fight broke out in the early hours of Saturday morning, the El Paso Police Department reported.
Police have now released a mug shot of Joseph Anthony Rocha, 17, who was arrested on Saturday evening after live-streaming a standoff with a SWAT team following the shooting.
Rocha has been charged with murder and was booked into the El Paso County Detention Facility, police said. His bond was set at $1 million.
The El Paso Police Department said detectives learned that a fight had broken out between several people at the house party in the 3800 block of Truman Avenue. Police had responded to the shooting at around 1.50 a.m. When they arrived, officers found four people with gunshot wounds.
During that fight, Rocha allegedly brandished a gun before firing it in different directions, hitting several people at the party. He then left the house party and barricaded himself inside his own home, where he live-streamed the standoff with a SWAT team, according to ABC7.
Detectives and a SWAT team were called to the 3400 block of McConnell Avenue after finding out Rocha's whereabouts. Rocha was arrested without incident after hours of negotiations, police said.
According to the station, Rocha peacefully surrendered after he came out of his house at around 9.30 p.m. but continued to use his phone to stream his arrest online.
Two victims were taken to hospital and two others drove themselves. Asia Knight, 21, Juan Mata, 18, Markendy Dessources, 22, all survived, but DeAngelo Meriweather died of his injuries in hospital, police said. A fifth victim, 19-year-old Kevin Marincuellar, later arrived in hospital with minor injuries.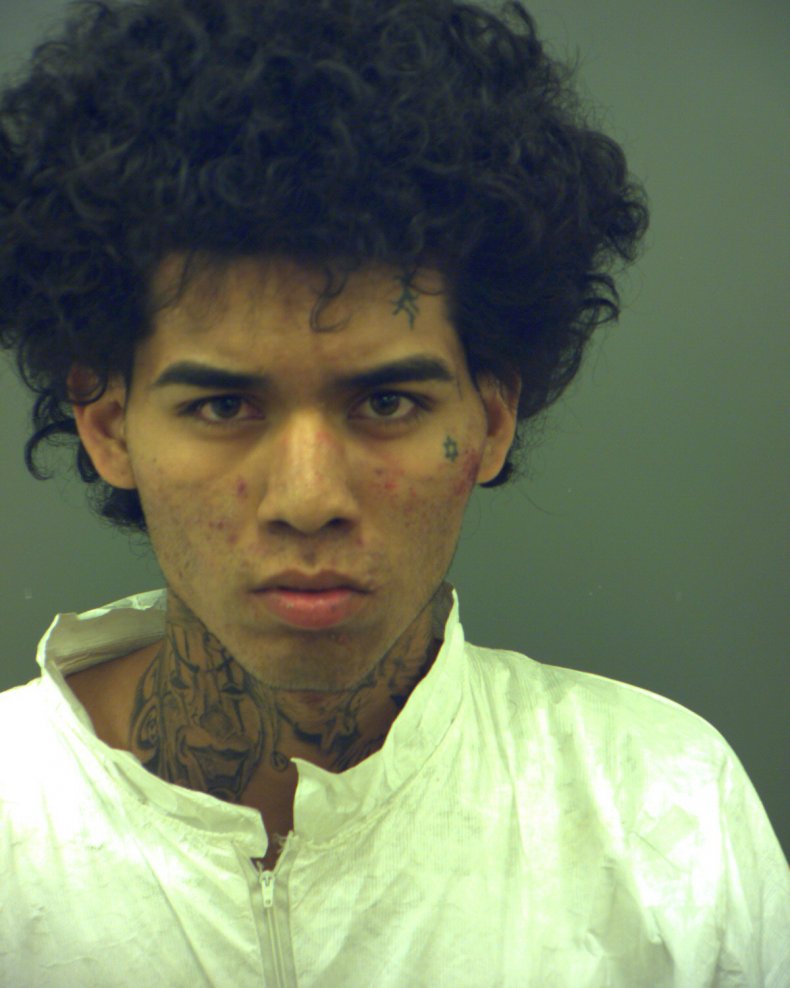 DeAngelo Meriweather's father Donald Meriweather has since paid tribute to his son and said the suspected murderer deserves to be severely punished. "If there was any way under the sun that I could get the harshest death brought to him, I would ask for it," he told WREG.
The 21-year-old soldier had been stationed at Fort Bliss, Texas, where he worked as an information technology specialist with the 1st Armored Division since 2018 after serving in South Korea, according to ABC7.
During his brief career, he accumulated several awards and decorations including the Army Achievement Medal, Korea Defense Service Medal and the National Defense Service Ribbon, according to the station.
DeAngelo Meriweather had followed in the footsteps of both his parents when he joined the Amy in 2017, according to WREG. Donald Meriweather told the station that his son hadn't wanted to enlist, but later changed his mind.
"He was able to go over to Korea where you would think you'd have more chances of being harmed and then to come back home and have a punk to shoot you in the back," he told WREG.
Donald Meriweather added that his son wasn't part of the fight that broke out at the party.
"Our thoughts and prayers go out to Spc. Meriweather's family for their loss due to this tragic event," said Lieutenant Colonel Jason Carter, the commander of 4th Battalion, 1st Field Artillery Regiment, according to the El Paso Times.
"The details of this event are under investigation at this time and we will be working with El Paso authorities to assist in any way we can."