Soldiers Could Be Discharged If They Refuse Vaccine
Soldiers who refuse to get the COVID-19 vaccine could be discharged, the U.S. Army has announced, following Secretary of Defense Lloyd J. Austin III's order that all service members be vaccinated.
Those who refuse the vaccine will first be counseled by their chain of command and medical providers, the Army said in a statement on Tuesday,.
But if they are not granted an exemption for a legitimate medical, religious or administrative reason and continue to not comply, they could be disciplined, including being relieved of duties or discharged.
In its statement, the Army said all active duty soldiers are expected to be vaccinated by December 15, while Reserve and National Guard units are expected to be fully vaccinated by June 30, 2022.
The Army has 485,000 active duty soldiers. There are also 189,500 in the Reserve and 336,000 in the National Guard.
Those who have pending exemption requests will not face discipline until their exemption is fully processed, the statement added.
Soldiers who have previously contracted COVID-19 are not automatically exempt from full vaccination and should consult their primary care managers, the Army said.
"This is quite literally a matter of life and death for our Soldiers, their families and the communities in which we live," said Lt. Gen. R. Scott Dingle, the Army's surgeon general.
"Case counts and deaths continue to be concerning as the Delta variant spreads, which makes protecting the force through mandatory vaccination a health and readiness priority for the total Army."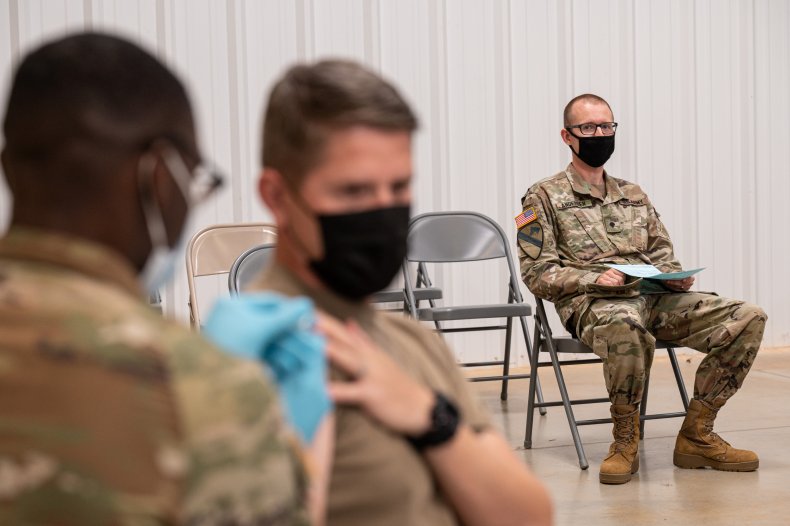 In a memo in late August, Lloyd directed the secretaries of the military branches to ensure service members are vaccinated with vaccines approved by the U.S. Food and Drug Administration. Only Pfizer-BioNTech's two-dose vaccine has been given full approval so far.
Austin's memo directed them to "impose ambitious timelines for implementation and to report regularly on vaccination completion using established systems for other mandatory vaccine reporting."
"To defend this Nation, we need a healthy and ready force," Austin said in the memo.
"After careful consultation with medical experts and military leadership, and with the support of the President, I have determined that mandatory vaccination against coronavirus disease 2019 (COVID-19) is necessary to protect the Force and defend the American people."
As of September 8, more than 1.1 million service members are fully vaccinated, while more than 296,000 are partially vaccinated, according to data from the Department of Defense.