U.S. and Romanian Soldiers Killed In Three Afghanistan Suicide Attacks Amid Peace Talks
Even as Washington engages in peace talks with the Taliban, the body count in Afghanistan continues to pile up. Suicide attacks on Thursday killed at least one American, one Romanian soldier and several civilians as well as injuring nine other U.S. troops and several more civilians.
The Taliban claimed responsibility for a powerful car bomb that rocked the Kabul neighborhood of Shash Darak, exploding just outside a checkpoint of Afghanistan's National Directorate of Security, the country's primary intelligence agency. The attack killed an American soldier and a Romanian soldier operating on behalf of the NATO-led Resolute Support mission.
A Resolute Support statement did not disclose details about the bombing, and the name of the U.S. service member will not be disclosed until 24-hours after their next of kin are notified, per Defense Department policy. Information related to the Romanian soldier will come from the Romanian government.
Elsewhere, in the eastern Logar province, another suicide car bomb detonated outside an Afghan military base, with the local media center reporting 15 civilians among those killed and wounded. The Taliban also said they were behind this attack. Newsweek has since learned that, as U.S. forces responded to this attack, they themselves were targeted in a third blast that wounded at least nine soldiers assigned to a U.S. Army Special Forces team, some seriously.
A Defense Department source, who spoke on condition of anonymity, said the nine soldiers were medically evacuated with traumatic brain injuries under "Category C," a priority classification in the U.S. military medical system that applies when a soldier needs, "medical or surgical attention intervention within four hours for the preservation of life, limb, or eyesight."
The number designation of the U.S. Army Special Forces team, known as Operational Detachment Alphas, is being withheld by Newsweek until next-of-kin are notified. U.S. officials with Resolute Support are prevented from commenting or providing information on military personnel experiencing an illness or injury without the consent of the individual, per Pentagon regulations and the Privacy Act of 1974.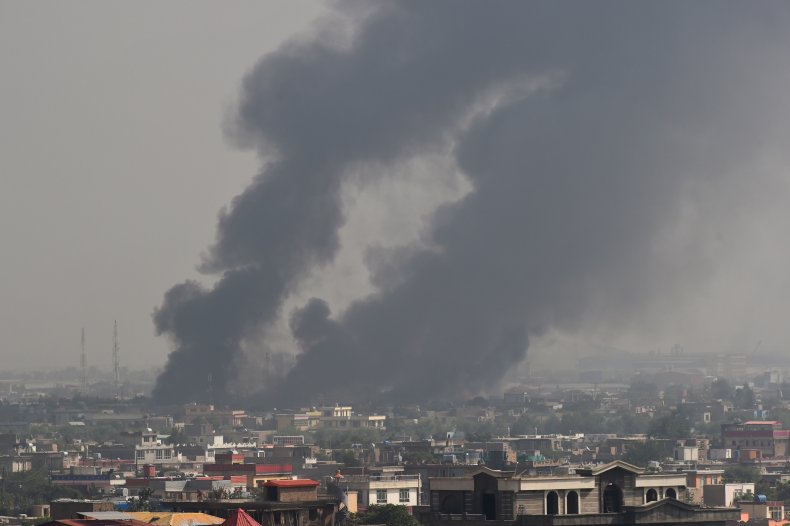 In response to the latest violence, Romanian President Klaus Iohannis tweeted: "Appalled by the terrorist attack in Afghanistan, in which a Romanian soldier lost his life, the second attack this week resulting in the killing of a Romanian citizen. Condolences to the families of the victims."
In another blow to the war-torn country, Afghanistan Independent Human Rights Commission acting head Abdul Samad Amiri was reportedly kidnapped and executed Wednesday night as he made his way from Kabul to Ghor in Maidan Wardak province's Jalreez area. Shaharzad Akbar, senior adviser to the National Program on Culture and Creative Economy of the United Nations Education, Science and Cultural Oraganization's (UNESCO) Afghanistan branch, reported the news Wednesday, saying she is "shaken by pain and grief as we collectively process this horrible news."
Violence has continued to plague Afghanistan, even as the nearly year-long talks between President Donald Trump's administration and the Taliban appeared on the cusp of a breakthrough. On Tuesday, the militant group claimed another Kabul suicide blast targeting the Green Village, where at least 16 people were killed and more than 100 civilians were hurt.
The U.S. special representative for Afghanistan's peace process, Zalmay Khalilzad, told Afghan outlet TOLO News on Monday that the U.S. and the Taliban "have reached an agreement in principle."
Such an arrangement would involve the Pentagon pulling 5,000 troops from five bases in Afghanistan within 135 days of signing, a step toward the long-coveted goal of ending the lengthiest war in U.S. history. Last-minute misunderstandings, however, have emerged as the two sides attempted to seal the deal.
Washington and Pentagon officials have said that the U.S. planned to keep a number of intelligence officials in Afghanistan in order to ensure that jihadi groups such as Al-Qaeda and the Islamic State militant group (ISIS) could not take refuge there, but the Taliban has been pushing for a total withdrawal.
"I think it's premature. I'm not using the 'withdraw' word right now," said U.S. Marine General Joseph Dunford, the chairman of the joint chiefs of staff during a Pentagon press briefing last week. "I'm using—we're going to make sure that Afghanistan is not a sanctuary, and we're going to try to have an effort to bring peace and stability to Afghanistan."
Al-Qaeda emerged in the 1980s as it—and the United States—backed a 1980s mujahideen rebellion against the Soviets, but the militant group would later orchestrate a number of attacks against U.S. interests worldwide and ultimately conducted the 9/11 attacks in 2001. The Taliban, who emerged in the 1990s as the most powerful force in a civil war after the mujahideen victory, refused to give up its Al-Qaeda ally, resulting in a U.S.-led intervention.
Though the United States and its allies managed to topple the Taliban-led government, it has struggled ever since to quell the subsequent Islamist insurgency and empower local government forces. Even as Taliban representatives sat down with officials from Washington and Moscow, the group has so far refused to engage with the internationally-recognized government in Kabul.
On the ground, a war in which all sides have been accused of war crimes raged on, often leaving civilians trapped in the middle. Tens of thousands have been killed. The Trump administration had originally hoped to secure an agreement with the Taliban by the start of this month in order to stave off Taliban threats against those participating in the September 28th elections, but this deadline too has passed with no imminent sign of peace.
More than 2,400 U.S. service personnel have died in Afghanistan since the U.S.-led invasion began in 2001.